Cyclades Islands Greece Travel Guide
What are the Cyclades
The Cyclades or the Cyclades Islands are an archipelago of Greek islands in the southern Aegean Sea. The name comes from the Greek word "kyklos" which means a circle. It is called so because the Cyclades form a circle around the island of Delos, which was considered sacred in antiquity. We have prepared for you the Travel Guide of Cyclades Islands.
The Cyclades includes over 220 islands, the main ones being Amorgos, Anafi, Andros, Antiparos, Delos, Ios, Kea, Kimolos, Kythnos, Milos, Mykonos, Naxos, Paros, Folegandros, Serifos, Sifnos, Sikinos, Syros, Tinos and Santorini. There are also many smaller islands, including Donousa, Irakleia, Koufonisi, Makronisos, Rinya and Schinusa. Most of the smaller islands are uninhabited.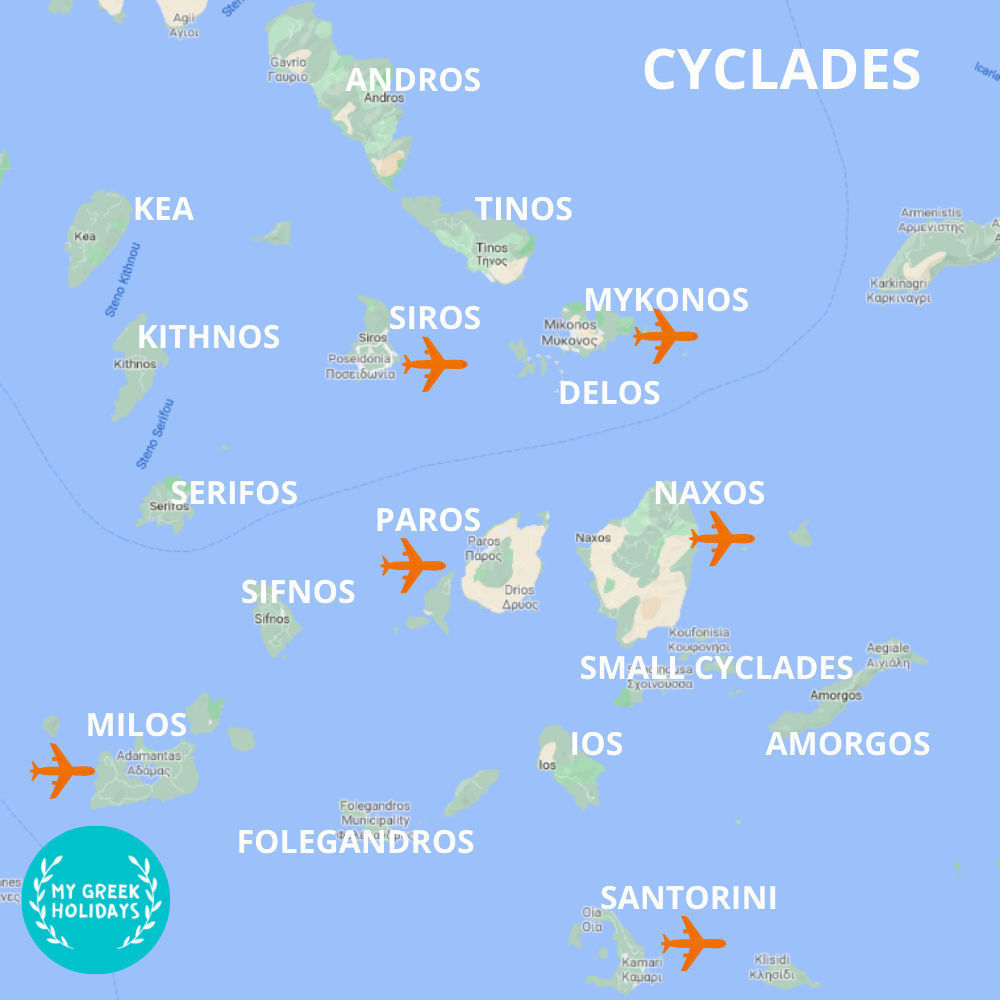 ---
The Cyclades Island Hopping Tour
If you want us to develop and calculate a tour of the Cyclades for your family or company, then send a request to our expert.
---
Villas and Apartments for rent in the Cyclades
We offer villas or apartments for rent on almost all inhabited islands, both the most famous Mykonos or Santorini and small ones like Koufonisi.
Book a Villa or House for holidays in Cyclades Islands in 2022 or 2023 right now. Remember that booking in advance allows you to choose a property according to your specific requirements, such as a beachfront, or private pool. Also, you can find early booking deals and discounts which could bring the price of your holiday down.
---
Hotels to stay in the Cyclades
Looking for a hotel to stay in Loutraki? Check the best options at great rates and choose the hotel that suits you.
---
How to get to Cyclades Islands
Travelling to the Cyclades by plane
The airports of Santorini and Mykonos serve international charter flights and local flights. The airports of Naxos, Paros, Milos and Syros only accept local flights. So, most likely, it will be more convenient for you to fly to Athens International airport and then fly to the island or take a ferry.
We suggest you use JETRADAR which is one of the largest online search engines for flights all over the world. This service helps to compare airfares from hundreds of airlines and dozens of travel agencies and systems and book the cheapest tickets available.
---
Travelling to the Cyclades by ferry
Ferries to most of the Cyclades islands leave from the main port of Athens – Piraeus. You can check the ferryboats schedule and buy your tickets here
---
The islands of Andros, Tinos, Mykonos, Paros, and Naxos can also be reached from the port of Rafina.
---
Kea Island can only be reached from the port of Lavrio.
---
Travelling to the Cyclades by private helicopter
Once you arrive in Athens we can pick you up directly from the arrival gate and take you to the helipad. This way you can reach your destination in the fastest possible way and have more time to enjoy your vacation. Especially helicopters have the ability to fly in high wind conditions, and even in cases where transfer by sea would be impossible. Also, the helicopter can take you to destinations that have no airports and where ferryboats have infrequent itineraries.
---
Please note that Cyclades Islands Travel Guide contains some affiliate links. It means that we may receive a small commission to help us maintain this site without any additional cost to you. We only recommend services and products that we use and believe will be helpful.
Updated: July 2022