The best places & beaches in Paros, Greece
---
Paros Island – what to see and what to do?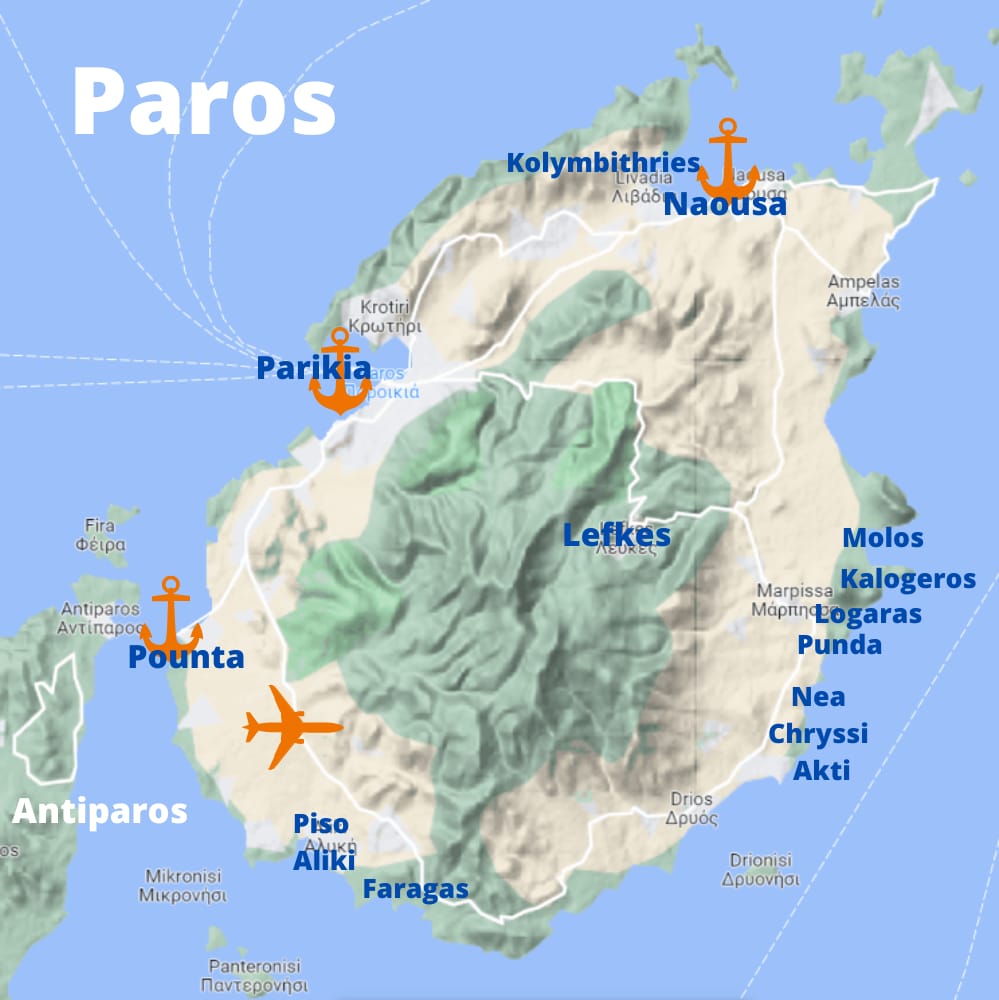 The island of Paros is not as famous as the mega-popular Santorini and Mykonos. Nevertheless, it can easily compete with its neighbors. The island has a magic that enchants you from the first minutes you arrive here. It has not yet lost its traditional style. Here you immerse yourself in Greece and feel its genuine flair. Even though the island is relatively small, it offers many opportunities for an exciting summer vacation. We would like to tell you about our favorite best places and beaches in Paros.
Paros is the perfect destination for all tourists. It has luxurious hotels, fabulous villas, and fine-dining restaurants. At the same time, Paros also provides all the necessities for a low-cost vacation: you can eat deliciously and affordably in traditional taverns, as well as rent excellent apartments and traditional houses right on the beach for a reasonable price.
---
Main towns and villages of Paros Island
Parikia, Paros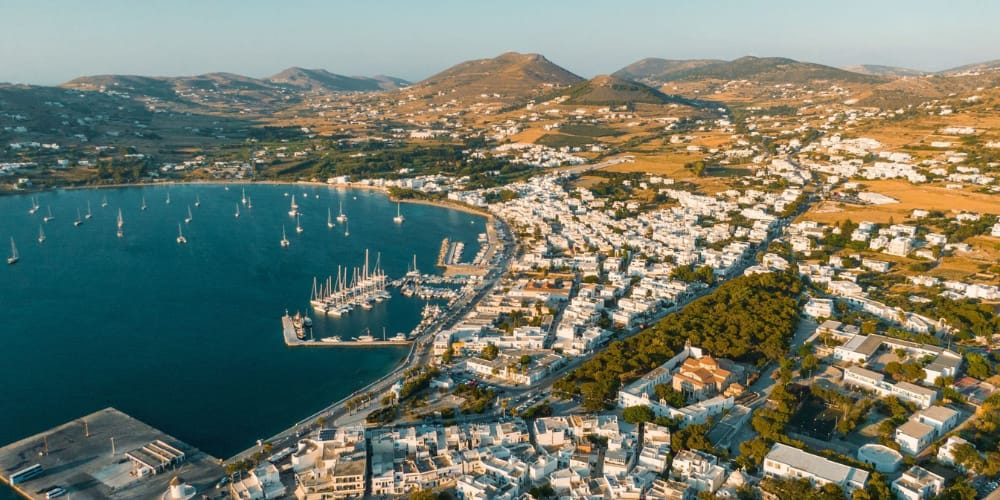 The historical capital of the island Parikia or Hora is located on the west coast of the island and is also the main port of the island. The whitewashed old town is full of cobbled streets, old churches, and stores. It is the center of life and commerce on Paros. Here the locals go about their daily lives. So, we noticed, that prices are cheaper here than in the other parts of the island. You can find lots of restaurants, tavernas, cafes, bars, and nightclubs, located on the coastal road of Parikia.
The main attraction of Parikia is the historic church complex of Panagia Ekatontapiliani (Our Lady of a hundred doors), considered one of the oldest Byzantine monuments in Greece. According to legend, the church was established by St. Helena, who was Constantine the Great's mother. You should not forget also about the authentic Middle Ages Castro district, built by the Venetians. It's the highest point of the town with many small churches inside.
Where to stay in Parikia, Paros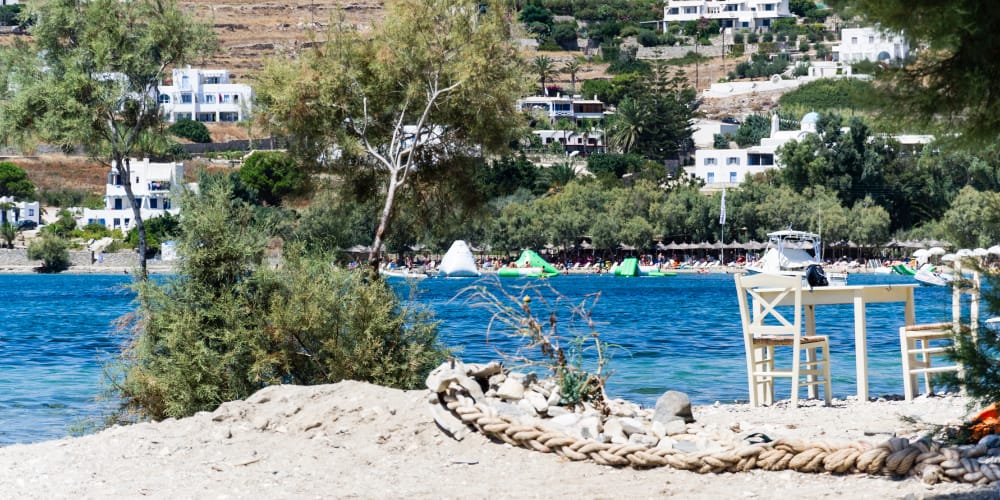 Staying in Parikia is a good choice if you want to be close to restaurants, shopping, and nightlife. At the same time, you can easily visit the nearby beaches for swimming. Parikia has also nice beaches near the town, such as Livadia Beach. It is important to know, that Parikia is the main bus hub of the island, with routes running across the entire island.
Inside the narrow streets of Parikia, are located mostly small hotels and apartments.
To the south of the city, in the area of the beach of Parasporos, you will find hotels of higher categories.
A few nice hotels and villas are located to the north of Parikia, near Krios Beach.
---
Naousa, Paros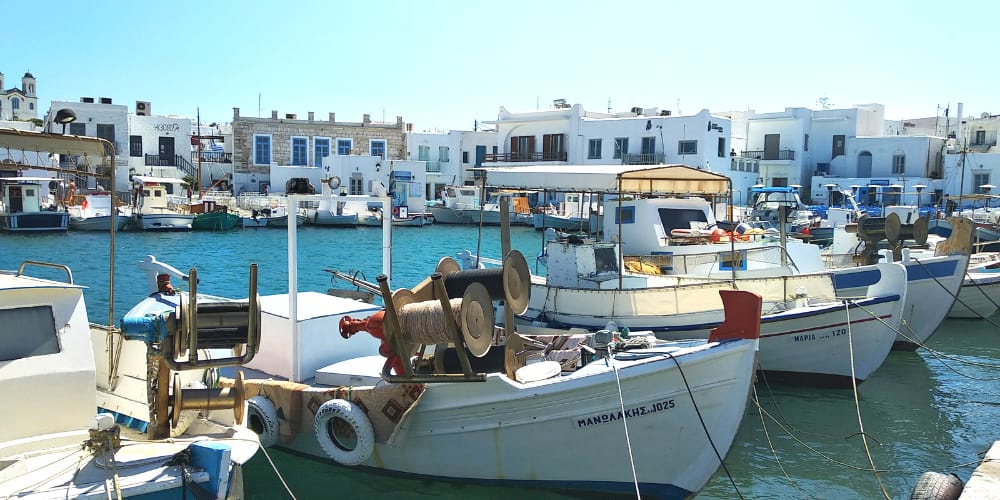 Naousa is the second largest town on the island and is considered one of the most beautiful not only in Paros but in all the Cyclades. It is undoubtedly the most cosmopolitan village of Paros with a harmonious blend of tradition and modernity. On the one hand, it is a quiet village with flowering houses and tiny churches in the maze of narrow streets. On the other hand, it is a trendy island resort. Its unique atmosphere is centered in a small picturesque port with traditional fishing boats and fish taverns welcoming tourists.
The main attraction of the port of Naousa is the ruins of the Venetian fortress (Castelli), which create an enchanting atmosphere. Naousa offers a wide variety of taverns, restaurants, and cafes along the promenade. Be sure to try the grilled octopus and the island's signature dish, "Guna", dried, seasoned, and grilled mackerel.
Not far from Naousa, there are some beautiful golden beaches such as Kolimbitriès, Agii Anargyri, and Monastiri. These beaches, as well as wild and secluded coves, can be reached on foot, by car, or by boat from the port.
Where to stay in Parikia, Paros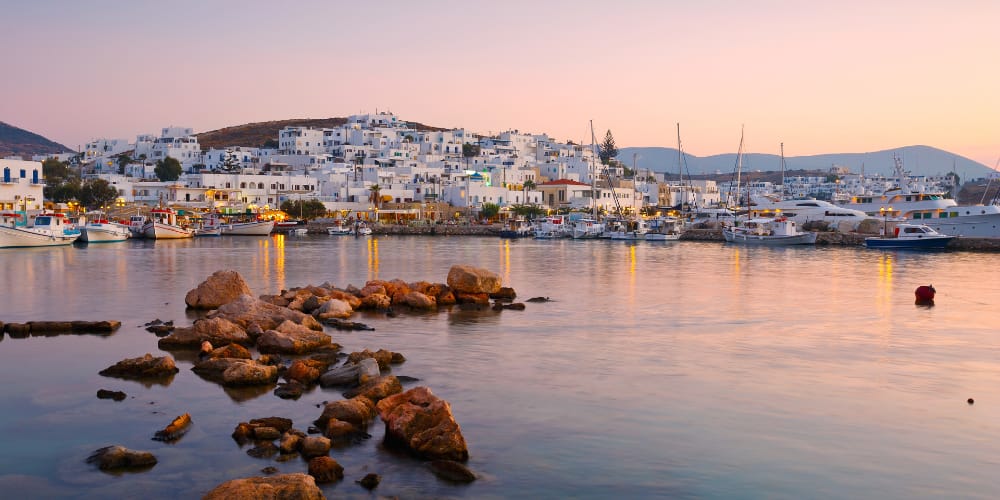 Many new beautiful hotels opened in Naousa recently:
---
Lefkes, Paros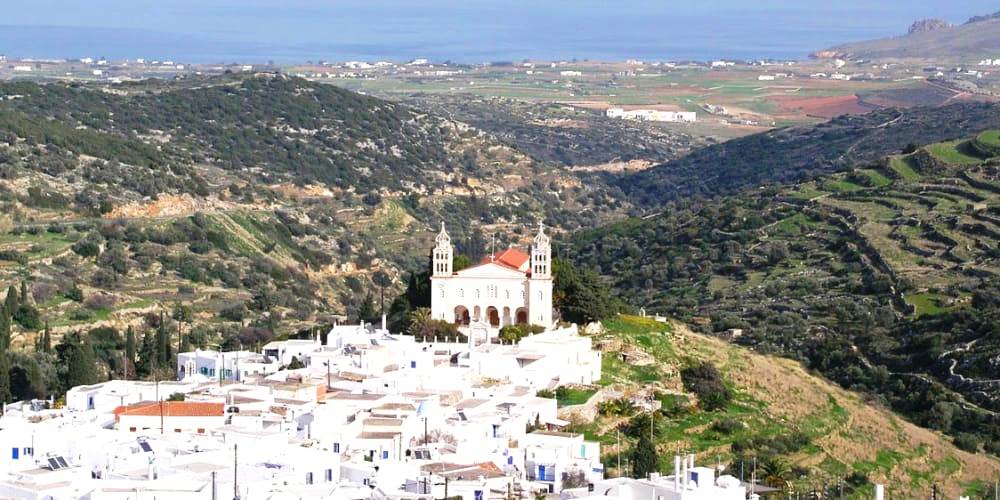 Lefkes is considered the most authentic village of Paros. It is located in the center of the island, about 300 meters above sea level, and surrounded by green hills and olive trees.
Lefkes was of great strategic importance during the Middle Ages, due to its location on the hillside overlooking the sea. At that time, it was a fortress that protected the inhabitants of the island from the attacks of pirates and enemy troops.
Today, Lefkes is a traditional Cycladic village with narrow streets, whitewashed houses, blue doors, blooming bougainvillea, and windmills. The main street is full of stores selling local products and handicrafts. Take your time, sit in a cafe, and sip Greek coffee. Listen to the cicadas and feel the cozy and peaceful atmosphere of this wonderful village.
---
Pounta, Paros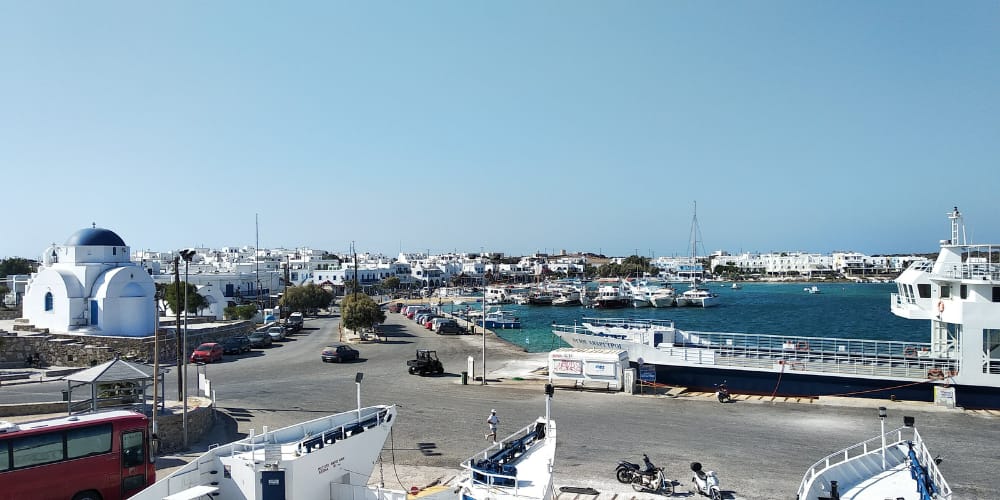 The small port of Pounta is located on the west coast of the island of Paros, 7 km to the south of Parikia. Every half hour there are local ferries from Pounta to the island of Antiparos. The distance between the islands is just over 1km and the trip takes only 7 minutes. The ferry takes cars, so you can drive to Antiparos with your rental car.
The area is popular for windsurfing and kitesurfing. Please do not confuse it with the beach of Punda, which is located on the east coast of Paros.
---
The most famous beaches of Paros
The stunning beaches of Paros Island rank among the most beautiful in all of Greece. Here you will find both wide, organized beaches and hidden secluded bays of incomparable beauty. What unites them is the unreal turquoise color and crystal-clear waters.
Kolymbithres Beach, Paros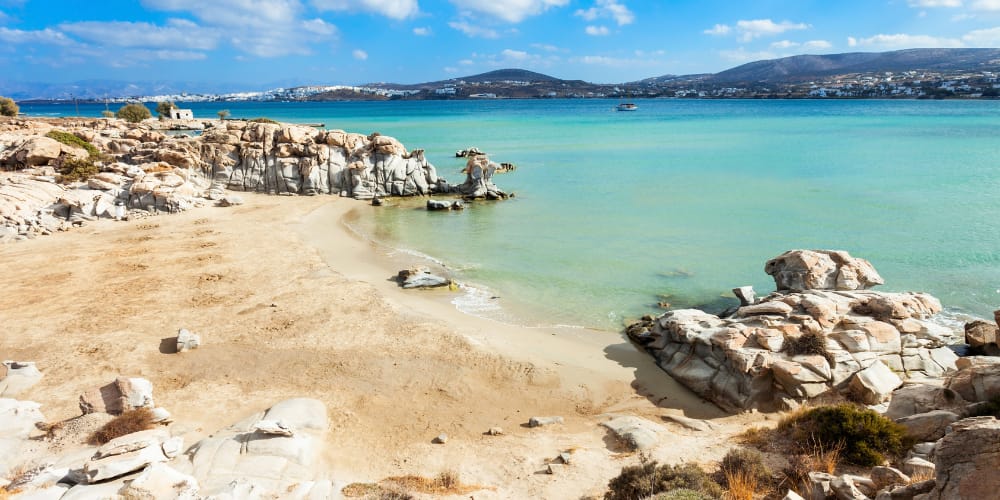 The most well-known beach on Paros, and possibly the entire Cyclades, is called Kolymbithres, and it's located in the northwest of the island, close to Naoussa town. The beach is sandy and the water is crystal clear, which makes it attractive for families with children.
Its name, which means "pools" in Greek, demonstrates how special it is. Kolimbithres beach is a collection of numerous small sandy beaches, hidden between enormous rocks that have formed that resemble pools. Granite rocks that have been carved by wind and saltwater, fall into the sea, creating unique natural sculptures. Of course, this is the most Instagramable location on Paros. You will get incredible photos, because of the unique rocks against the azure blue background.
There are several cafes and taverns, where you can try local delicacies and fresh fish. You can get there by car or by water taxi from Naousa.
---
Logaras Beach, Paros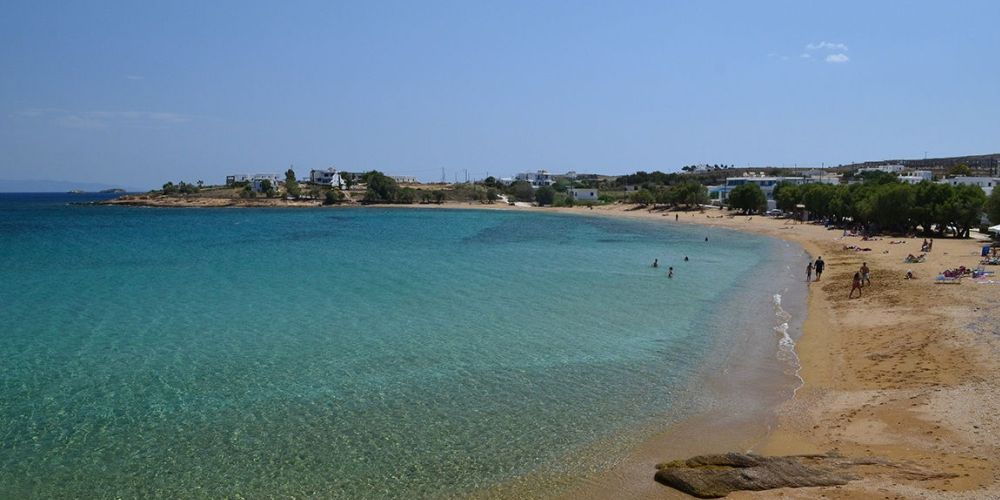 Logaras beach with its fine light sand is one of the most popular and beautiful beaches of Paros. It is located 15 km from the capital of the island, in the southeastern part, between the village of Piso Livadi and the beach of Punda. The beach is organized, there are beach bars and taverns with sunbeds and umbrellas. The lush tamarisks trees, growing here provide natural shade. The Blue Flag awarded beach.
---
Punda Beach, Paros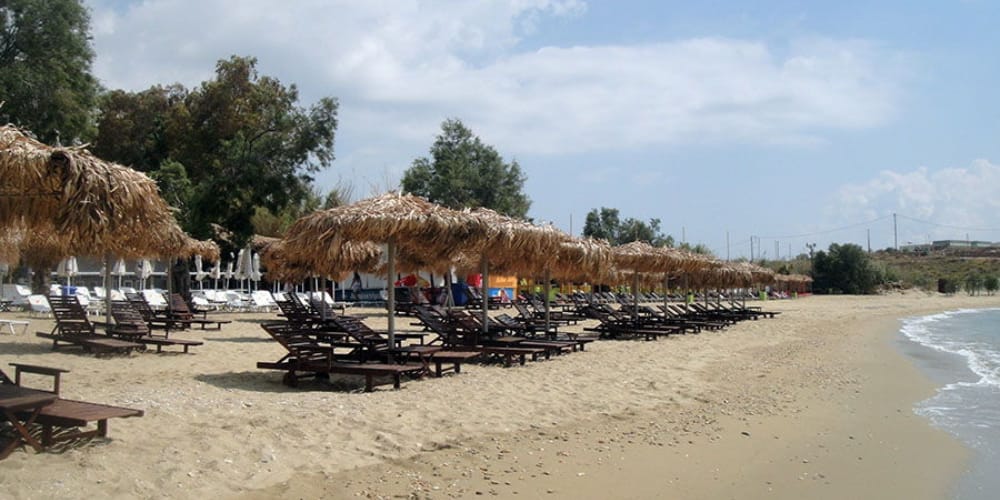 Punda is one of Paros' busiest and most well-known beaches and is located on the eastern side of the island. Young people and those looking to combine swimming with music and fun, are especially fond of this sandy beach with the clear waters. The beach is well organized with umbrellas and sun loungers, there are 2 beach bars, pools, and water sports. The Blue Flag awarded beach.
Where to stay on Punda Beach, Paros
If you want to stay near the beach of Punda, pay attention to this amazing new hotel
---
New Golden Beach (Tserdakia), Paros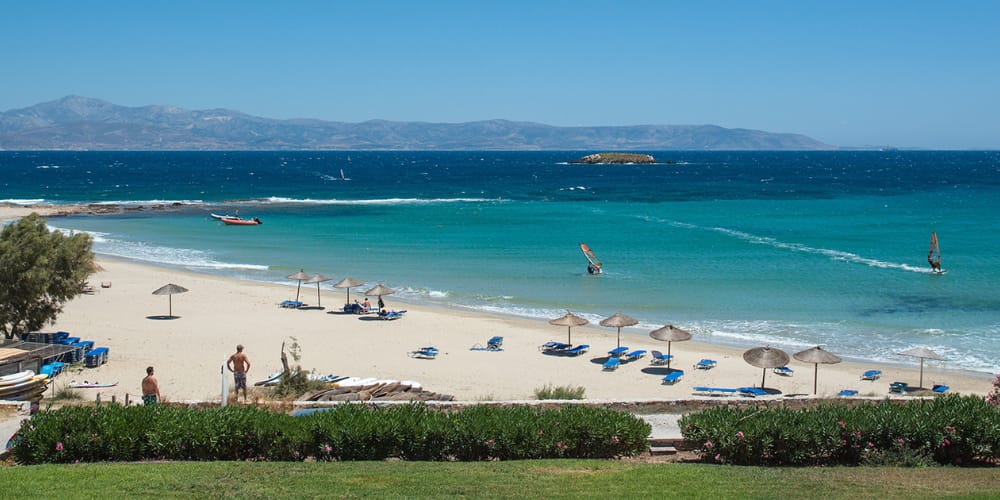 Nea Chrissi Akti, also known as New Golden Beach, is a beautiful beach located on the southeastern coast of Paros Island. It is situated just a few kilometers away from the original Chrissi Akti and is known for its clear waters and a long stretch of golden sand.
Nea Chrissi Akti is a popular destination for windsurfing enthusiasts due to its consistent wind conditions. The beach is also well-equipped with windsurfing and kitesurfing schools, as well as rental shops offering all the necessary equipment. However, the beach is not limited to windsurfers and kitesurfers only, it is a perfect spot for sunbathing and swimming as well with plenty of sunbeds and umbrellas available for rent.
Overall, Nea Chrissi Akti is a fantastic destination for those looking for a combination of water sports and relaxation on Paros Island. Its stunning natural beauty, clear waters, and range of activities make it a popular spot for both locals and tourists alike. The beach is Blue Flag awarded.
Where to stay on New Golden Beach, Paros
There are 3 excellent beachfront hotels on New Golden Beach:
---
Molos Beach, Paros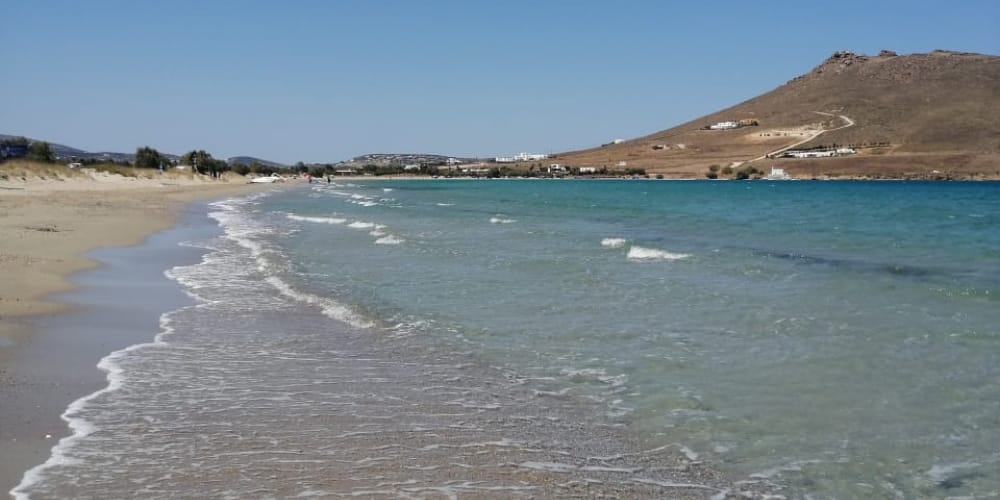 The beach of Molos is located on the east coast of Paros, between 2 hills that protect it from the winds. It's an unorganized beach with some pebbles and sand. It is part of Natura 2000. The beach is never crowded and it's the best option if you're in search of peace and quiet. Families love this beach because children can play safely in the sand and water. There is a water sports center and some rooms and apartments for rent nearby.
---
Kalogeros Beach, Paros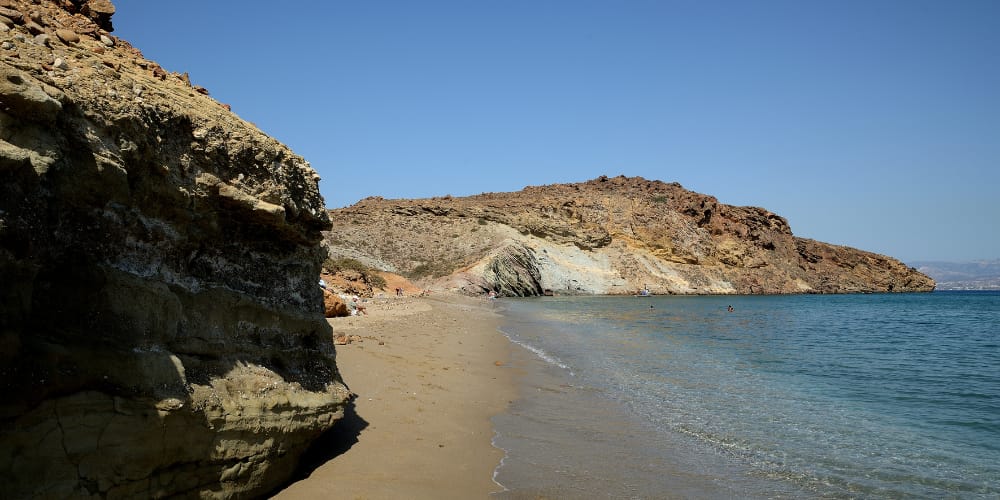 Next to the long beach of Molos, there is a small beach of Kalogeros. The cliffs make the landscape unique. Its characteristic is the special color of the sand, due to the clay rocks of the area. Many visitors smear themselves with clay, go sunbathing, and then wash it off in the sea. The beach is not organized, so make sure you bring everything you need.
---
Faragas Beach, Paros
Faragas is one of the most beautiful beaches in Paros. An idyllic scene is created by the azure colors, shallow entrance, and small, picturesque bays in the crystal clear waters. The water is always calm here because of its protected location in the bay.
---
Piso Aliki Beach, Paros
Piso Aliki beach has pebbles and sand and shallow, clear waters. It is perfect for families with children, especially when it's windy because the water there is always calm. It stretches meters into the sea and is breathtakingly beautiful and turquoise.
---
Rent villas and apartments in Paros
The island of Paros offers a wide range of fantastic recreational opportunities, including ones for families with kids. We offer a wide selection of luxurious villas, charming summer houses, and apartments for rent in Paros.
Book your vacation villa or apartment in Paros for 2023 right away. Keep in mind, that if you book in advance, you can select a home that meets your specific needs, such as a beachfront villa, a private pool, or many bedrooms. Additionally, you can find early booking offers and discounts that will lower the cost of your trip.
---
Book a hotel to stay on Paros Island
If you prefer to stay in a hotel, then choose the best option in Paros using the map. If you need some advice, just ask us!
---
How to get to Paros Island
Traveling to Paros Island by plane
The airport of Paros is quite small and serves only local flights. Most likely will fly to Athens International airport and then fly to Paros island or take a ferry from one of Athens ports.
We can suggest you use AVIASALES which is one of the largest online search engines for flights all over the world. This service helps to compare airfares from hundreds of airlines and dozens of travel agencies and systems and book the cheapest tickets available.
---
Traveling to Mykonos Island by ferry
Ferries to Mykonos leave from the main port of Athens – Piraeus. You can check the ferryboats schedule and buy your tickets here:
The island of Paros can be reached also from the port of Rafina.
---
Traveling to Paros Island by private helicopter
Once you arrive in Athens we can pick you up directly from the arrival gate and take you to the helipad. This way you can reach Paros very fast and have more time to enjoy your vacation. Helicopters can fly in high wind conditions, and even in cases where transfer by sea would be impossible. Also, we can take you to destinations that have no airports and where ferryboats have infrequent itineraries. Flight from Athens to Paros Island by helicopter has a duration of 40-45 minutes and the price starts from € 5000.
---
Transfer from Paros airport or Paros port
Arriving in another country, it is important to see a person, who is waiting especially for you upon arrival at the airport. It gives you confidence that you will reach your destination, avoiding all troubles, long waits in the taxi queue, and possible overcharges. Our prices include all fares, VAT, and any lawful charge; therefore, you know that what you pay is the final price for your transfer. Comfort and safety will be provided, which is especially important if you are traveling with children. That's why we offer transfer services with professional drivers and a modern car fleet. All cars and minivans are equipped with air conditioning and drinking water.
---
Paros Car Rental
During your holidays on Paros Island, you can rent a car from the airport or port, or your villa or hotel. To find the perfect car for your trip, we recommend checking DISCOVER CARS. It is a leader in online car rental reservations. It compares car rental deals from many companies so that you can choose which is best for your trip. Many other websites hide fees and extra costs from you. The service includes all mandatory fees, taxes, and extras in the quoted price so there won't be any surprises when you arrive at the rental desk.
---
Please note that The Best Places & Beaches of Paros Travel Guide contains some affiliate links. It means that we may receive a small commission to help us maintain this site without any additional cost to you. We only recommend services and products that we use and believe will be helpful.
Updated: April 2023