Top Things to do in Loutraki, Greece
---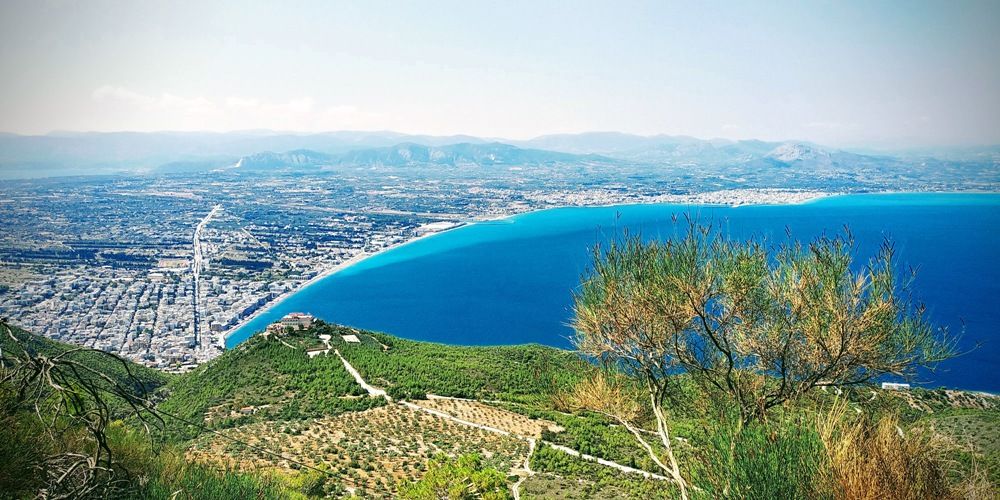 If you are looking for a place close to Athens and at the same time want to enjoy all the relaxing delights of the real Greek resort, then take a look at Loutraki. It is a popular seaside town with a long pebble beach and promenade with plenty of taverns, bars, and cafes. So, let's take a closer look.
---
Why Loutraki is so popular
Loutraki Town Location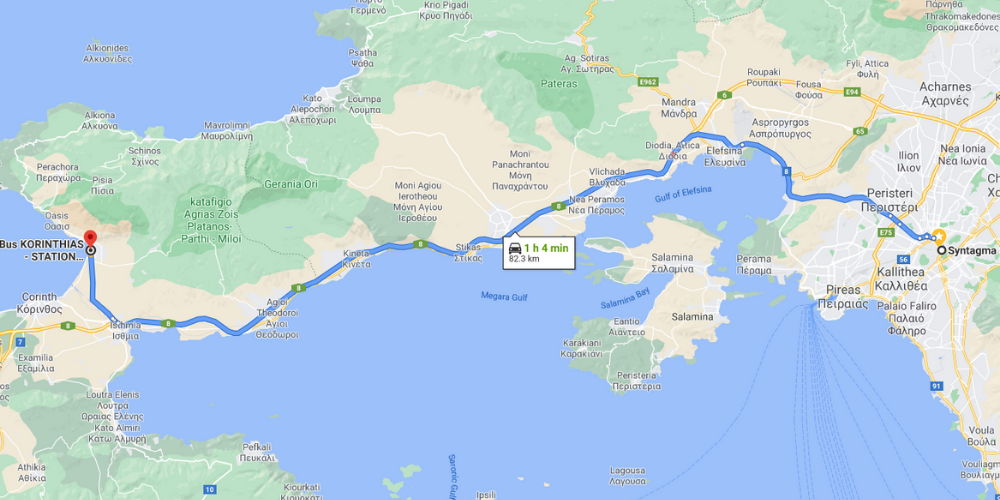 Just a one-hour drive from Athens (80 km). During your stay in Loutraki, you can easily plan your trip to Athens for sightseeing or shopping. You can take a comfortable intercity bus, it costs € 10 per way. You can also book a transfer with us at a better price than a taxi.
---
Loutraki Beach and Promenade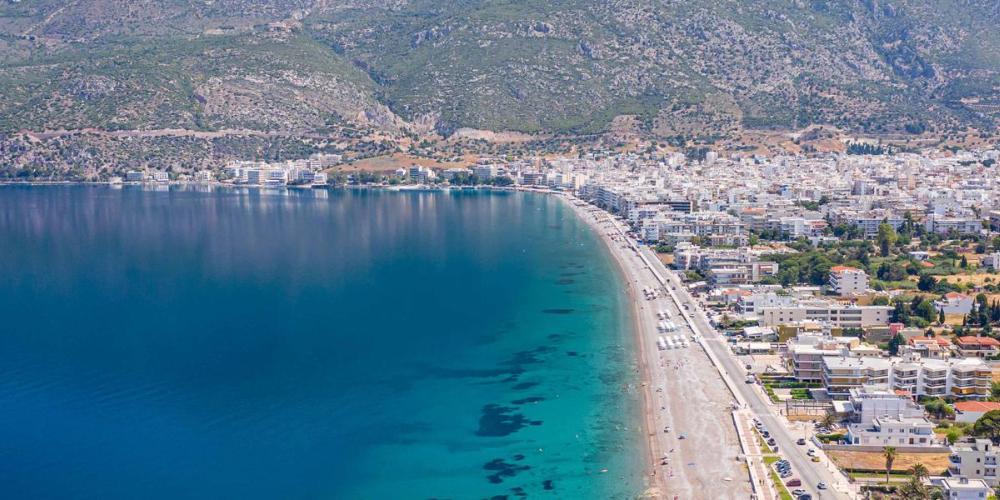 Loutraki is a beautiful place to swim and sunbathe. The long central beach of Loutraki has crystal clear blue waters and colorful pebbles. It has been awarded the Blue Flag every year since 1987.
There are many cafes and bars along the coastal road. Sun loungers and umbrellas are provided free of charge if you take a refreshing drink or coffee. If you are a water sports fan, there are many options: windsurfing, jet skiing, and sailing.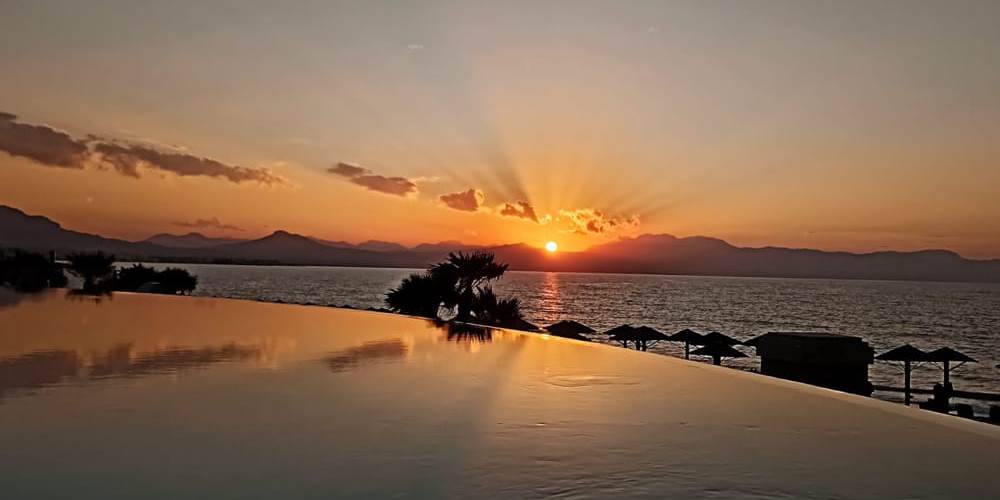 Don't miss the fascinating Loutraki sunset, one of the most beautiful sunsets in Greece. After your bathing, you should stroll along the beautiful promenade full of countless taverns, cafes, and restaurants. The vivid nightlife awaits you afterward as Loutraki is famous for its seaside bars and clubs enchanting and upbeat.
---
Loutraki Natural Thermal Springs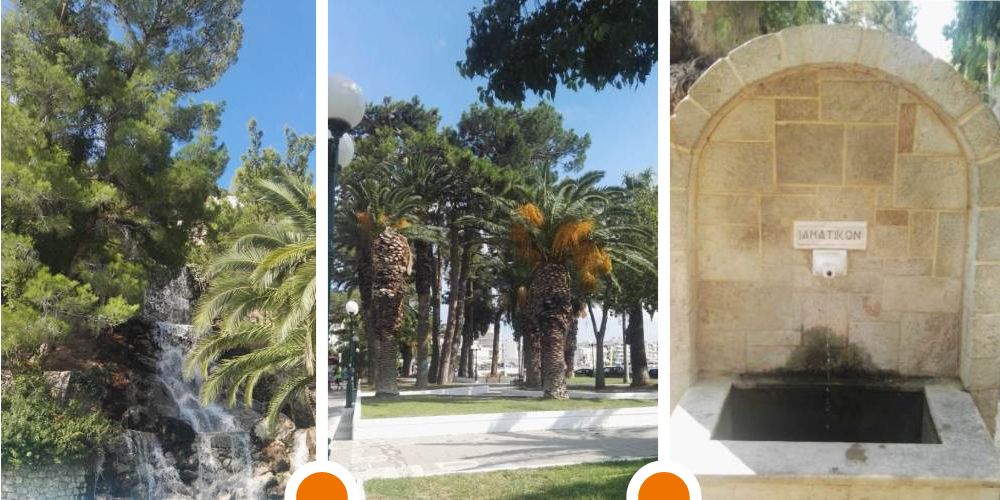 Local thermal springs have been known since ancient times. The water of Loutraki, rich in minerals and microelements, is used as a drinking therapy. You can drink it in the city park for free.
---
Loutraki Thermal Spa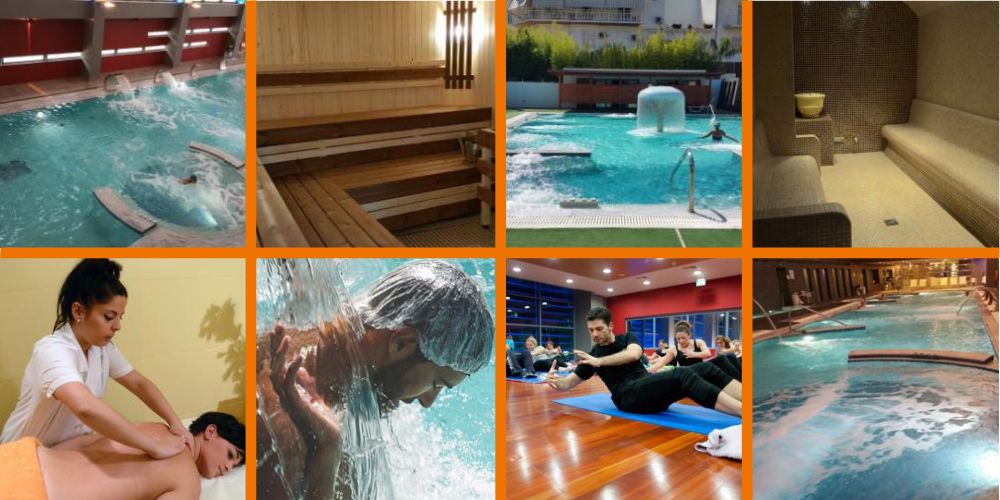 Modern Loutraki Thermal Spa offers a selection of relaxing and beauty treatments with the life-giving power of Loutraki's thermal water.
Loutraki Thermal Spa Facilities:
2 indoor heated pools with Thermal Water, waterfalls, and jet hydro-massaging
1 indoor swimming pool with cool water
1 outdoor pool with hydro massaging and waterfall
2 Caracalla-type personal cabins with hydrotherapy bathtubs with thermal waters.
10 personal bathtubs of thermal water for hydromassage from multiple sprinklers.
2 specially designed halls with heated mud therapy layers.
Sauna and 2 Steam rooms/Hammam
Gym
Massage Rooms
The most popular basic services of Loutraki Thermal Spa:
Hydromassage in swimming pools (20 min) — € 10
Hydromassage in swimming pools, sauna, and hammam (60 min) — € 15
Hydromassage in swimming pools, sauna, and hammam (90 min) — € 18
Multi-day therapy programs of Loutraki Thermal Spa:
HARMONY 5-day Special Therapy Package for cervical syndrome-lumbago-sciatica – € 250
ASCLEPIUS 5-day Special Therapy Package for skin diseases  – € 250
HIPPOCRATES 5-day Special Therapy Package for arthritis  – € 250
NEFELI 3-day Special Therapy Package for cellulite treatment – € 180
NEFELI 6-day Special Therapy Package for cellulite treatment – € 360
---
Loutraki Casino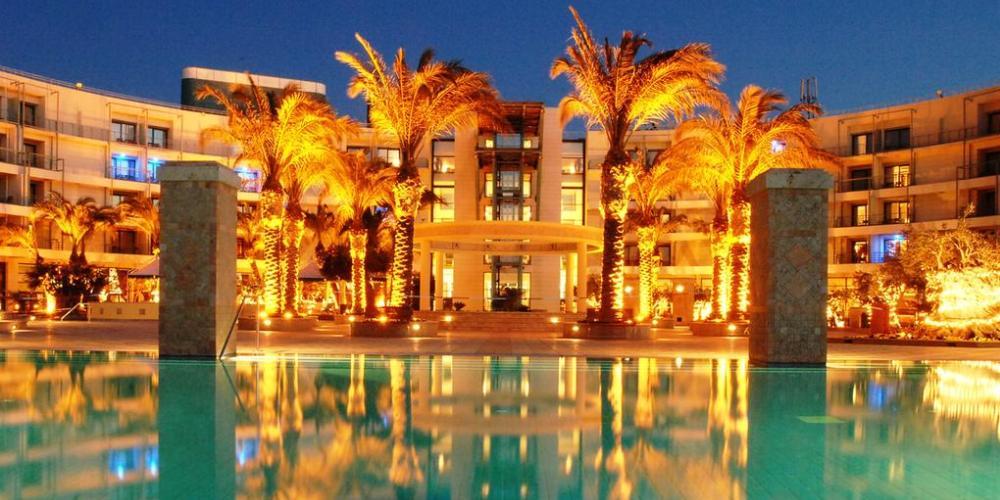 The casino in Loutraki is one of the largest and most famous not only in Greece but in all of Europe. It offers 1.000 ultra-modern slot machines and 35 electronic roulettes. The total number of live game tables is 87. The casino Loutraki offers classic table games such as Blackjack and Roulette, Punto Banco, and Poker Table Games. Two separate private and luxurious zones, VIP and the VVIP hall Tholos are available to Greek and international jet setters. If you like to try your fortune, then you will definitely like it.
The casino operates in the best 5* hotel in the city – CLUB HOTEL CASINO LOUTRAKI. The hotel has also spa installations with an indoor swimming thermal pool, Jacuzzi, sauna, and hammam.
---
Trips nearby Loutraki
Corinth Canal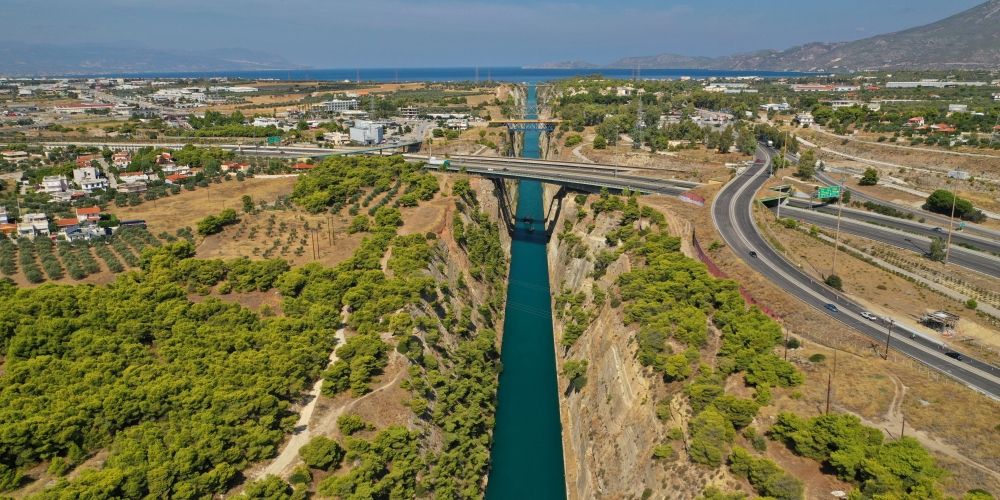 An extraordinary attraction, which must be visited. The length of the channel is 6 km, and the height of the walls is almost 80 meters. It connects the Aegean and Ionian seas. Thousands of people see the Corinth Canal from the bridges above, but you should definitely get the experience of taking a boat trip down the Corinth Canal. The views from the water are even more incredible.
---
Monasteries and Churches of Loutraki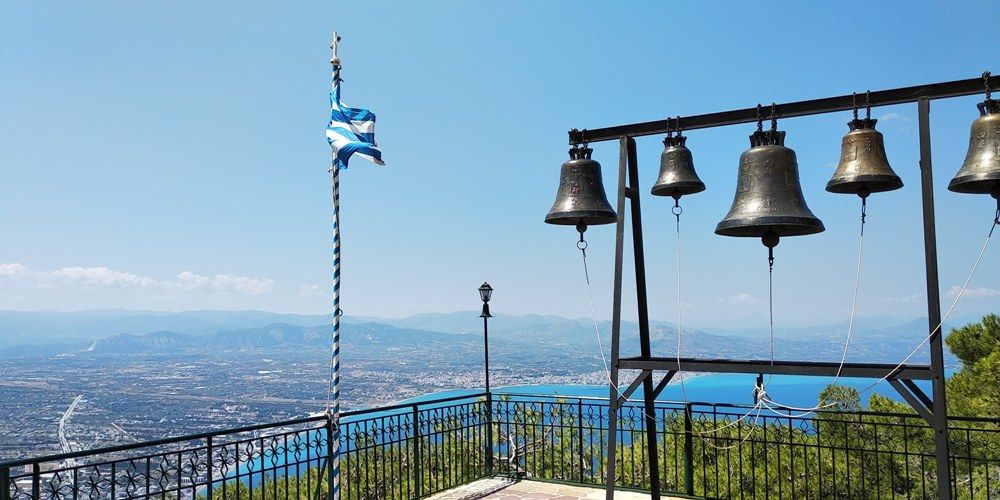 Loutraki is famous for pilgrims' visitors. Gerania Mountains is even called the Holy Mountain of southern Greece due to the large number of monasteries and churches located there.
One of the most famous is the Osios Patapios Monastery which has miraculous relics of the saint. It is situated at 700m altitude and requires successfully walking up the 144 steep steps before the entrance. But it's worth doing as the terrace of the Monastery offers a magnificent panoramic view of the surroundings. You will see the Corinth Canal, the green slopes of the mountain, and a series of red roofs and white houses below. The monasteries of Profitis Ilias and Agios Gerasimos also offer breathtaking views of the Corinthian Gulf.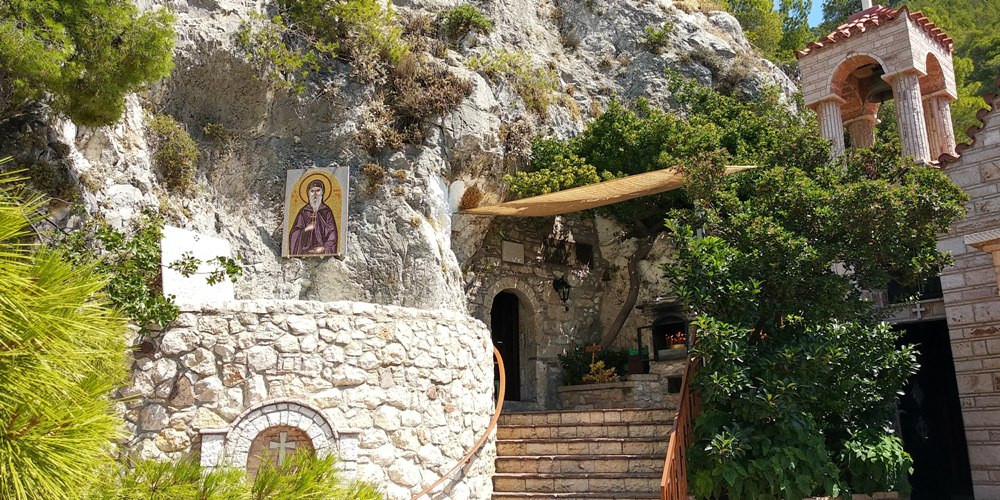 The Church of Our Lady of Prathi is one of the oldest churches in Peloponnesus, surrounded by pine trees. The churches of Agios Ioannis, Agios Fanourios, and the Byzantine church of St. Andreas are all located in the city of Loutraki. The church of Agioi Theodoroi is a post byzantine from which the name of the city was derived. Many other churches are worth visiting in the area. Visit the Agia Paraskevi church in Pissia village, Taxiarches Church in Perachora, Agios Georgios on Heraion sanctuary, and Agios Nikolaos on the Heraion Lagoon.
Every year, on the 8th of September, Loutraki celebrates the miraculous icon of our Holy Lady "Giatrissa", the healer, with a magnificent fair that lasts 3 days. Faithfull Orthodox Christians from all over Greece visit Loutraki during the fair to pay respect to the miraculous icon and celebrate Her grace.
---
Vouliagmeni Lake (Heraion)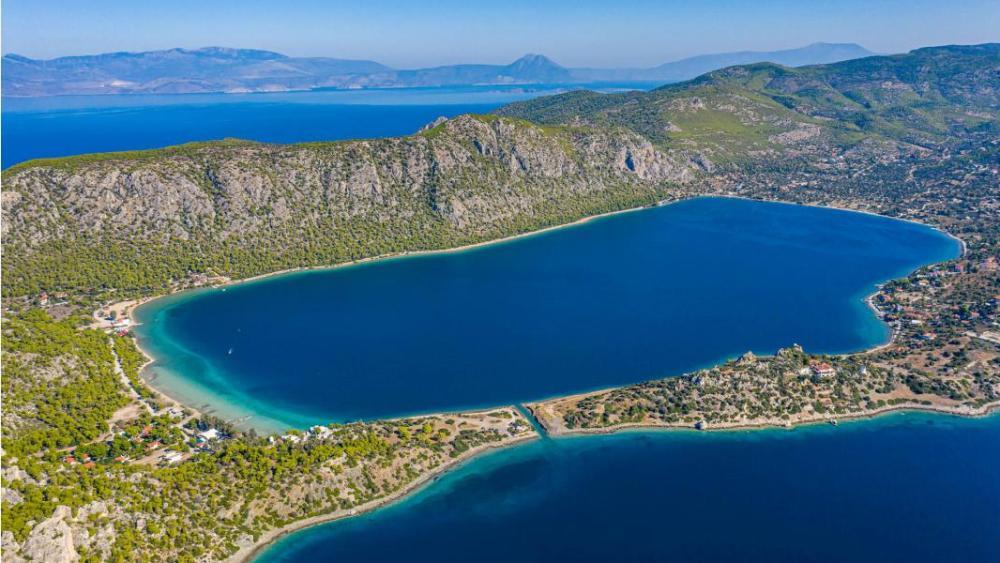 Featured by UNESCO as a place of exceptional natural beauty, this small blue lagoon is 16 km from Loutraki. It is very close to the archaeological site of Heraion, from where it was named (Heraion Lagoon).
The entire lakeside road (about 5km) is ideal for running and cycling. The lagoon's depth does not exceed 40 meters, its length is 2 km and its width is 1 km. The beach is sandy.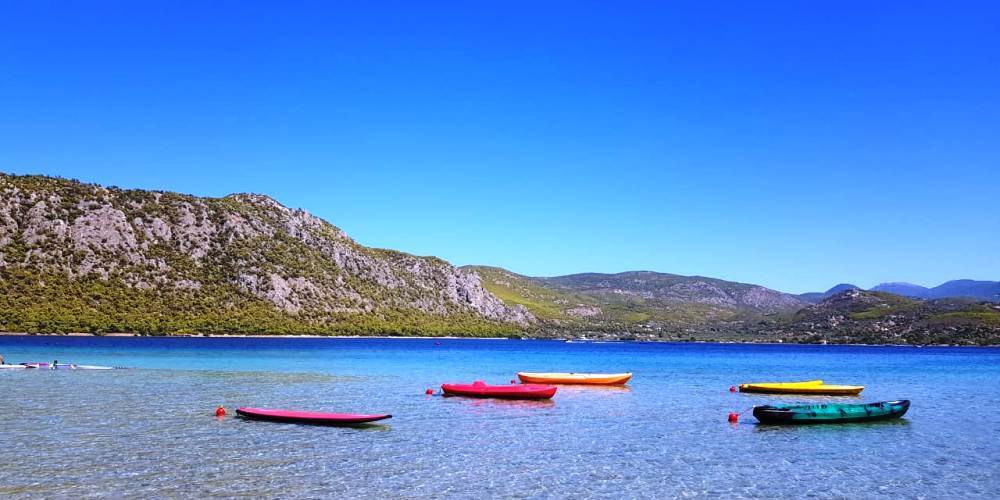 The lagoon's waters communicate through a narrow channel with the Corinthian Gulf and are renewed by the tide every six hours. The water here is considered particularly warm and allows swimming until late in the autumn.
It is an ideal family destination and offers visitors a lot of opportunities to relax. Enjoy water sports or visit the picturesque chapel of Agios Nikolaos. Drink your coffee in the cafe or enjoy amazing seafood in the tavern with a backdrop of paradise. In recent years, the location has been the meeting point of many sports events as well as social events, such as weddings and christenings, with the aura of the sea.
---
The Heraion of Perahora and Melagavi Lighthouse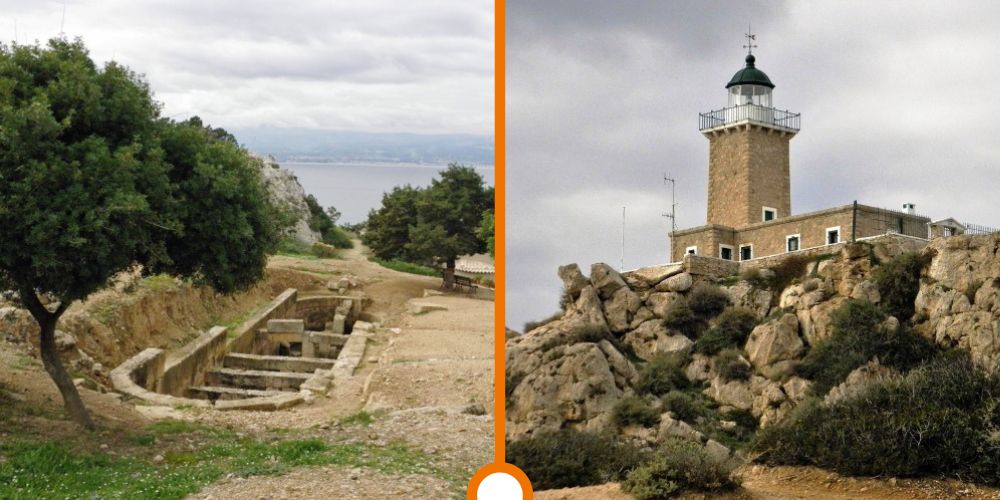 The Heraion of Perachora was a sanctuary dedicated to the goddess Hera. It is situated in a small cove of the Corinthian Gulf at the end of the Perachora peninsula. In addition to the temple of Hera which is of unusual construction in the 6th century BC, the remains of a number of other structures have also been found. They are including an L-shaped stoa, a large cistern, dining rooms, and a second potential temple remnant.
Next, you will find the Melagavi lighthouse, also known as the Heraion lighthouse. It was built in 1897 on the Agrilaos peninsula, in the Gulf of Alkyonides Islands. In 1947, the building was renovated and repaired. Its outline is T-shaped, and it has a rectangular light tower. It is made of stone and it constitutes a typical example of classical lighthouse architecture. Melagavi is renowned to be one of the 10 most beautiful lighthouses in Greece. It is also one of the most photographed landmarks by travelers with thousands of captures on Instagram.
---
Cave of Seals Beach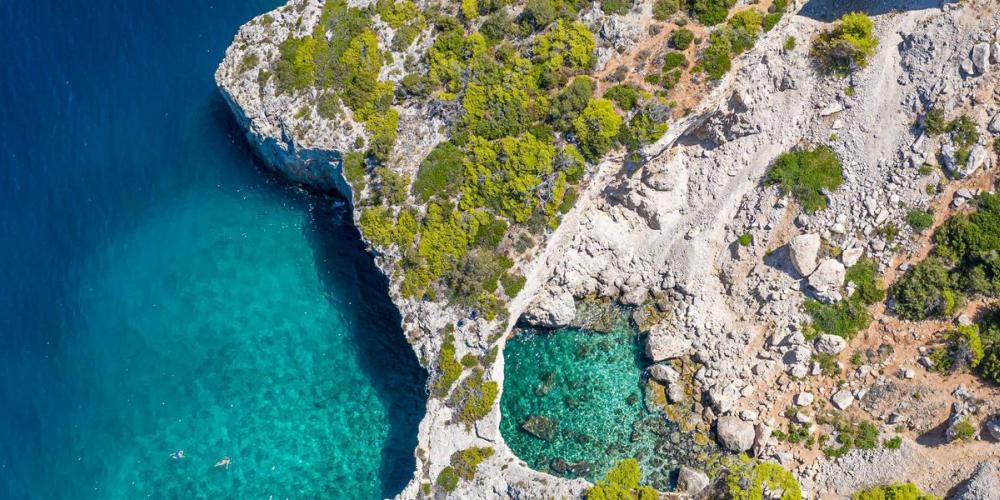 On the steep cliffs of Corinth, there is a well-kept blue window, one of the most beautiful natural monuments in the area. It is a rocky formation, a natural arch above the turquoise waters of the sea. It is about an hour from Loutraki and is just opposite the Alcyonides Islands.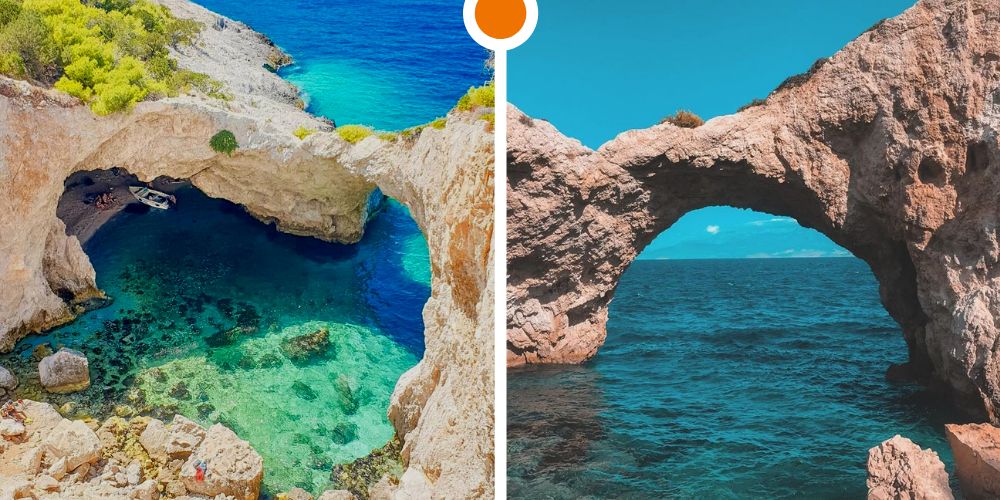 The Seal Cave is one of the purest and untouched parts of Corinth as it has remained unknown for years. It is difficult to access, so that is why it is one of the purest and untouched parts of Corinth. You can reach the cave by boat or through a rough, pine-covered path.
---
Rental Villas and Apartments in Loutraki
Loutraki is a unique destination for the summer holidays, offering plenty of opportunities. We offer a large selection of luxury villas, cozy holiday houses, and apartments here.
Book a Villa for the holidays in Loutraki in 2024 right now. Remember that booking in advance allows you to choose a property according to your specific requirements, such as a beachfront, or private pool. Also, you can find early booking deals and discounts which could bring the price of your holiday down.
---
Hotels to stay in Loutraki
Looking for a hotel to stay in in Loutraki? Check the best options at great rates and choose the hotel that suits you.
---
How to get to Loutraki
Flight to Athens
To get to Loutraki you should take a flight from your country to Athens International Airport. We suggest you use JETRADAR. It's one of the largest online search engines for flights all over the world. This service helps to compare airfares from different airlines, travel agencies, and systems, and book the cheapest tickets available.
---
Loutraki is 110 km away from Athens airport and there are a few ways to get there.
Transfer from Athens Airport to Loutraki
Arriving in another country, it is important to see a person, who is waiting especially for you at the airport. It gives you confidence that you will reach your destination, avoiding any troubles, long waits in the taxi queue, and possible overcharges. Our prices include all fares, VAT, and any lawful charge; therefore you know that what you pay is the final price for your transfer. Comfort and safety will be provided, which is especially important if you are traveling with children. That's why we offer transfer services with professional drivers and a modern car fleet. All cars and minivans have air conditioning and drinking water.
---
Athens Airport Car Rental
You can rent a car from the Athens airport office. To find the perfect car for your trip, we recommend checking DISCOVER CARS. It is a leader in online car rental reservations. It compares car rental deals from many companies so that you can choose which is best for your trip. Many other websites hide fees and extra costs from you. Discover Cars includes all mandatory fees, taxes, and extras in the quoted price. So there won't be any surprises when you arrive at the rental desk.
---
Like it? Pin it!
---
Please note that this article contains some affiliate links without any additional cost to you. It means that we may receive a small commission to help us maintain this site. We only recommend services and products that we use and believe will be helpful.