Kallithea Kassandra Travel Guide
Kallithea – means "beautiful view" in Greek! This is the name of the popular resort on the Kassandra peninsula in Halkidiki. Kallithea is located on a hill, so the panoramic view of the turquoise sea and the ruins of the ancient temple of Zeus Ammon on the shore is really amazing. We have prepared this small Kallithea, Kassandra travel guide for you.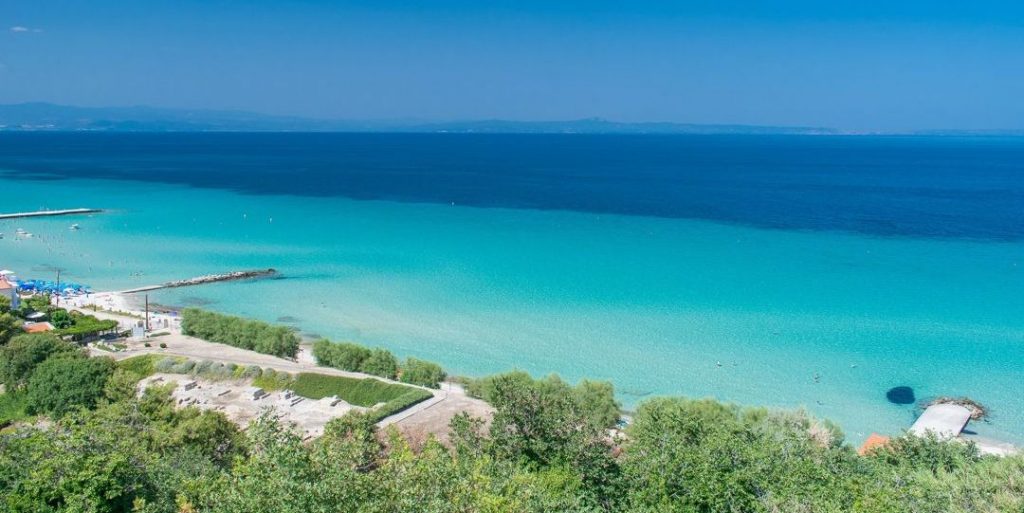 ---
Kallithea Village
It s the most cosmopolitan resort in Halkidiki. There you can find a variety of accommodation: hotels, villas, apartments, and studios. It is also the largest shopping centre in Halkidiki with many stores like gold shops, shoe and clothing stores, supermarkets, banks, car rental offices, fast food, restaurants, taverns, and bars.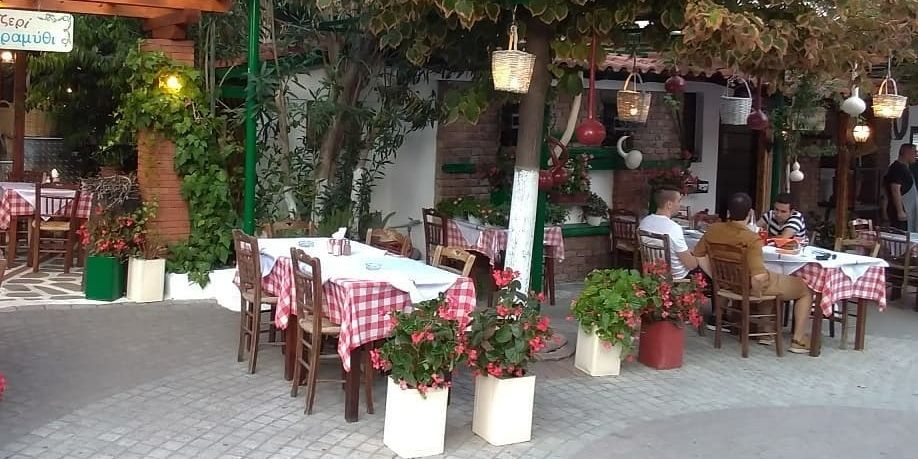 ---
Kallithea Nightlife
But the main highlight of this resort is the vibrant nightlife. Kallithea never sleeps! For the fans of clubbing it offers:
The most popular nightclub in Halkidiki is Pearl Club, one of the most impressive nightclubs in Greece.
Beach bars where wild parties take place all day long.
Live concerts of Greek singers at buzuki clubs.
But the nightlife does not disturb other guests because all the clubs are located at a distance from the centre of the village.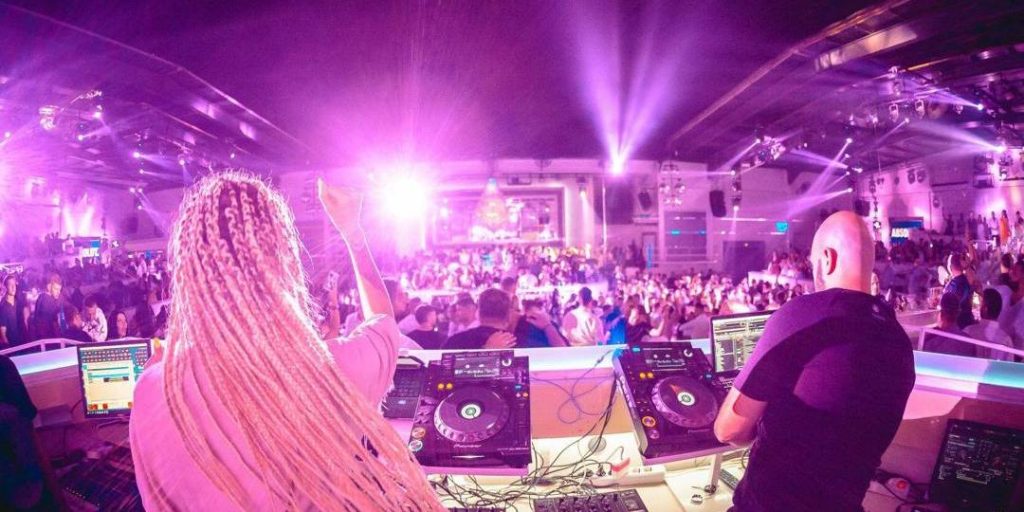 ---
Kallithea Beach
Kallithea Beach, surrounded by pine green hills, pleases with golden sand and an extended coastline. There are bars with sunbeds and umbrellas, and water sports centres. The best part of the beach is on the right. There is a shallow entrance to the sea, the cleanest sand and there are no waves. In 2022, as in previous years, the beach of Kallithea received two Blue Flags for the cleanliness and equipment of the coastline.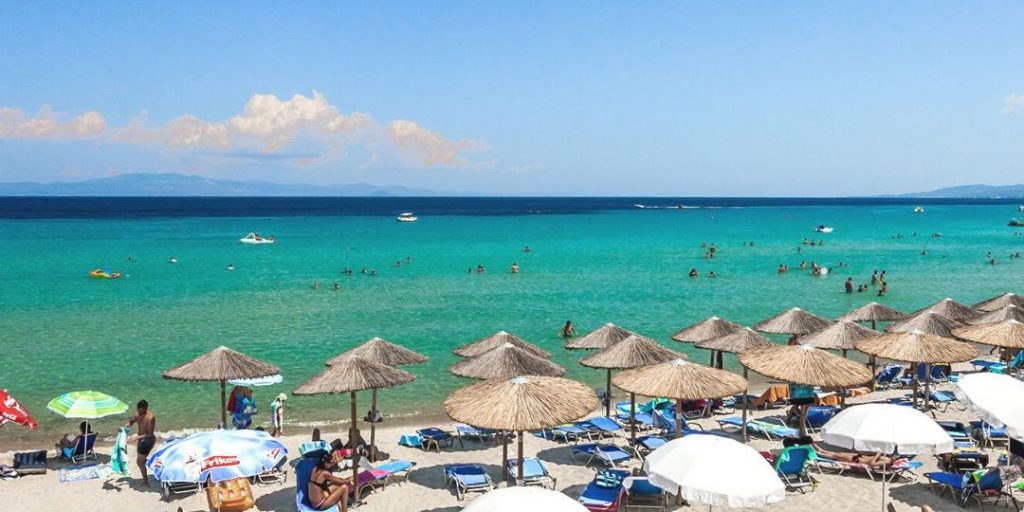 ---
Kallithea's location
We should keep in mind, that since the village itself is located on a hill, you have to go down to the beach. The road goes through a beautiful park and takes about 7 minutes. Directly on the shore is the archaeological site of the Temple of Zeus Ammon, numerous beach bars, and a couple of hotels.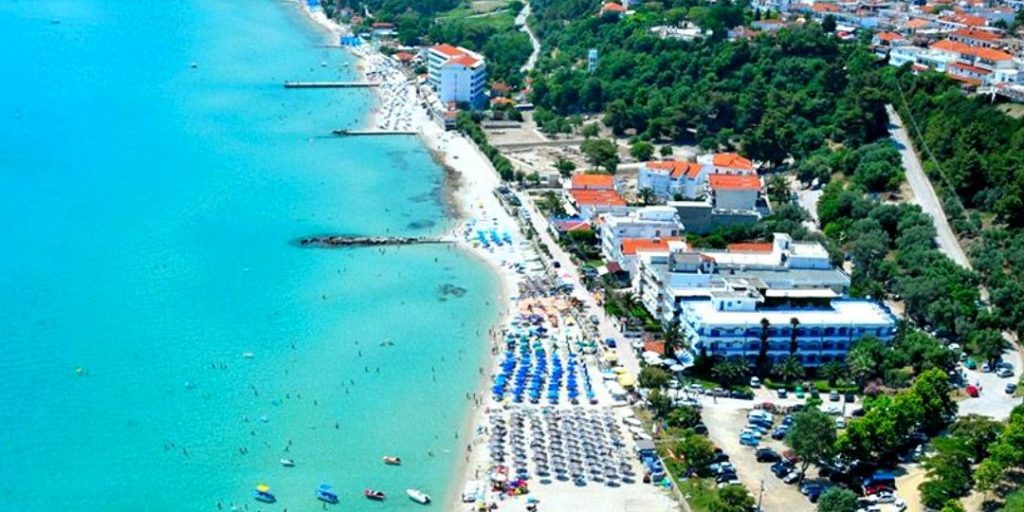 ---
Villages next to Kalithea
For those who want to relax in this resort, but with direct access to the beach, we offer a large selection of villas and apartments in the nearby villages of Solina and Kriopigi. They are located on a long sandy beach, surrounded by a pine forest.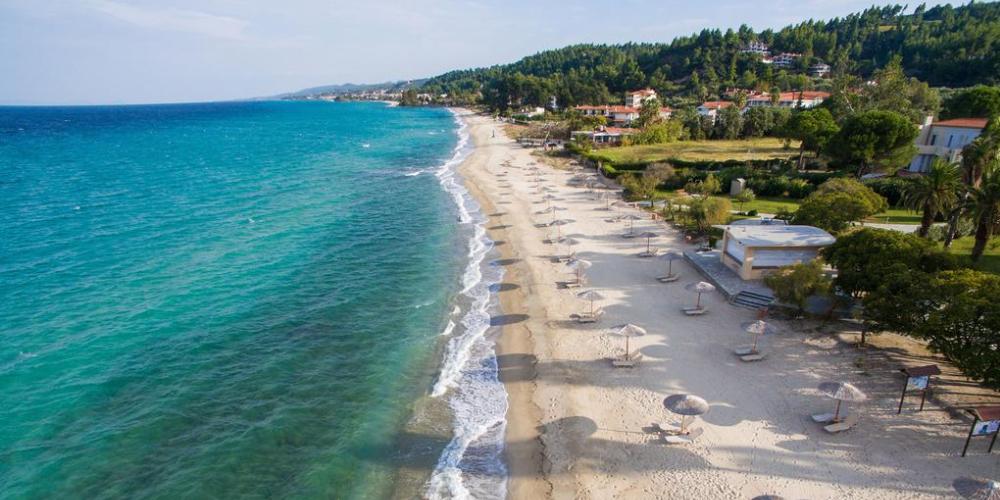 ---
How to get to Kallithea
Flight to Thessaloniki
To get to Kallithea you should take a flight from your country to Thessaloniki International airport. We suggest you use JETRADAR which is one of the largest online search engines for flights all over the world. This service helps to compare airfares from hundreds of airlines and dozens of travel agencies and systems and book the cheapest tickets available.
---
Kallithea is 85 km away from Thessaloniki airport.
Transfer from Thessaloniki Airport to Kallithea
Arriving in the country for the first time, or not, it is important to see a person, who is waiting especially for you upon arrival at the airport. It gives you confidence that you will reach your destination, avoiding all troubles, long waits in the taxi queue, and possible overcharges. Our prices include all fares, VAT, and any lawful charge; therefore you know that what you pay is the final price for your transfer. The comfort and safety will be provided, which is especially important if you are travelling with children. That's why we offer transfer services with professional drivers and a modern car fleet. All cars and minivans are equipped with air conditioning and drinking water.
---
Rent-a-car from Thessaloniki Airport
To find the perfect car for your trip, we recommend checking DISCOVER CARS. It is a leader in online car rental reservations. It compares car rental deals from many companies so that you can choose which is best for your trip. Many other websites hide fees and extra costs from you. Discover Cars includes all mandatory fees, taxes, and extras in the quoted price so there won't be any surprises when you arrive at the rental desk.
---
Please note that Kallithea Kassandra Travel Guide contains some affiliate links. It means that we may receive a small commission to help us maintain this site without any additional cost to you. We only recommend services and products that we use and believe will be helpful.