The best places to visit in Corfu, Greece
---
Corfu – what to see and what to do?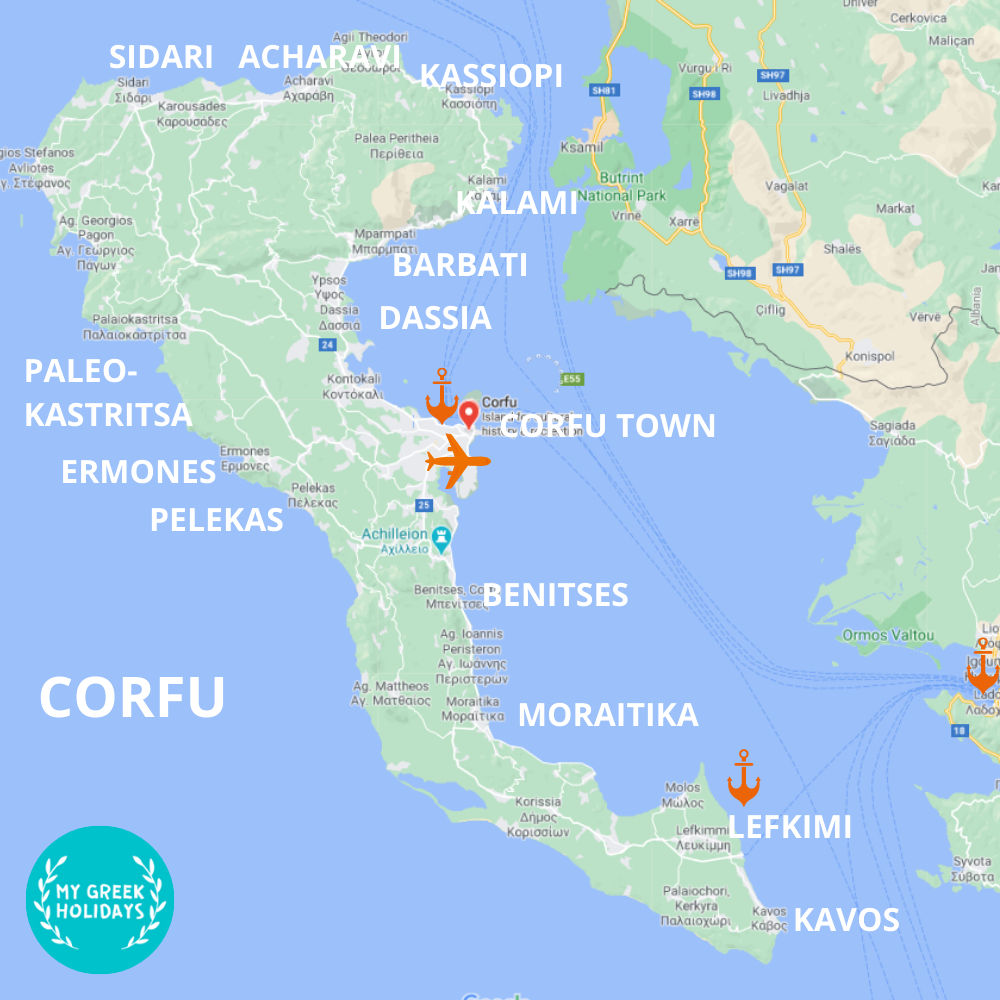 Corfu or Kerkyra, certainly, is the most famous of the Ionian Islands. The island is not quite typical of Greece. Located on the western border of Greece, Corfu has been under the influence of Western Europe for centuries. For almost 400 years (1386 – 1797), Corfu was under Venetian rule. After that, Venice was replaced by France for a few years and the Ionian Academy of Fine Arts was established here on the island. From 1814 to 1864 the island was under British rule and only then it was annexed to Greece. I would like to share with you the best places to visit on Corfu Island.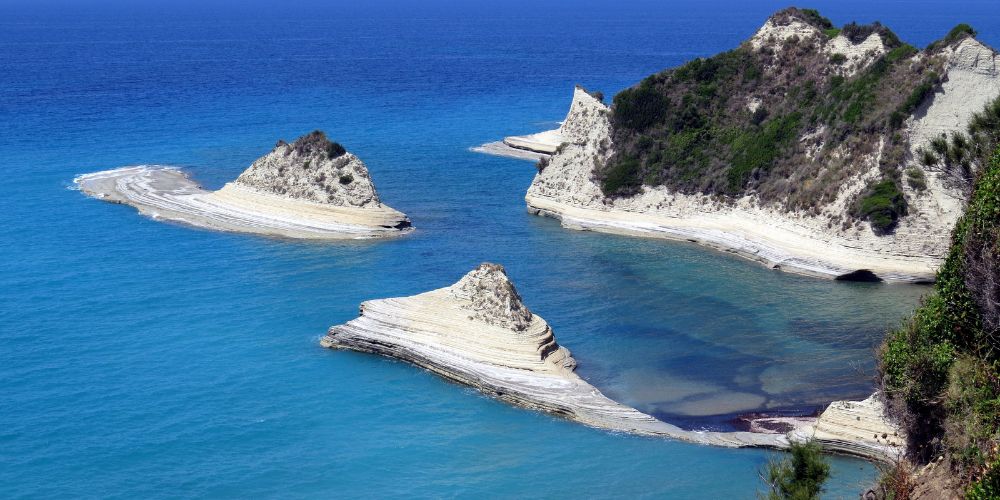 In fact, Corfu is fully surrounded by lush greenery. Centuries-old olive and cypress groves, huge orchards with oranges, pomegranates, figs, and the famous kumquat that grows only here. There are popular resorts with luxury hotels and villas and mountain villages with traditional lifestyles. There are long sandy beaches and cozy bays. The highest point of the island is Mount Pantokrator, from which you have a magnificent view of the whole island.
---
Corfu Old Town, top attractions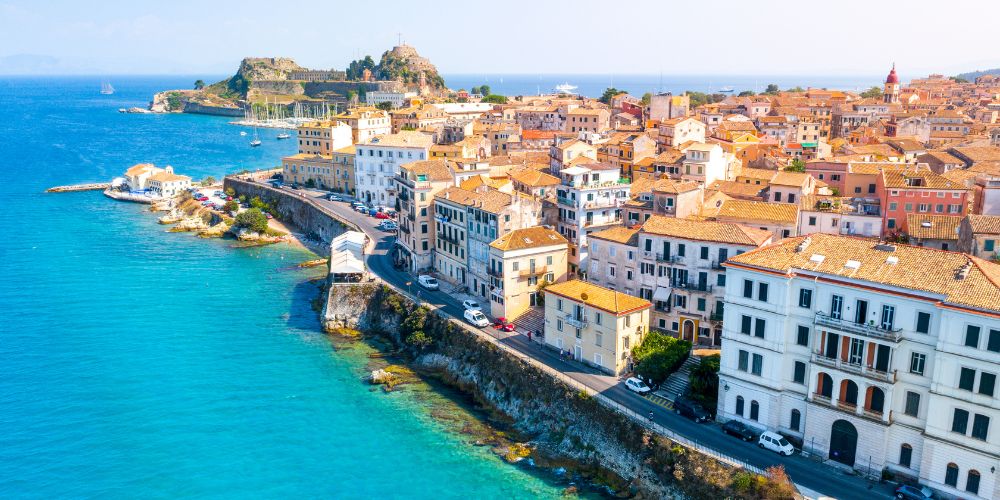 The capital of the island, the city of Corfu, can be called the most elegant capital of the Greek island. As soon as you arrive here, you will immediately feel the influence of the Venetians. However, the British and French have also played their part. Narrow, winding streets with low, flower-strewn balconies lead to the majestic waterfront with palaces, colonnades, and fountains. There are so many different but at the same time harmonious elements in this city that you instantly fall in love with it.
There are enough attractions for a few days, getting around on foot. What should you see first in the capital of the island?
The Church of Saint Spyridon, Corfu Town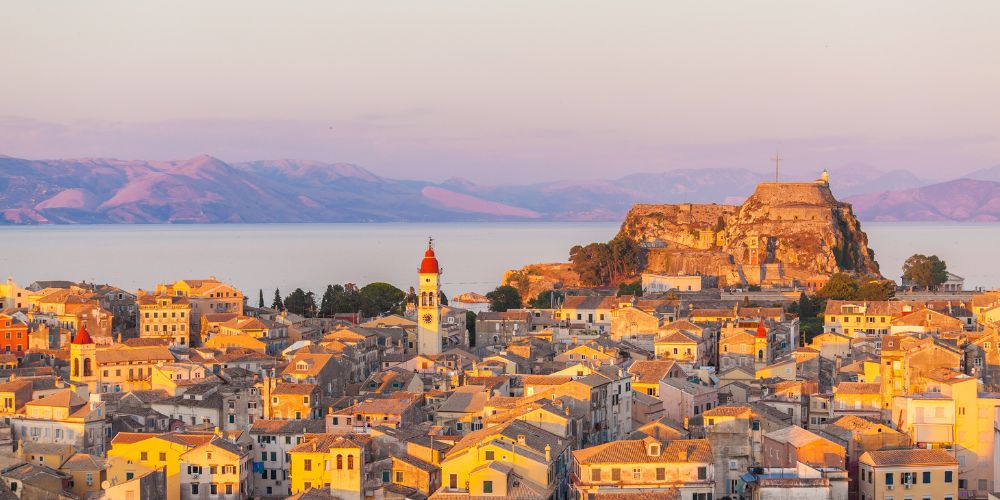 Start at the Church of St. Spyridon, the holiest site in the city. The bell tower of this church with its red dome is the tallest on the island and can be seen from far away. The church was built in 1589 in honor of the island's patron saint, St. Spyridon. The coffin with his remains is located to the right of the altar. Four times a year (on Palm Sunday, Easter, August 11, and the first Sunday in November) the relics are carried in solemn procession through the town streets.
The Campello District, Corfu Town
Afterward, take a walk through the oldest part of the city, the Campiello district. Ancient Venetian-style houses with ropes stretched between them and clothes to dry will remind you of Italy.
Liston Street, Corfu Town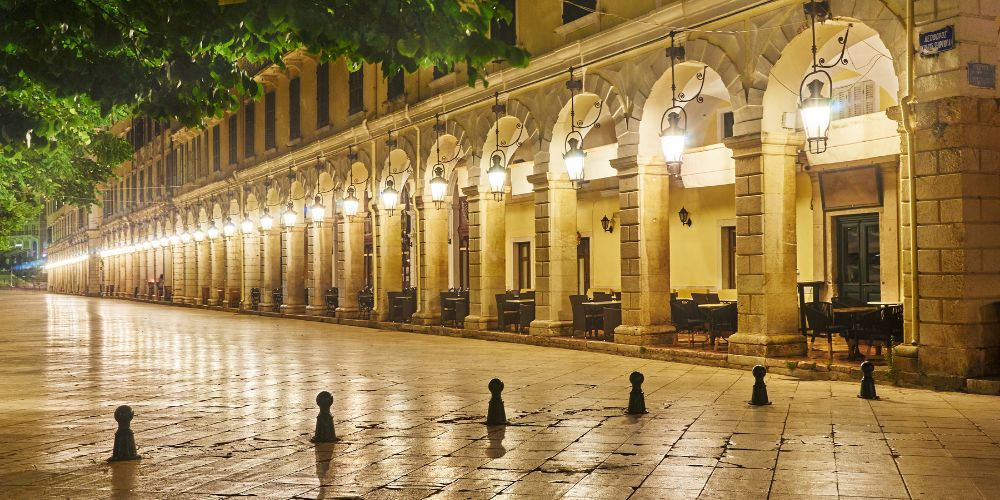 After leaving Campiello, walk down Liston's stone-paved pedestrian street and enjoy your cup of coffee in one of the elegant cafes. Liston was built by the French and copies the Rue de Rivoli in Paris. In the past, only the members of aristocratic families were allowed to walk there.
Esplanade or Spianada Square, Corfu Town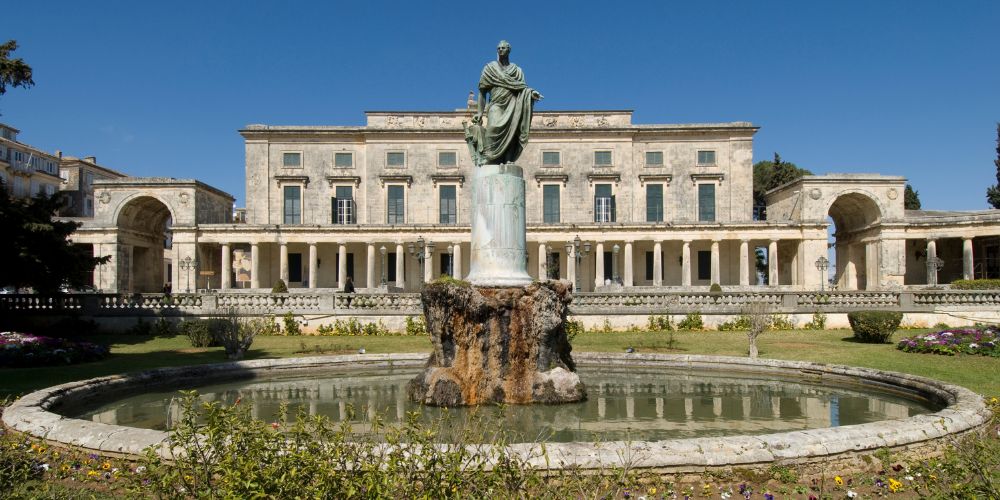 As you walk down, opposite Liston, you will see the huge green square which is called Esplanade (Spianada). It is the biggest square in Greece. There is a cricket field there that was designed by the British. Even today local teams play here. On the northern side of Spianada square is situated The Palace of St. Michael and St. George, also known as the Royal Palace. It was built in 1819-1824 by the British also. Today this neoclassical building houses the Museum of Asian art of Corfu.
Old Fortress, Corfu Town
You cross Spianada and now you are near the Old Fortress of Corfu. The Old Fortress, or Palio Frurio, was built on the cape by the Venetians in 1550-59. From its highest point, there is a magnificent view of the town and the east coast of the island. In summer, the fortress hosts performances, concerts, and folk dance shows.
---
Sites to see outside the city of Corfu
If you rent a car or book an excursion, then you can discover the top attractions of Corfu island:
Villa Mon Repos, Corfu Island
South of Corfu city is Villa Mon Repos, the former residence of the Greek royal family. Prince Philip, Duke of Edinburgh, was born here in 1921.
Kanoni, Vlacherna and Pontikonisi, Corfu Island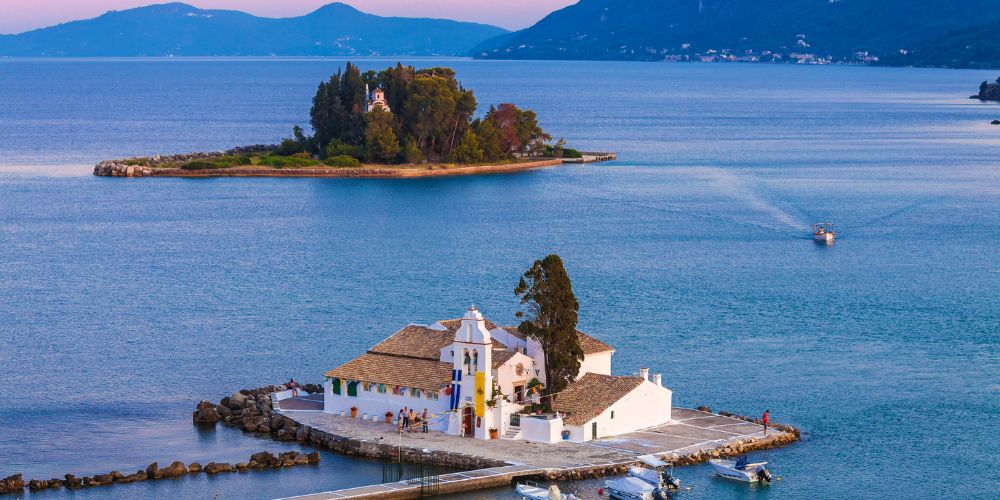 A little further south there is a small peninsula Kanoni, where you can photograph the most famous view of the island. You can walk along the dam to the small islet of Vlaherni with a tiny snow-white monastery. The small islet of Pontikonisi (Mouse Island) can only be reached by boat.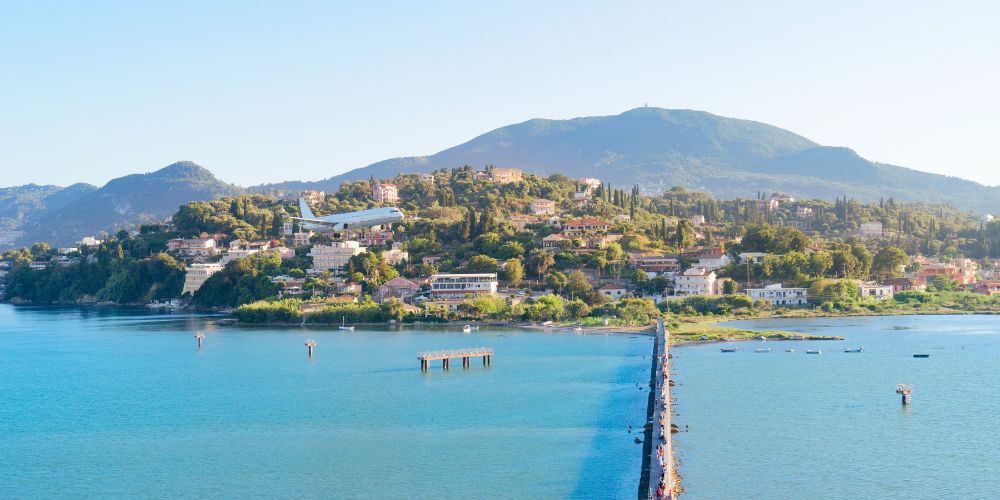 Achillion Palace, Corfu Island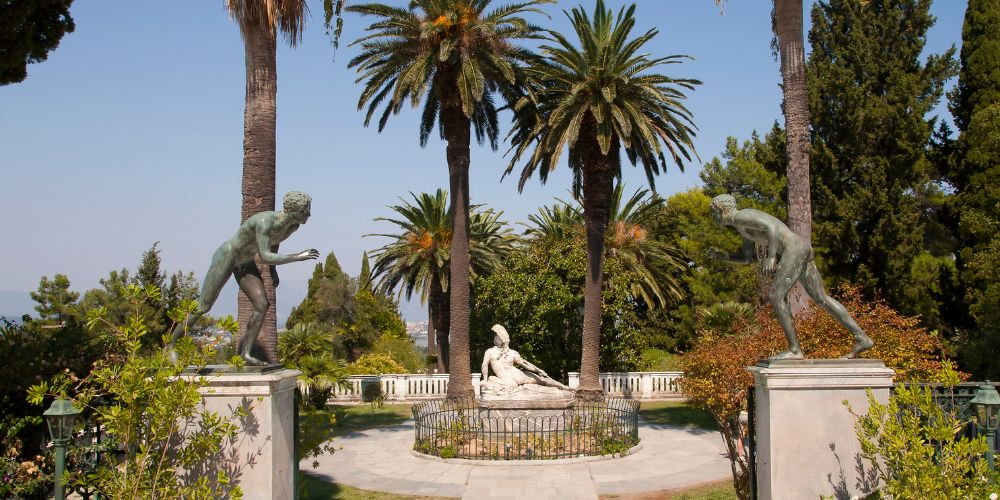 The magnificent Achillion Palace was built in the late 19th century for the Empress Elizabeth of Austria and was later bought by Kaiser Wilhelm II. The architectural style of the palace is described as neoclassical, then Teutonic. Some original furniture and paintings with images of Achilles have been preserved. The lush Palace garden runs down the hillside in terraces and is adorned with many statues, mostly Achilles. From here, you will enjoy the amazing panoramic view of the island.
---
The best resorts and beaches in Corfu
When choosing where to stay in Corfu, keep in mind that the water temperature and the sea can be very different on the east and west coasts. The east coast runs in the Straits of Corfu or Corfu Channel, where the water warms up and is not so dependent on currents. Therefore, the sea here is warmer and calmer. The west coast is washed by the open sea. The water is cooler here, however, there is a very beautiful coastline with stunning bays.
Dassia, Corfu Island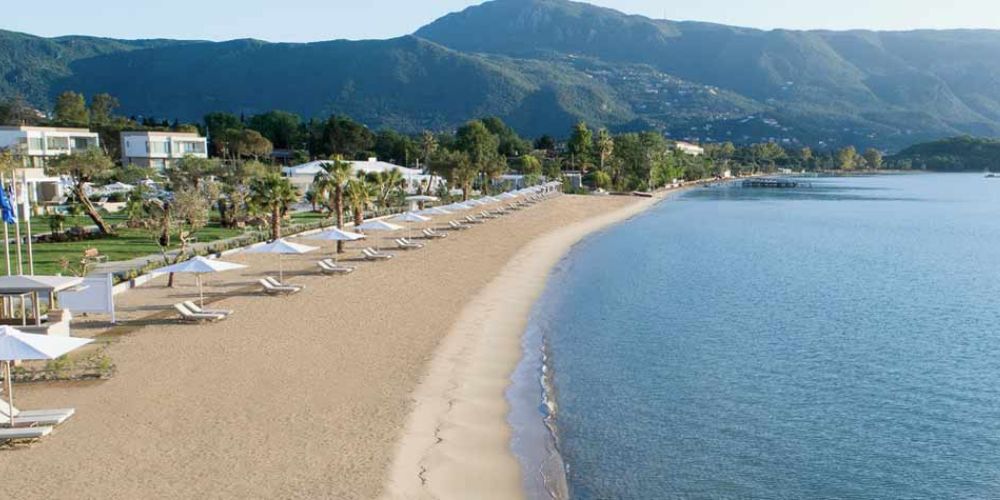 Dassia is a popular resort town located on the east coast of the Greek island of Corfu. The town is situated approximately 12 kilometers north of the island's capital, Corfu Town.
Dassia is known for its long and sandy beach, which stretches for several kilometers along the coastline. The beach is lined with tavernas, cafes, and restaurants, making it a great place to relax and enjoy the sun, sea, and sand. The water in Dassia is crystal clear and perfect for swimming, snorkeling, and other water sports. Dassia is also well-known for its nightlife, with a variety of bars and nightclubs catering to all tastes and preferences. Whether you're looking for a quiet drink with friends or a night of dancing and partying, Dassia has something to offer.
---
Barbati, Corfu Island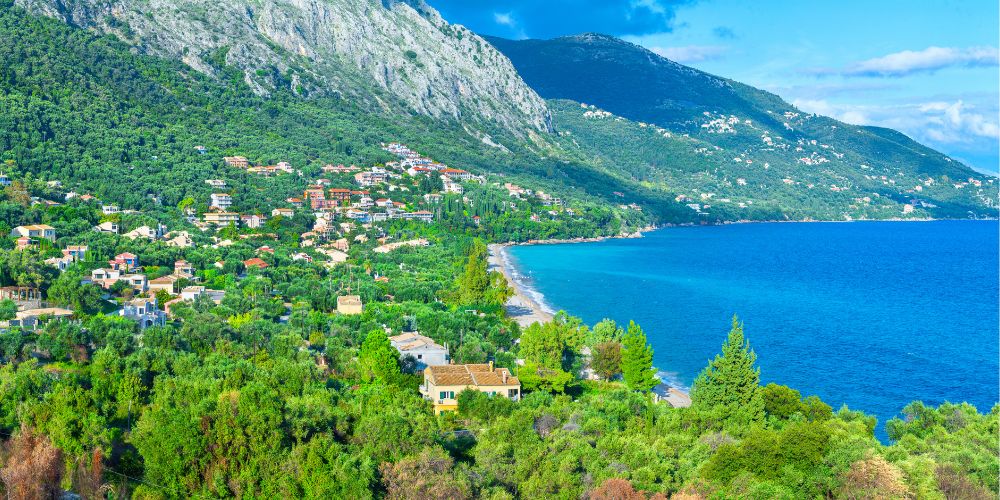 Barbati is a beautiful resort located on the northeast coast of the island of Corfu in Greece. It boasts stunning views of the Ionian Sea and is surrounded by lush green hills. The beach at Barbati is long and sandy, with crystal clear waters that are perfect for swimming, sunbathing, and water sports. The resort offers a variety of accommodations, including hotels, villas, and apartments, as well as restaurants, bars, and shops. Visitors can also explore the nearby villages, go on scenic hikes, or take a boat trip to nearby islands. With its natural beauty and warm hospitality, Barbati is an ideal destination for a relaxing and memorable holiday.
---
Kalami, Corfu Island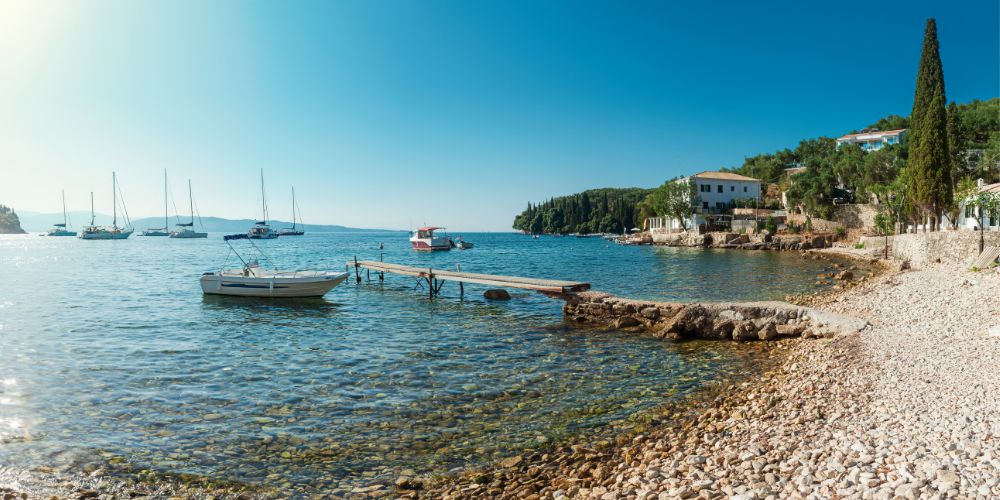 Kalami is a picturesque seaside village located on the northeast coast of Corfu. It is well-known as the place where the British author Lawrence Durrell lived for a period of time, and where he wrote his book "Prospero's Cell", which is about his time in Corfu.
Today, Kalami is a popular tourist destination, with a number of hotels and resorts offering accommodation to visitors. The resort of Kalami is particularly popular with families and couples, who come to enjoy the beautiful beaches, clear waters, and stunning scenery of the area. There are several charming tavernas and restaurants where you can sample traditional Greek cuisine, as well as a range of shops and other amenities. There are also a number of historic sites and cultural attractions in the surrounding area, such as the nearby monastery of Pantokrator, which is well worth a visit.
---
Kassiopi, Corfu Island
---
Acharavi, Corfu Island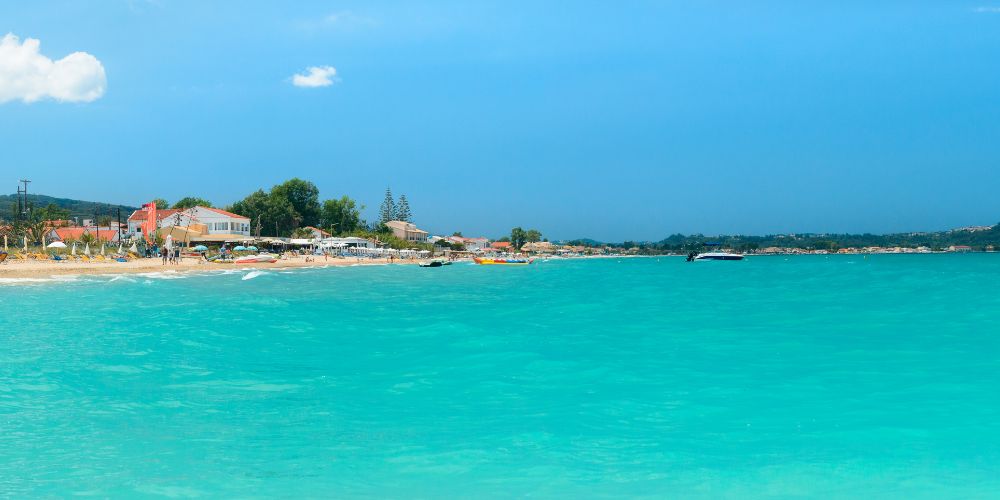 ---
Paleokastritsa, Corfu Island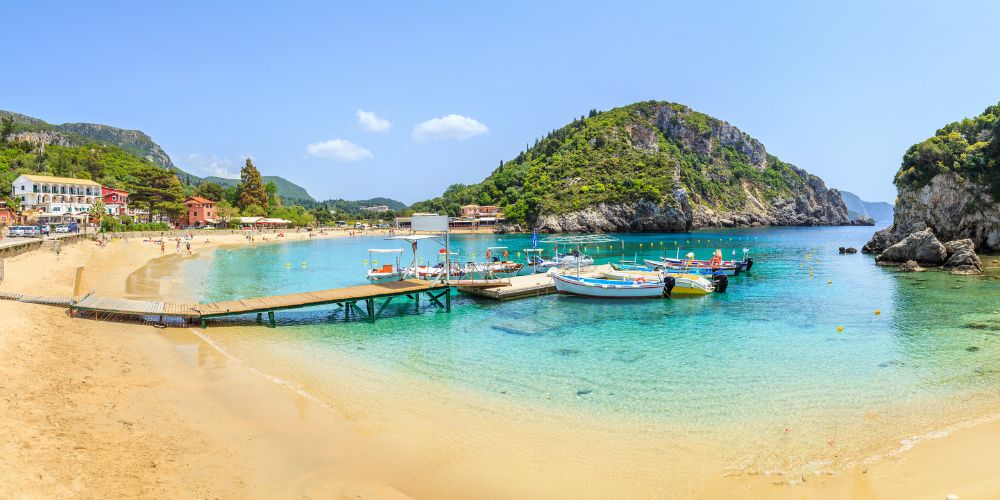 ---
Bella Vista, Corfu Island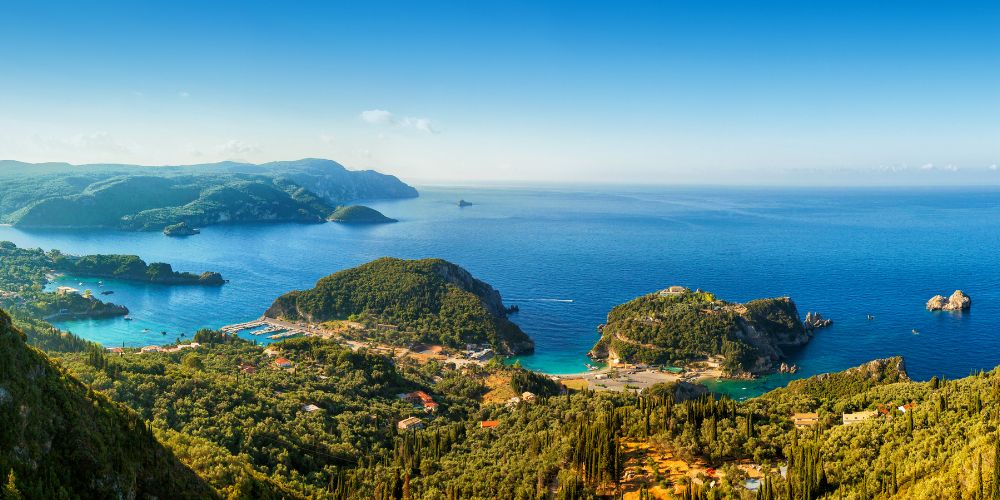 ---
Ermones, Corfu Island
---
Korission Lagoon and Halikounas Beach, Corfu Island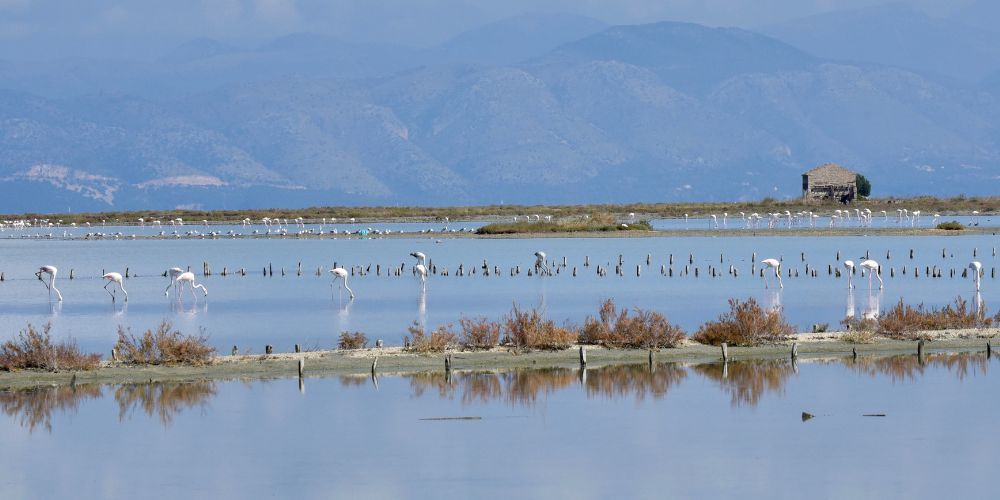 ---
Benitses, Corfu Island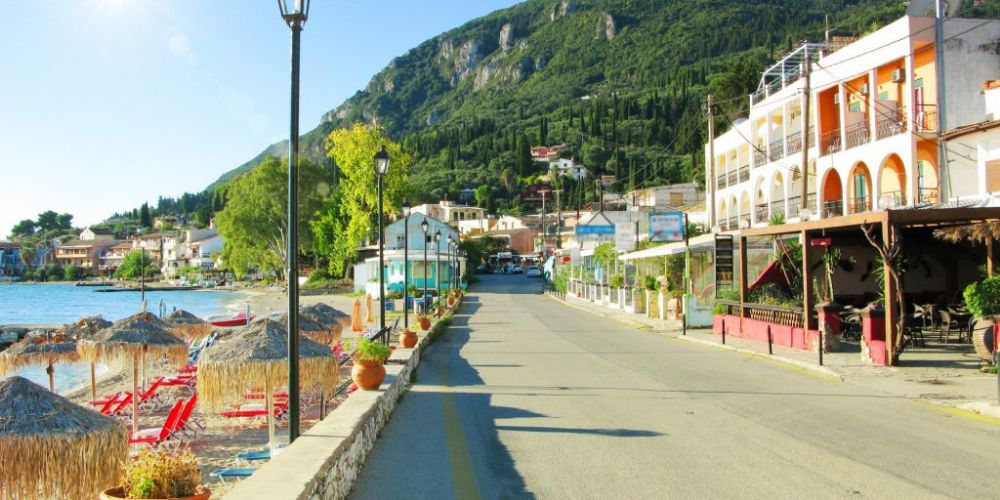 ---
Villas and apartments for rent in Corfu
Corfu Island is a unique destination, offering plenty of opportunities for the summer holidays, We offer a large selection of luxury villas, cozy holiday houses, and apartments in Corfu.
Book a Villa for holidays in Corfu in 2024 right now. Remember that booking in advance allows you to choose a property according to your specific requirements, such as a beachfront, or private pool. Also, you can find early booking deals and discounts which could bring the price of your holiday down.
---
Book a hotel to stay on Corfu Island
In case you prefer to stay in a hotel, then choose the best option in Corfu using the map below. If you need some advice, just ask us!
---
How to get to Corfu Island
Flight to Corfu Airport
To get to Crete you should take a flight from your country or from Athens to Corfu International Airport. The airport of Corfu is called Ioannis Kapodistrias and is located 2 km from the capital of the island and 3 km from the port. To find the air tickets to Corfu we suggest you use JETRADAR. It is one of the largest online search engines for flights all over the world. This service helps to compare airfares from many airlines, travel agencies, and systems, and book the cheapest tickets available.
---
Ferry from Igoumenitsa Port to Corfu Island
You can get to Corfu by ferry from Igoumenitsa port in northwestern Greece, Epirus region. Ferries to Corfu depart a few times per day all year round. The trip takes about 1 hour. You can get to Igoumenitsa from Athens in 5-6 hours by car or bus, as well as from Thessaloniki in 3-4 hours by car or bus.
Check the schedule and buy your ferry tickets here:
Please note that online you can buy ferry tickets from Corfu to Igoumenitsa with a 50% discount.
Ferry from Italy to Corfu Island
Ferry boats connect Italy with Corfu Island. Ferries depart from Ancona and Venice to Corfu island usually in the summer. All year round the ferries from Italy sail to the port of Igoumenitsa. Check the schedule and buy your ferry tickets here:
---
Corfu Airport or Port transfers
Arriving in another country, it is important to see a person, who is waiting especially for you upon arrival at the Corfu airport. It gives you confidence that you will reach your destination, avoiding all troubles, long waits in the taxi queue, and possible overcharges. Our prices for transfers in Corfu include all fares, VAT, and any lawful charge; therefore, you know that what you pay is the final price for your transfer. Comfort and safety will be provided, which is especially important if you are traveling with children. That's why we offer transfer services with professional drivers and a modern car fleet. All cars and minivans are equipped with air conditioning and drinking water.
---
Corfu car rental
During your holidays in Corfu, you can hire a car from the Corfu airport, from Corfu port, or from your Villa or Hotel. To find the perfect car for your trip, we recommend checking DISCOVER CARS. It is a leader in online car rental reservations. It compares car rental deals from many companies so that you can choose which is best for your trip. Many other websites hide fees and extra costs from you. Discover Cars service includes all mandatory fees, taxes, and extras in the quoted price so there won't be any surprises when you arrive at the rental desk.
---
Like it? Pin it!
---
Please note that this small guide to the best places to visit in Corfu contains some affiliate links. This means that we may receive a small commission to help us maintain this site at no additional cost to you. We only recommend services and products that we use and find helpful.
Updated: December 2023