The Best Places of Athens Riviera, Greece
---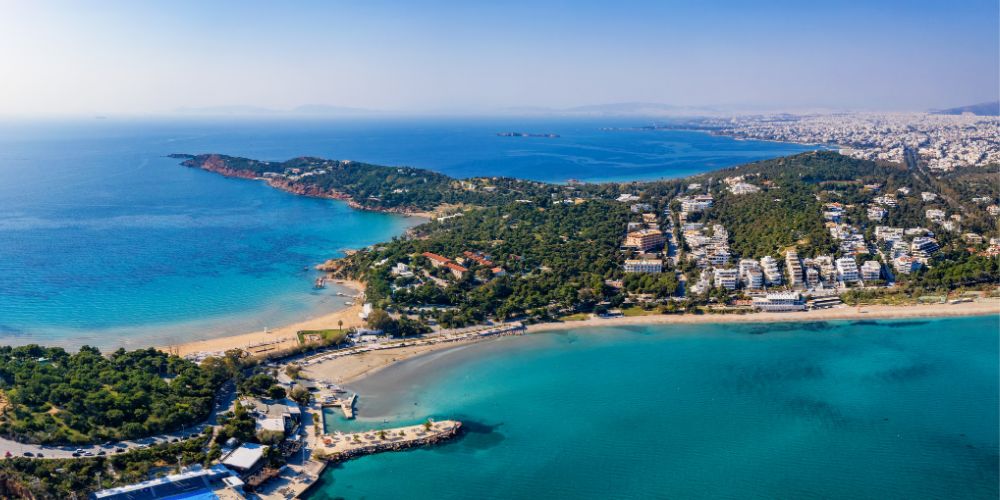 When most people hear "Athens", firstly, they tend to imagine the legendary Acropolis and unique museums. That's true, of course, but not everyone knows, that Athens has the longest coastline in Europe. It is called the Athens or the Athenian Riviera, the incredible southern coast road, about 70 km long. It starts almost from the center of Athens and stretches to Cape Sounio, with its fabulous Temple of Poseidon, the southernmost tip of Attica. We have selected the best places on the Athens Riviera for you to discover.
There are amazing resorts, beautiful villages, organized emerald-water beaches, lush greenery, and rocky bays. Many beaches on the Athens Riviera are awarded high-quality Blue Flags every year. The Athens Riviera is a perfect destination for those, who desire to combine idyllic seaside relaxation with ancient sightseeing, excellent shopping, and fine dining.
---
1. Paleo Faliro – Alimos, Athens Riviera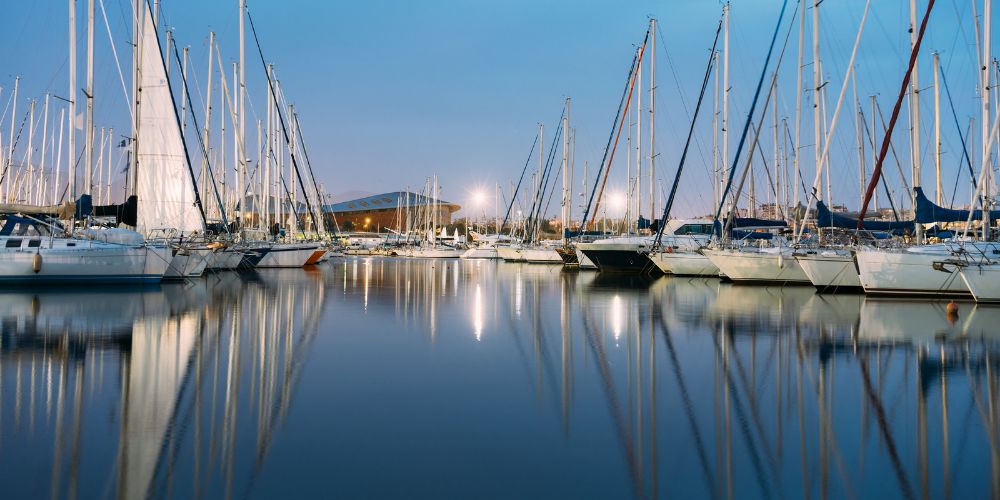 The Paleo Faliro district is located just 7 km from the Acropolis, but at the same time, away from the hustle and bustle of the capital. It is extremely popular both with Athenians and tourists. A beautiful promenade with a breathtaking view of the Saronic Gulf, stylish restaurants, shopping centers, sandy beaches, and children's playgrounds – you can find everything for relaxation and leisure.
Marina Flisvos
Marina Flisvos offers high-class marina facilities for 300 yachts, most of which are luxurious mega yachts over 35 meters in length.
Discover the historical battleship museum Georgios Averof. This is of big interest to children and adults alike (adults – € 3, students and seniors – € 1,5. Closing day – Monday). Nearby is the sailing ship trireme Olympia, an exact copy of an ancient ship.
The Mediterranean-style beachside promenade and Flisvos Park invite you to take leisurely walks or carefree bike rides. Here you will also find gourmet restaurants, cafés, and shops.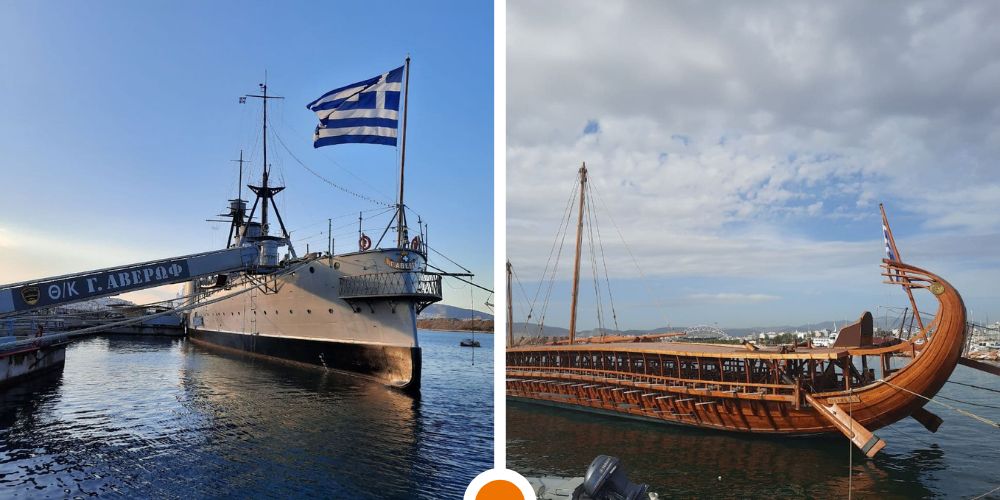 Marina Alimos
Alimos is one of the largest marinas in Greece. It is located 10 km from the center of Athens. It has 1,080 yacht berths and can host yachts up to 40 meters in length.
---
2. Glyfada, Athens Riviera
Glyfada, one of the most elegant suburbs of Athens, is located 20 km from the city center. The area is known for its luxury boutiques and shops, great restaurants, cafes and nightclubs, and sandy beaches under the shade of palm trees.
If you are a golf enthusiast, then you will surely enjoy the 18-hole course at Glyfada Golf Club.
---
3. Voula, Athens Riviera
Just three kilometers south of Glyfada located Voula with two well-organized beaches and the largest beach clubs on the Athenian Riviera. It has a vibrant summer atmosphere with beach bars, water sports, and beach volleyball courts. Voula Beach A has been awarded the Blue Flag making it ideal and safe for families. Voula beach B has special equipment for swimming for people with disabilities.
Between Voula and Vouliagmeni lies the area of Kavouri, home to the luxurious Divani Apollon Palace & Spa, with the thalassotherapy center and one of the largest spas in Europe. The center was awarded as Europe's Leading SPA by World Travel Awards and invites guests to experience a completely different program of rejuvenation and wellness.
---
4. Vouliagmeni, Athens Riviera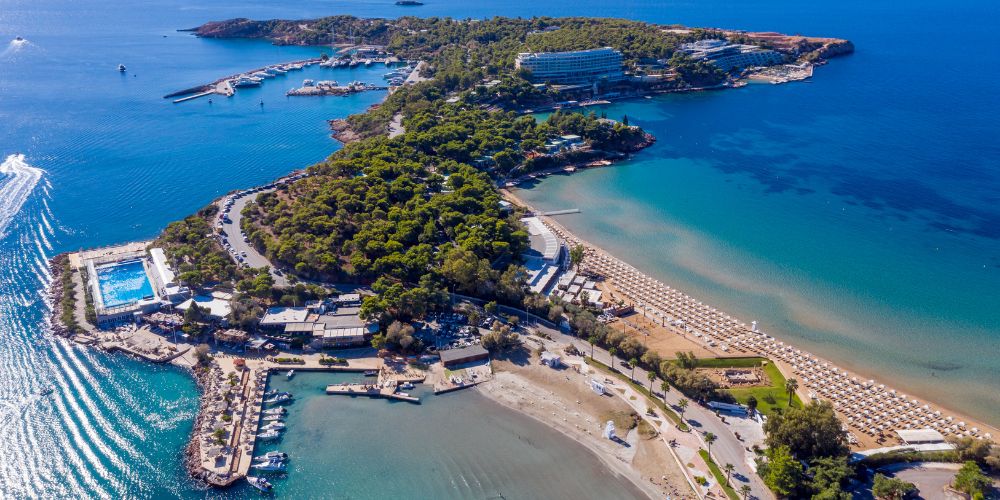 Vouliagmeni is the most beautiful and expensive resort in Attica, the Greek Cote d'Azur. It is a real oasis of lush pine trees, luxurious villas, and wonderful sandy beaches. Here are located the most luxurious and expensive restaurants on the coast. At the same time, the Acropolis is only 25 km from here.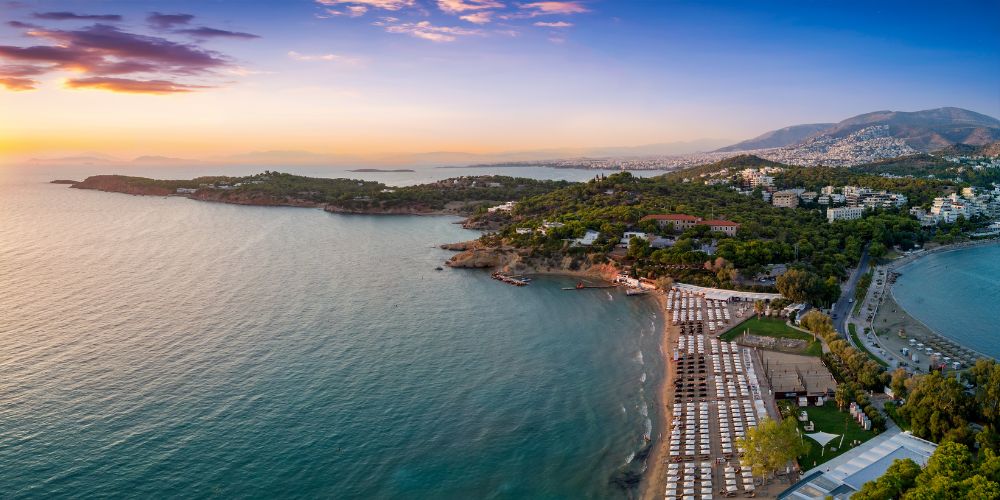 Holidays in Vouliagmeni are often chosen by business people who want to combine a business trip with leisure. The legendary luxury hotel Four Season Astir Palace is located in Vouliagmeni on a private peninsula. Astir Palace was a favorite vacation spot for many celebrities. For instance, Christina Onassis, Joan Collins, Brigitte Bardot, and many others liked to stay there. And still, the resort attracts ship owners, businessmen, famous actors, and politicians.
However, the beautiful beaches of Vouliagmeni are suitable for every budget. At trendy Astir Beach, an umbrella and two sun loungers cost € 50 on weekdays and € 80 on weekends. While nearby Vouliagmeni Beach with a gentle sand entry into the sea, costs € 10 on weekdays and € 15 on weekends, including an umbrella and two sun loungers.  
---
5. Vouliagmeni Lake, Athens Riviera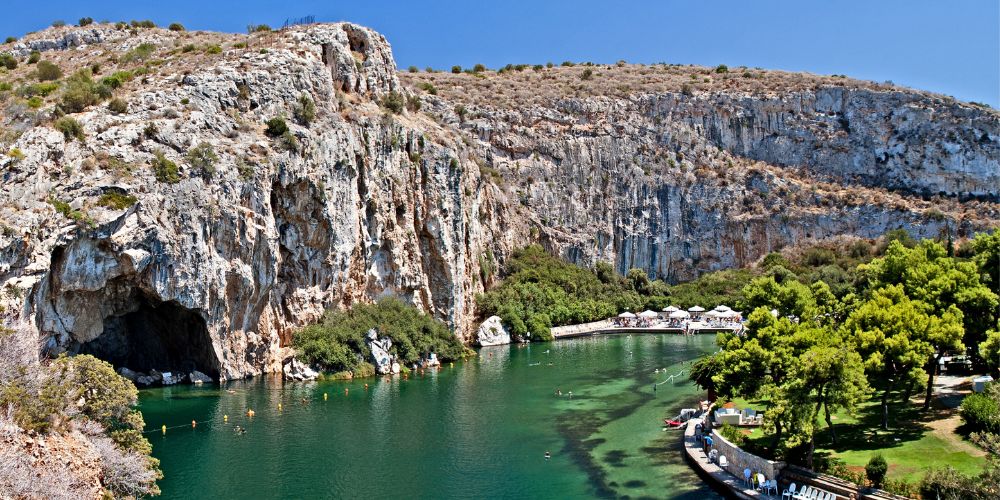 The real gem of the Athenian Riviera is Lake Vouliagmeni. This is a lake with healing mineral water, the temperature of which does not fall below 22°C even in winter. The water is constantly renewed, as it enters the lake both from underground thermal springs and through a natural tunnel from the sea.
In ancient times there was a huge cave whose roof collapsed about 2000 years ago, revealing the breathtaking beauty of the crater of water we see today. At the edge of the lake, next to the rocks, begins a long labyrinth of underwater caves. The entrance to the caves is fenced with buoys, so you can not accidentally get there.
The lake is a real natural spa, where the high content of minerals and salts helps with diseases of the musculoskeletal system, gynecological and dermatological diseases.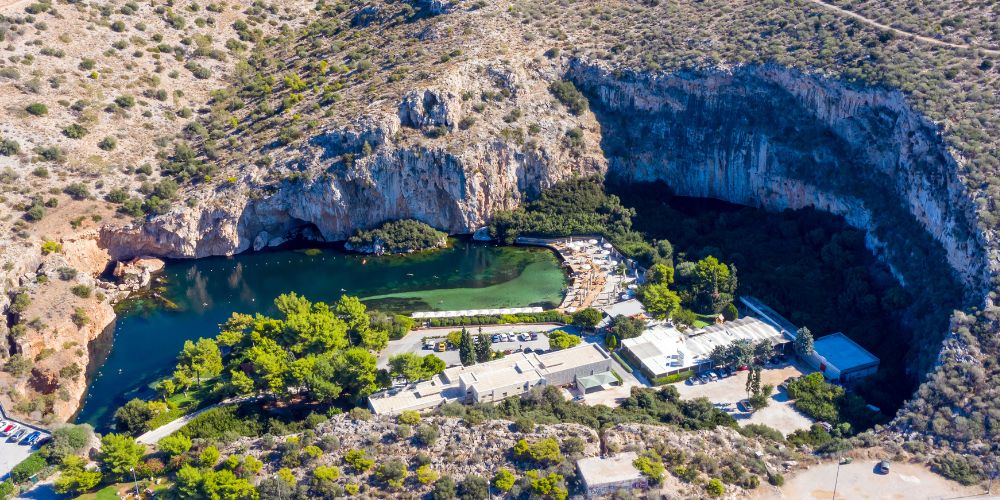 In addition to the therapeutic benefits, this is a breathtakingly beautiful place, with majestic cliffs and lush pines reflected in the purest blue-green water. Moreover, a pleasant bonus to the thermal treatments is the native Garra Rufa fishes, which offer anyone free pedicures – skin peeling.
You can enjoy your coffee or a snack in the cozy cafe. After sunset, the atmosphere here is romantic. You can endlessly enjoy the starry sky and the lighting of the lake. Here you completely forget that you are very close to a large city.
An outdoor play area specifically welcomes children to play! A place that provides fun and entertainment for your children while you enjoy coffee or a meal at the restaurant right next to it.
The lake is also a popular venue for weddings, corporate events, and celebrations for both Greeks and foreign guests.
Vouliagmeni Lake Admission Fees 2023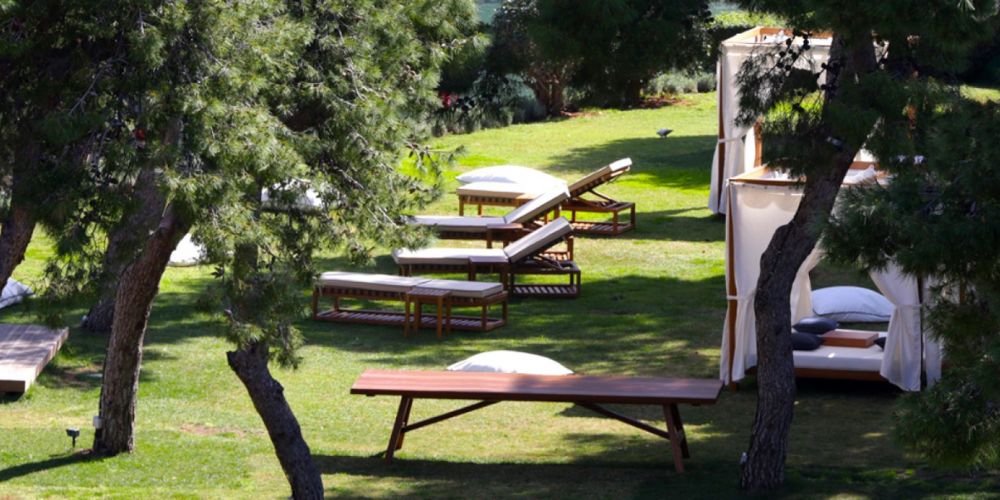 Main deck. At the lake's shoreline under the imposing rock guests enjoy the sun and warm water. Upon availability, guests can choose among sunbeds, chaise lounges, or tables with chairs. Booking is not available for the main deck area. Entrance (per person): weekdays – € 15, weekends and national holidays – € 18. Children up to 5 y.o. free.
Wooden edge. A special tranquil section by the water is at the edge of the main deck. Comfortable wooden sunbeds with umbrellas offer moments of relaxation in a unique environment. Reservation required. All-day tickets for 2 guests: weekdays – € 60, weekends and national holidays – € 80. Children up to 5 y.o. free.
Double daybeds. In the main deck area, double day beds offer comfort and direct access to lake water. Reservations required. All-day tickets for 2 guests: weekdays – € 120, weekends and national holidays – € 80. Children up to 5 y.o. free.
Lounge sofas. In the middle of the main deck, cozy lounge sofas welcome coteries up to 6 persons for a day experience full of leisure, wellness, and tasty flavors of the refreshed menu. Reservations required. All-day tickets for 6 guests: weekdays – € 120, weekends and national holidays – € 140. Children up to 5 y.o. free.
Lake Vouliagmeni is an ideal destination for the entire family!
---
6. Varkiza, Athens Riviera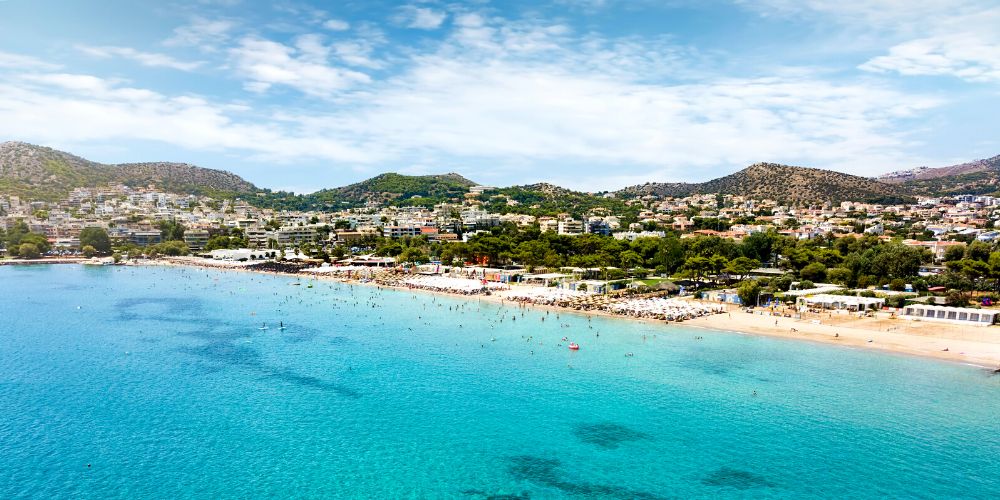 If holidays in Vouliagmeni are considered the most exclusive and expensive in Attica, then Varkiza, which is located just 5 km to the south, is a popular resort for everyone.
It is the ultimate summer hot spot with developed tourist infrastructure, beautiful bays, and the cleanest beaches. Beaches in Varkiza are free. An exception is the famous Varkiza Resort beach. Facilities include water sports and attractions (tubes, banana, flyfish), beach volleyball, playground, water skiing, and windsurfing school.
The Varkiza seafront promenade is full of traditional fish taverns, beach bars, cafes, and shops. Fishermen sell freshly caught fish at the pier in the morning.
---
7. Lagonissi, Athens Riviera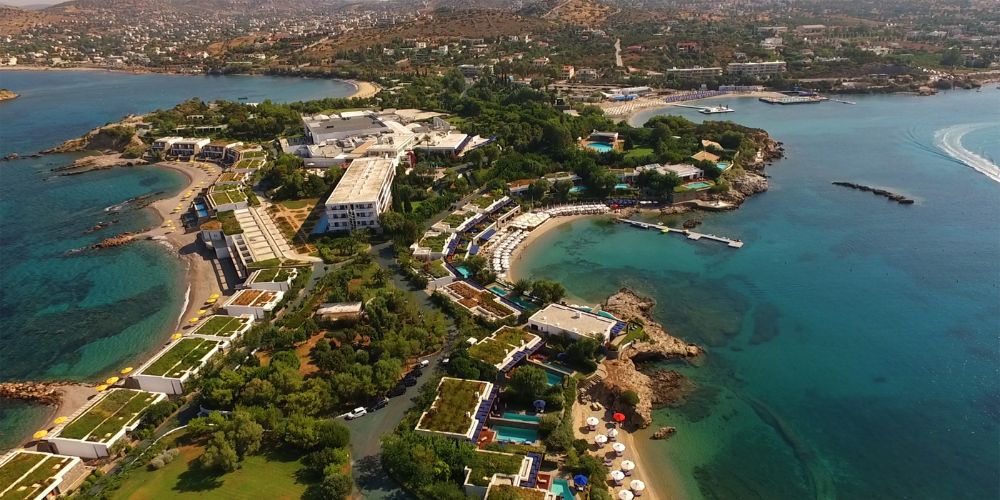 Lagonissi, another exclusive resort, on the Athenian Riviera, is 37 km from the center of Athens.
Here, on a private green peninsula, located the sophisticated hotel Grand Resort Lagonissi. The hotel consists of the main building, bungalows, and villas with private pools. At guest service: various restaurants and bars with international and Greek cuisine, a large spa center, a water sports center, and diving on several beaches in secluded bays.
Next to the hotel is the Grand Beach, where an umbrella and 2 sunbeds cost € 40 on weekdays and € 80 on weekends. Nearby, is the popular family beach Heaven Beach with more affordable rates, € 10 per person.
In this area, there are mainly luxury villas with private pools that we offer for rent.
---
8. Saronida, Athens Riviera
Beyond Lagonissi lies the bustling little resort of Saronida, where an outstanding infrastructure with many shops, taverns, and eateries, as well as beautiful beaches.
Saronida Beach is one of the most beautiful sandy beaches in Attica. It is an organized beach with a playground that will keep your kids busy for hours. Mavro Lithari Beach Bar is popular with young people.
---
The neighboring village Palea Fokea is known for its traditional fish taverns and, like the rest of the coast, for its luxurious sandy beaches.
Here you will find the elegant 5* Plaza Resort Hotel with a magnificent private beach, outdoor pool, garden, restaurant, and pool bar.
Vincci EverEden Beach Resort 4* was renovated a few years ago and is distinguished throughout Athens Riviera for its nurtured verdant surroundings and secluded beach. A magnificent protected bay with crystal clear waters, with the characteristic Black Rock dominating, the famed EverEden Beach has been awarded the Blue Flag for 20 consecutive years. Here you can find Snack Bar, Cocktail Bar, Beach Restaurant, Platinum Sundeck Lounge, professional water sports, and a small Aqua Park. An umbrella and two sun loungers cost € 6 on weekdays and € 20 on weekends. There are a lot of options for the Elit lounge also.
The long Anavyssos beach has several famous beach bars and a large water sports center. Agios Nikolaos Beach is a nice sandy beach near the small island of St. Nicholas.
---
10. Cape Sounion, Athens Riviera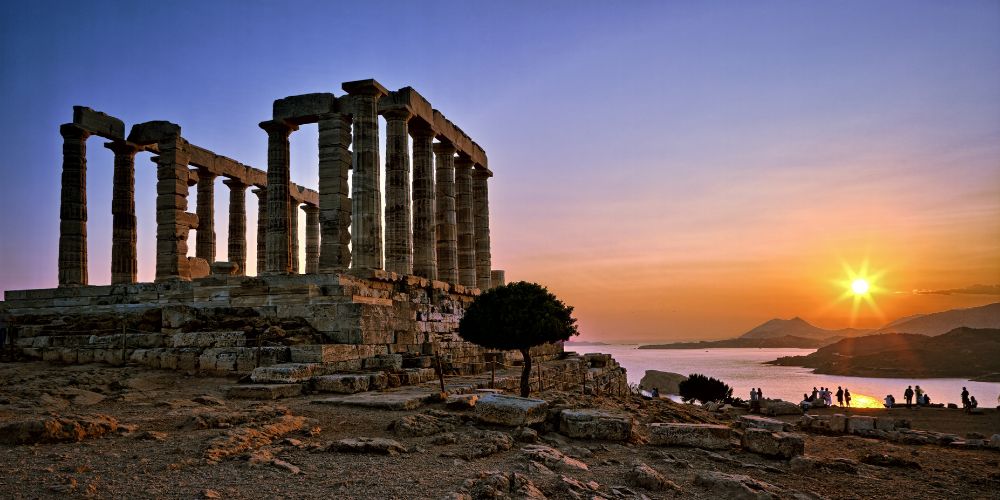 The Temple of Poseidon at Cape Sounion rises at the southernmost tip of Attica, 70 km from the center of Athens. Here the horizon meets the sea. The temple is shrouded in myths and historical facts that date from ancient times to the present.
There are many legends connected with this place. For instance, about the ship of King Menelaus, which made a brief stop on its way back from Troy. Or about the unfortunate King Aegea, who threw himself into the sea from the cape, and after whom the Aegean Sea was named. Or of the people who built a marble temple here in honor of Poseidon, the ancient Greek god of the seas. Count the Doric columns and you will see that there are fewer of them than at other temples from the same period (mid-5th century BC).
Cape Sounion is known for its fantastic sunsets, having the ancient temple as a backdrop and facing the Aegean sea! If you believe the romantics, a wish made during the sunset at the Temple of Poseidon is sure to come true.
To make the most of your trip, arrive early, take a swim at the small beach at the foot of the temple and try fresh fish and seafood at a local taverna.
Cape Sounion opening hours
From 09:30 till sunset (last admission 20 minutes before sunset)
Cape Sounion is closed
January 1, March 25, May 1, Sunday Easter, December 25 and 26.
Cape Sounion free admission days
On several days throughout the year, all archaeological sites in Greece can be visited for free:
06.03 – Melina Mercouri Memorial Day
18.04 – International Monuments Day
18.05 – International Museums Day
The last weekend of September – European Heritage days
28 October – National Holiday Ohi Day
Every first Sunday of the month from the 1st of November to the 31st of March
Cape Sounion Ticket Price
From 01.04 – 31.10 – € 10 (children under 5 years are free, from 6 to 25 years – € 5)
From 01.11 – 31.03 – € 5 (children under 5 years are free)
Cape Sounion Tour from Athens
You can book a group Cape Sounion tour or a private Cape Sounion tour in English, German, French, Russian, or another language at your request. If you choose a private tour, you can combine the visit to Cape Sounion with swimming in the Vouliagmeni thermal lake.
How to get to Cape Sounion from Athens
Cape Sounion can be reached by intercity bus (KTEL). The bus terminal is located next to Pedion Areos Park (Viktoria Metro Station). The buses run just a few times a day. The timetable, for now, is 09:00 (only on weekends), 10:30, 14:30, and 17:00 (only in summer). The ticket price is € 7 each way.
Cape Sounio, Grecotel Exclusive Resort
A few words about our favorite hotel on the Athenian Riviera – Cape Sounio, Grecotel Exclusive Resort. The hotel is located in a pine forest near Cape Sounion. The hotel offers stunning views of the Temple of Poseidon and the cozy Sounion Bay. Guests stay in bungalows and villas, many of which have private pools. It offers private sandy beaches, a modern spa center, indoor and outdoor pools, restaurants, and bars.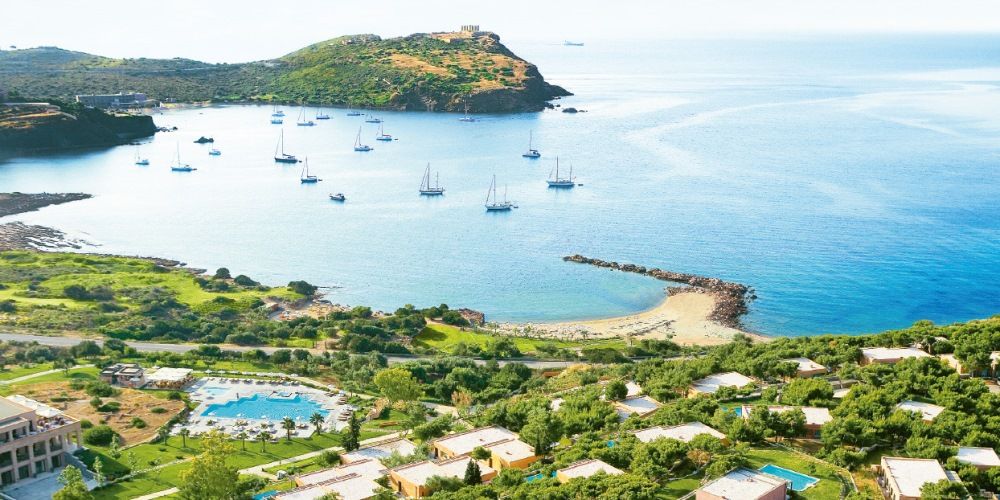 ---
Rental villas and apartments in Athens Riviera
Athenian Riviera is a unique destination for the summer holidays, offering plenty of opportunities. We offer a large selection of luxury villas, cozy holiday houses, and apartments there.
Book a Villa for holidays in Athens Riviera in 2023 right now. Remember that booking in advance allows you to choose a property according to your specific requirements, such as a beachfront, or private pool. Also, you can find early booking deals and discounts which could bring the price of your holiday down.
---
Book a hotel in Athens Riviera
Looking for a hotel to stay in Athens Riviera? Check the best options at great rates and choose the hotel that suits you.
---
How to get to Athens Riviera
Flight to Athens
To get to any resort on the Athenian Riviera you should take a flight from your country to Athens International airport. We suggest you use JETRADAR which is one of the largest online search engines for flights all over the world. This service helps to compare airfares from hundreds of airlines and dozens of travel agencies and systems and book the cheapest tickets available.
Transfer from Athens Airport to Athenian Riviera
Arriving in another country, it is important to see a person, who is waiting especially for you upon arrival at the airport. It gives you confidence that you will reach your destination, avoiding all troubles, long waits in the taxi queue, and possible overcharges. Our prices include all fares, VAT, and any lawful charge; therefore, you know that what you pay is the final price for your transfer. Comfort and safety will be provided, which is especially important if you are traveling with children. That's why we offer transfer services with professional drivers and a modern car fleet. All cars and minivans are equipped with air conditioning and drinking water.
Athens airport car rental
You can rent a car from the Athens airport office. To find the perfect car for your trip, we recommend checking DISCOVER CARS. It is a leader in online car rental reservations. It compares car rental deals from many companies so that you can choose which is best for your trip. Many other websites hide fees and extra costs from you. Discover Cars includes all mandatory fees, taxes, and extras in the quoted price so there won't be any surprises when you arrive at the rental desk.
---
Like it? Pin it!
---
Please note that the Best Places of Athens Riviera Travel Guide contains some affiliate links. It means that we may receive a small commission to help us maintain this site without any additional cost to you. We only recommend services and products which we use and believe will be helpful.
Updated: March 2023