The Best Resorts & Beaches Halkidiki Greece
---
Halkidiki – what to see and what to do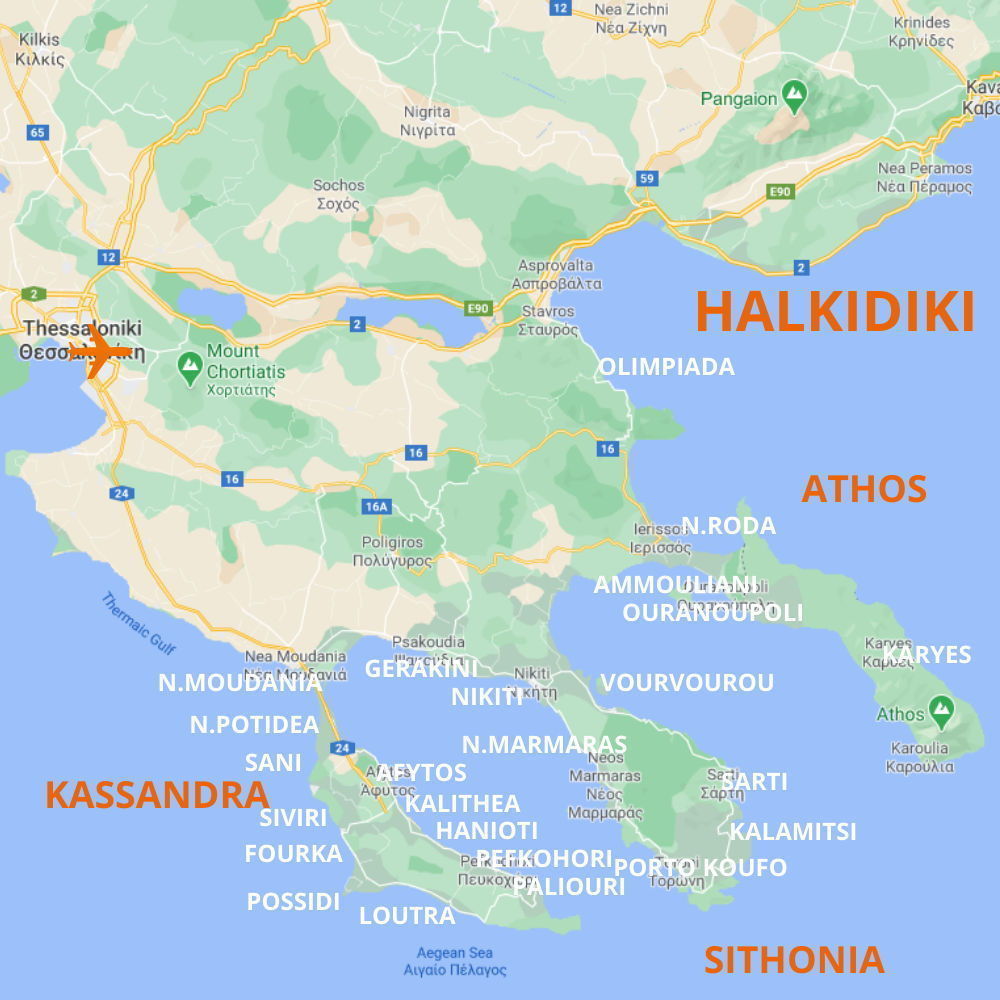 Halkidiki… A piece of paradise, one of the most beautiful places not only in Greece but in the entire Mediterranean area. The scent of pine trees, wild bays with an amazing coastline, the crystal clear Aegean Sea, and magnificent sandy beaches – such a picturesque landscape can be found only here. Add to this all the advantages of a modern holiday resort and at the same time peace and tranquillity. Halkidiki is often called the "Trident of Poseidon" because it is divided into three small peninsulas, the so-called legs – Kassandra, Sithonia, and Athos. We have prepared for you the Travel Guide with the Best places Resorts and Beaches of Halkidiki, Greece.
---
The best resorts and beaches of Kassandra, Halkidiki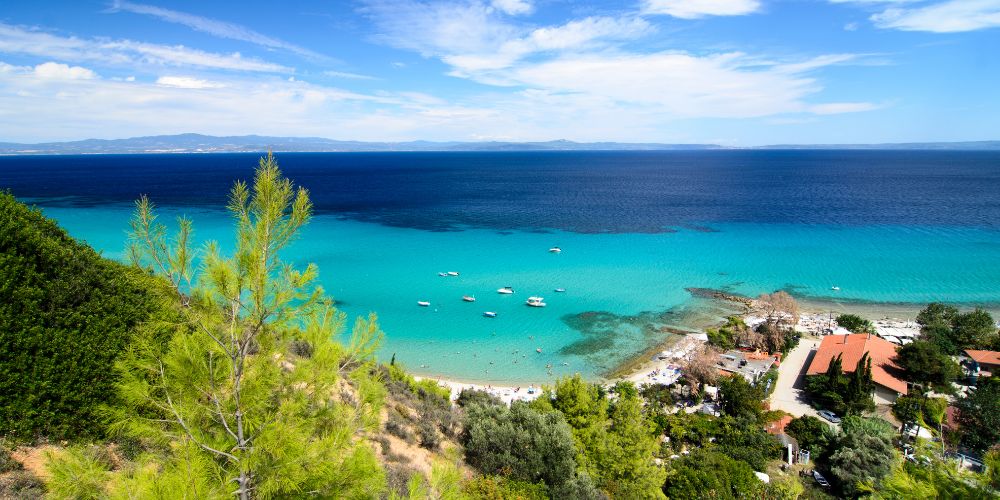 Kassandra is the first leg of the magical peninsulas of Halkidiki. There are many popular resorts in Kassandra: Sani, Pefkohori, Hanioti, Kallithea, Possidi, Fourka, Afitos, Paliuri, and many, many others. All of them are beautiful and at the same time, each has its own characteristic features and differences. Click the links above to learn more.
Kassandra is the most tourist-developed part of Halkidiki. It is a place that offers visitors everything they need for a perfect holiday. Let us see what has made the cosmopolitan Kassandra one of the most famous destinations in Greece:
Thousand hotels, apartments, and villas for all types of travelers.
Traditional taverns, restaurants, and cafes are at every turn.
Local shops, fashion boutiques, fur and leather shops – for shopping lovers.
The coolest nightclubs, discos, Greek bouzouki, and beach bars – a true paradise for young people.
Water sports, diving, go-karting, jeep safari – for active travelers.
Spectacular sandy beaches and shallow sea entrance – ideal for children.
Crystal clear sea with an amazing aquamarine coastline that changes color from light to dark turquoise – 57 Blue Flags in 2022.
The scent of the pine forests.
Kassandra, Halkidiki is a piece of paradise, definitely recommended!
---
The best resorts and beaches of Sithonia, Halkidiki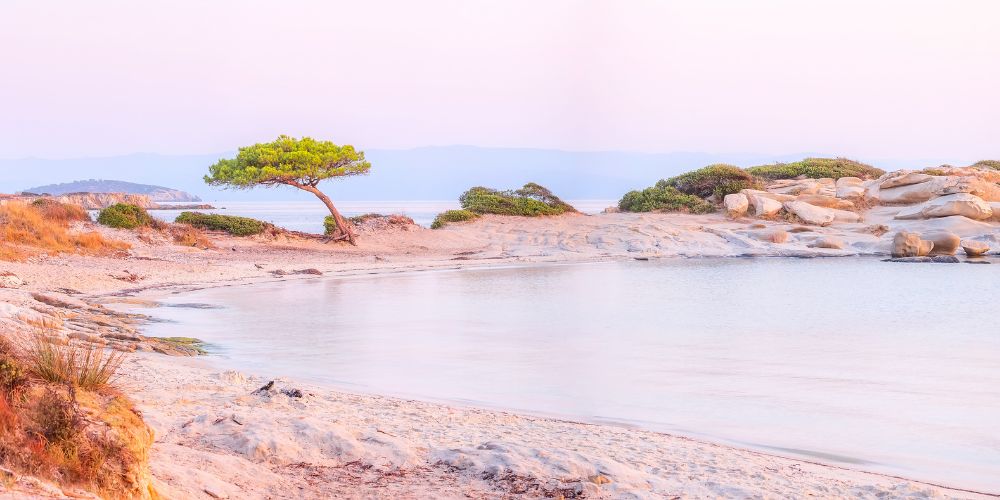 Sithonia, the second leg of the Halkidiki Peninsula, is a pine paradise by the blue sea. It is famous for its picturesque bays with crystal clear water and beautiful golden beaches. The most popular holiday resorts of Sithonia are Neos Marmaras, Vourvourou, and Toroni, click the links to learn more.
Sithonia attracts lovers of unspoiled nature and landscape. Here you will not find noisy bars and taverns at every turn, but if you want to take a break from the hustle and bustle of the megacities, come here to recharge your batteries. Some interesting facts about Sithonia:
The peninsula was named after Sithon, the son of Poseidon, god of the sea.
Porto Koufos is the largest natural bay in Greece and the safest port of Halkidiki. From a height, it looks like a lake, as the narrow opening to the sea is almost invisible.
This year Sithonia has been awarded 18 Blue Flags, which means that the water and beaches are the cleanest!
The construction of new hotels has been prohibited in Sithonia to preserve its unique nature.
The most famous hotel complex in Sithonia is Porto Carras. The complex has a beautiful huge area where, besides two hotels, there are olive groves, golf courses, vineyards and a winery, stables and a hippodrome, a marina for 350 yachts, a water park, a casino, a spa and a 9 km of coastline.
Refresh Your Vacation: 7 Unforgettable Beaches in Sithonia that will amaze you with their beauty.
---
Holy Mount Athos and Athos Resorts, Halkidiki
The third, most unique leg of Halkidiki – is the Athos Peninsula. Everyone knows that Athos is a Monastic Republic of Mount Athos, to which only men have access. But not everyone knows that besides Holy Mount there is also a tourist part of the peninsula that can be visited by everyone. The places of this part have beautiful beaches, and everything you need for an amazing holiday with the beautiful natural landscapes that are considered the best in Halkidiki.
The main holiday resorts of Athos are Ouranoupoli, Nea Roda, and the island of Ammouliani. These areas are often chosen when men in the family want to combine holidays with a pilgrimage to Holy Mount Athos.
---
Villas and apartments for rent in Halkidiki
Halkidiki is a unique destination for the summer holidays, offering plenty of opportunities. We offer a large selection of luxury villas, cozy holiday houses, and apartments in Halkidiki.
Book a Villa for the holidays in Halkidiki in 2023 right now. Remember that booking in advance allows you to choose a property according to your specific requirements, such as a beachfront, or private pool. Also, you can find early booking deals and discounts which could bring the price of your holiday down.
---
Book a hotel in Halkidiki
Looking for a hotel to stay in Halkidiki? Check the best options at great rates and choose the hotel that suits you.
---
How to get to Halkidiki
Flight to Thessaloniki
To get to Halkidiki you should take a flight from your country or from Athens to Thessaloniki International Airport. We suggest you use JETRADAR which is one of the largest online search engines for flights all over the world. This service helps to compare airfares from hundreds of airlines and dozens of travel agencies and systems and book the cheapest tickets available.
---
Transfer from Thessaloniki Airport to Halkidiki
Arriving in the country for the first time, or not, it is important to see a person, who is waiting especially for you upon arrival at the airport. It gives you confidence that you will reach your destination, avoiding all troubles, long waits in the taxi queue, and possible overcharges. Our prices include all fares, VAT, and any lawful charge; therefore you know that what you pay is the final price for your transfer. Comfort and safety will be provided, which is especially important if you are traveling with children. That's why we offer transfer services with professional drivers and a modern car fleet. All cars and minivans are equipped with air conditioning and drinking water.
---
Halkidiki car rental
To find the perfect car for your trip, we recommend checking out DISCOVER CARS. It is a leader in online car rental reservations. It compares car rental deals from many companies so that you can choose which is best for your trip. Many websites hide fees and extra costs from you. Discover Cars booking platform includes all mandatory fees, taxes, and extras in the quoted price so there won't be any surprises when you arrive at the rental desk.
---
Like it? Pin it!
---
Please note that this small Travel Guide with the Best Resorts and Beaches of Halkidiki Greece contains some affiliate links. It means that we may receive a small commission to help us maintain this site without any additional cost to you. We only recommend services and products that we use and believe will be helpful.
---
Updated: May 2023