Athens Sightseeing Tour & the Acropolis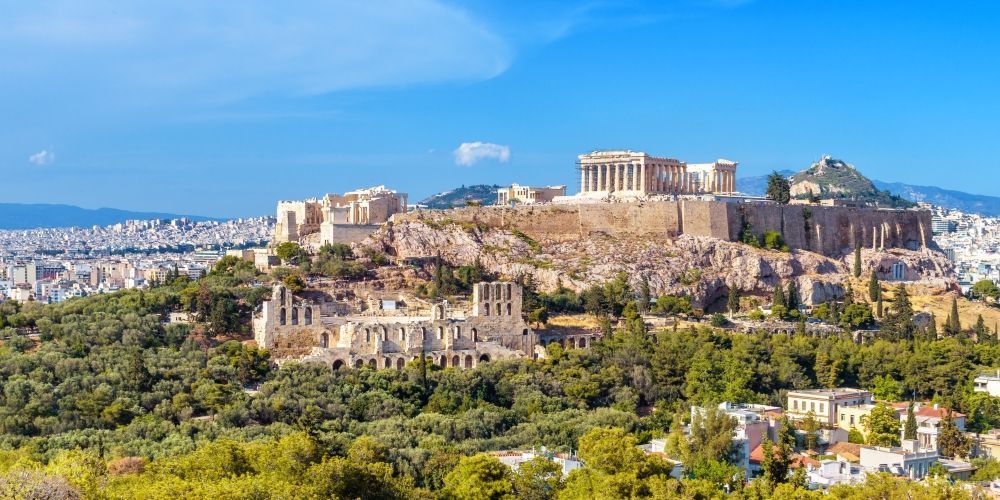 If you want to see the most significant sights of Athens in just half a day, book an Athens sightseeing tour and skip the line tour with the Acropolis of Athens.
Duration:
Athens group tour schedule and rates:
Every day
Adults – € 60
Children 4-12 y.o. – € 30
Children 1-3 y.o. – free of charge
The entrance fee to Acropolis included
Hotel pick up and drop off services included
---
Athens private tour schedule and rates:
Every day
Rates on request
---
Highlights:
Sightseeing of Athens, combining modern Athens with the ancient sites
Panoramic coach tour – Temple of Zeus, Hadrian's Arch, Athens Neoclassical Trilogy, Syntagma Square – Greek Parliament, Monument to the Unknown Soldier
Stop at Kallimarmaro stadium
Ancient Acropolis – Parthenon, Erechtheion, Propylaia, Nike Temple
Tour Description:
The tour begins with a panoramic drive around the centre of Athens, passing by the top landmarks of the Greek capital – Hadrian's Arch, the Temple of Olympian Zeus, National Garden, Syntagma square, Greek Parliament, Tomb of the Unknown Soldier, Catholic Cathedral, Schliemann's House, now Numismatic Museum. Continue passing the Athens Trilogy which includes the University of Athens, the Academy of Athens and the National Library.
Photo stop at the Panathinaiko or Kalimarmaro stadium, the only stadium built out of white marble, where the first revived Olympic Games took place in 1896.
Proceed with a visit to the archaeological site of Acropolis, a UNESCO World Heritage monument. The Acropolis, which means "upper city" in Greek, is a symbol not only of Athens but all of Greece. The impressive complex of ancient temples has stood on a sacred rock above the city for 2500 thousand years.
The entrance to the Acropolis leads through the famous Propylaea, to the right of which is a small temple of Nike. In the centre rises the majestic Parthenon – the temple of Athena. On the left side is the Erechtheion with the famous Caryatid porch. An experienced guide will tell you all the sights of the Acropolis in detail. You will have time for photos and to see Athens from above. Below the Acropolis is the ancient theatre of Herodes Atticus, which is still used today as an open-air concert hall.
---
Book an Athens sightseeing tour and skip the line visit to the Acropolis of Athens and enjoy the unique beauties of the Greek capital.