Pefkohori Kassandra Travel Guide
Pefkohori is one of the largest villages on the Kassandra Peninsula. The name translates as "pine village", and it is actually surrounded by a pine forest. We have prepared for you this small Travel Guide of Pefkohori, Kassandra.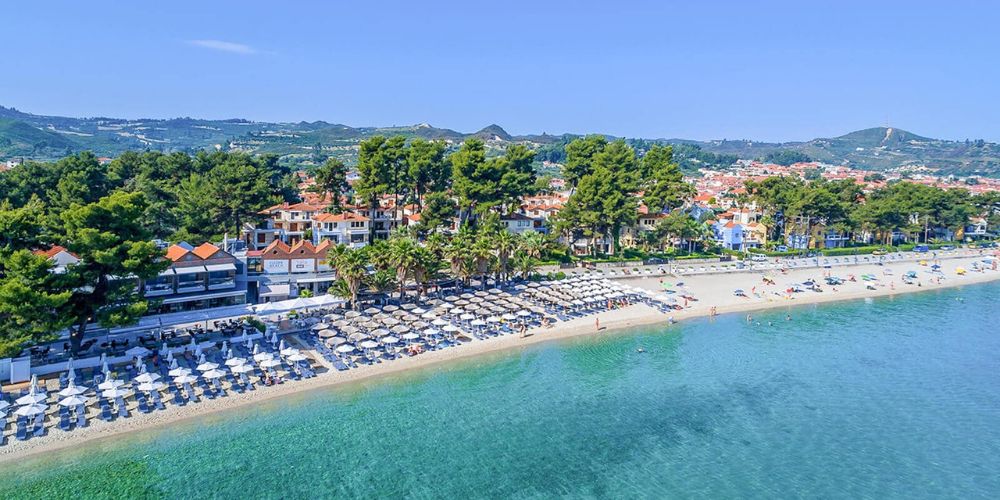 ---
Pefkohori Village
Pefkohori attracts thousands of tourists and has everything to meet their demands – hotels, apartments, shops, taverns, and bars. There is a long coastal promenade with an azure sea and a beautiful beach on the one side and taverns and cafes on the other. So, you can enjoy the sea and at the same time have lunch or dinner in a tavern.
---
Pefkohori Beach
Pefkohori Beach is 3 km long and received two Blue Flags in 2022. The beach can be divided into 3 parts: the left side of the pier, where most of the hotels are located, the central public beach (the most crowded and narrow), and the right one, the part with villas and apartments with the widest and excellent sandy beach.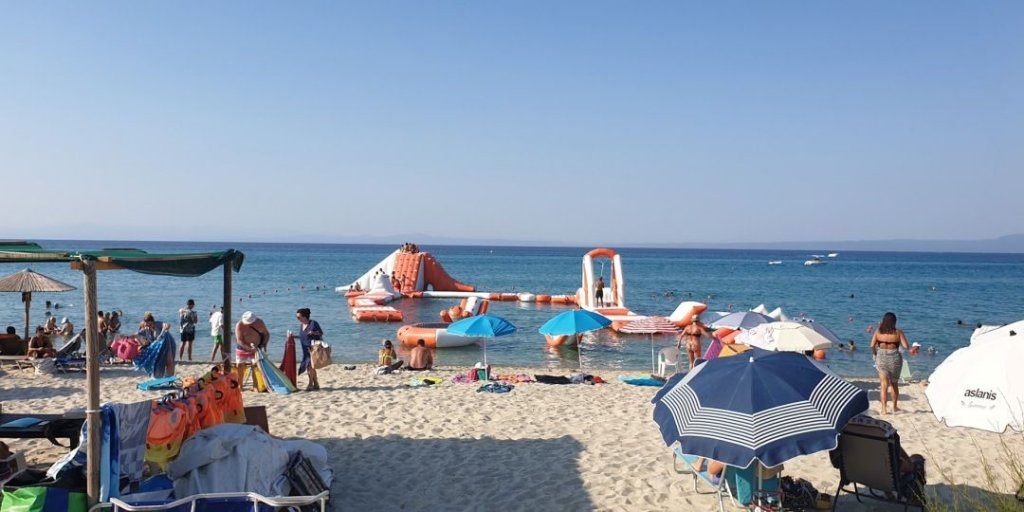 ---
Pefkohori accommodation
In this, the right part of the village we offer a wide selection of accommodation, for every taste and budget. We offer affordable apartments and houses, as well as luxurious villas with private pools and a huge territory. If you need help finding accommodation in Pefkohori, please
---
---
Pefkohori for children
Pefkohori is definitely popular among families with small children. There is a warm and clean sea with a shallow entrance, a mild climate, and the scent of pine forests – ideal for kids' health. In addition, in the centre of the village, there is a children's fun park with different attractions.
---
Pefkohori taverns & bars
For adults – a large number of restaurants, beach bars, and taverns, are located along the long promenade. In bars like Orka, Akrotiri, and Elephant, you can party until early morning to the rhythm of Greek and foreign music.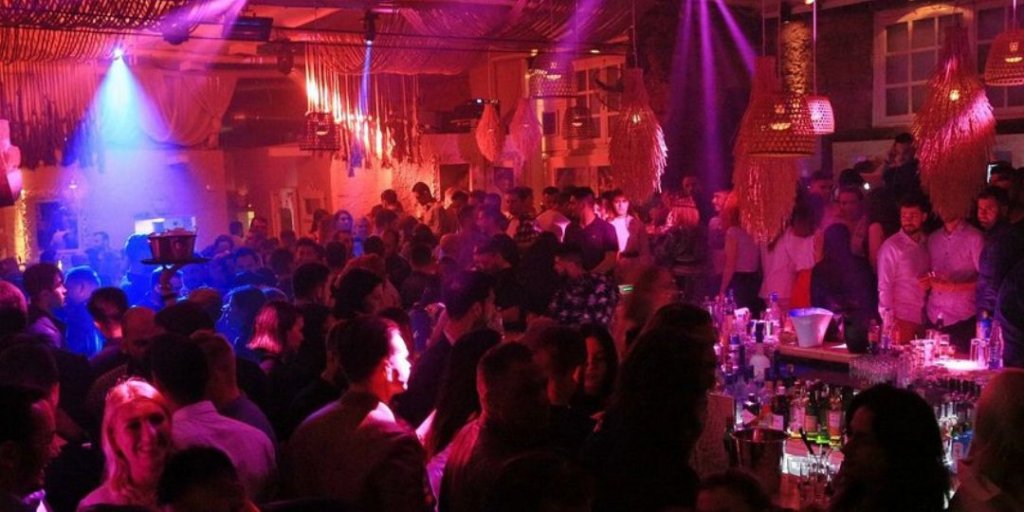 ---
Beaches next to Pefkohori
We recommend visiting beach Glarokavos which is only 3 km away from Pefkohori. Also, there are famous beaches called Chrouso and Xenia in Paliouri, 7 km away, where the famous beach bars Navagos and Koursaros are located.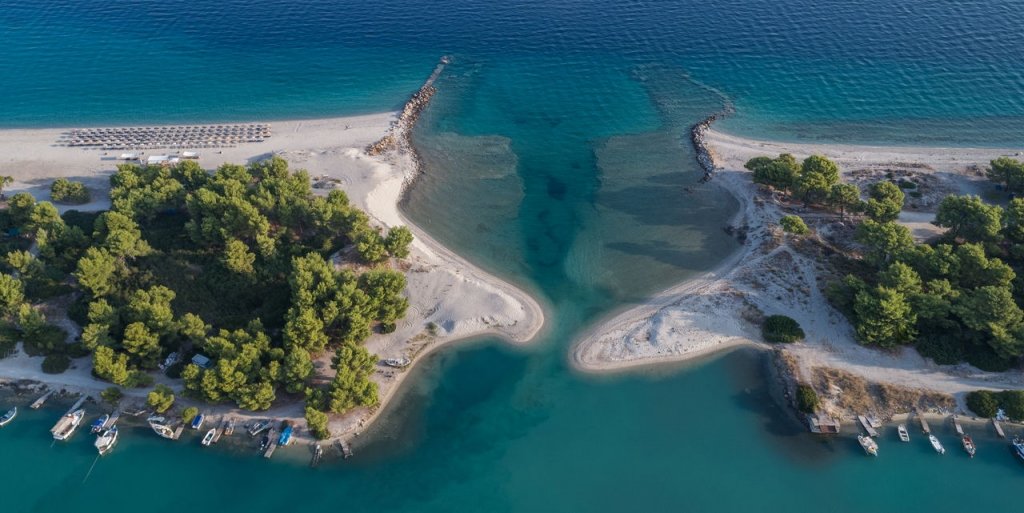 ---
How to get to Pefkohori
Flight to Thessaloniki
You should take a flight from your country to Thessaloniki International airport. We suggest you to use JETRADAR which is one of the largest online search engines for flights all over the world. This service helps to compare airfares from 726 airlines and dozens of travel agencies and systems and book the cheapest tickets available.
---
Pefkohori is 95 km away from Thessaloniki airport.
Transfer from Thessaloniki Airport to Pefkohori
Arriving in the country for the first time, or not, it is important to see a person, who is waiting especially for you upon arrival at the airport. It gives you confidence that you will reach your destination, avoiding all troubles, long waits in the taxi queue, and possible overcharges. Our prices include all fares, VAT, and any lawful charge; therefore, you know that what you pay is the final price for your transfer. The comfort and safety will be provided, which is especially important if you are travelling with children. That's why we offer transfer services with professional drivers and a modern car fleet. All cars and minivans are equipped with air conditioning and drinking water.
---
Rent-a-car from Thessaloniki Airport
To find the perfect car for your trip, we recommend checking DISCOVER CARS. It is a leader in online car rental reservations. It compares car rental deals from many companies so that you can choose which is best for your trip. Many other websites hide fees and extra costs from you. Discover Cars includes all mandatory fees, taxes, and extras in the quoted price so there won't be any surprises when you arrive at the rental desk.
---
Please note that Pefkohori Kassandra Travel Guide contains some affiliate links. It means that we may receive a small commission to help us maintain this site without any additional cost to you. We only recommend services and products that we use and believe will be helpful.