The best places and beaches of Mykonos, Greece
---
Mykonos Island – what to see and what to do?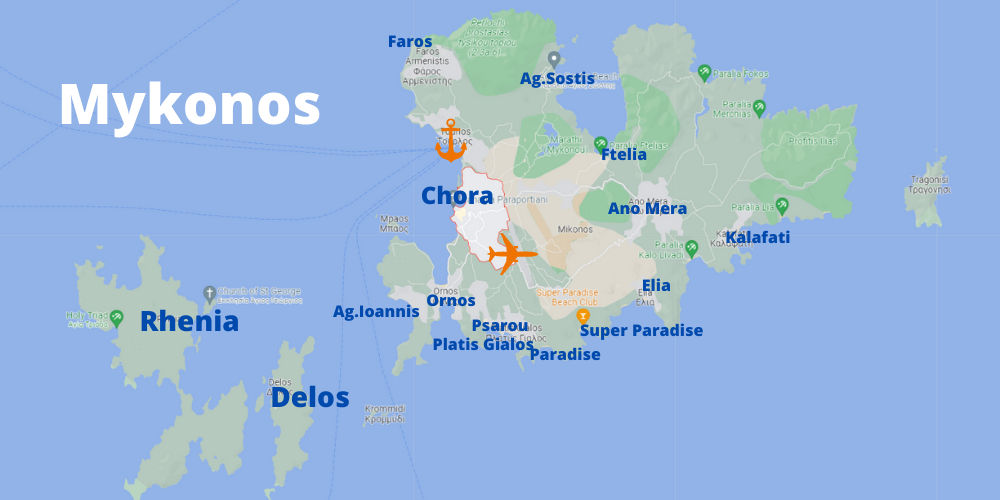 When you hear about Mykonos, the first thing that comes to mind is glamour, endless parties, chic restaurants, and champagne until dawn. And so it is. Because the Cycladic island of Mykonos is a true celebration of life. The most cosmopolitan island in Greece has become an iconic vacation destination for celebrities, superstars, jet-setters, LGBTs, and ordinary tourists looking for non-stop entertainment. There are almost as many 5-star designer hotels and villas in Mykonos, as in the whole of Greece. Rates are among the highest in Europe. Of course, there are also 2*, 3*, and 4* hotels and apartments, but the prices are still higher than on other Greek islands. Besides, all bookings must be made as early as possible. Mykonos is not only a party island and an expensive resort. The lively atmosphere of the island, the many beautiful beaches, and the history will captivate you. We would like to present our favorite best places and beaches in Mykonos.
---
Chora (or Mykonos Town)
The town of Mykonos, called Chora by the locals, is the capital of the island. Snow-white houses with colorful shutters and balconies, and labyrinthine streets that protected the inhabitants from wind and pirates. It seems to be a typical Cycladic settlement, but it has its own atmosphere. Many cafes and restaurants, chic boutiques, souvenir stores as well as exquisite jewelry stores let the guests enjoy the beautiful capital of the island. The center of Chora is closed to cars, which makes a walk through the maze of streets particularly pleasant.
Sights of Chora, Mykonos
Mykonos is an island with a rich history that dates back to prehistoric times. While walking around the town, you should not miss the following sights.
Windmills of Mykonos, Chora, Mykonos
There are five 16th-century used as flour mills still in existence today. On the island, a total of 8 of them have been preserved. The Ethnographic Museum has one of the mills that are situated above Chora.
The Church of Panagia Paraportiani, Chora, Mykonos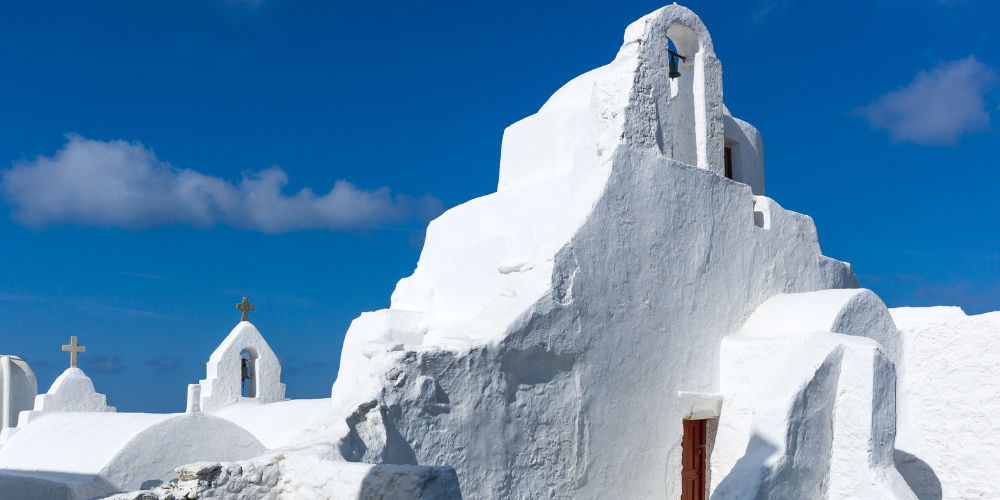 The remarkable Paraportiani, in the Kastro neighborhood, is the most well-known church on Mykonos. The church, which has four chapels on the lower level and one at the top, was constructed on the exit site from a medieval fortress (a paraporti). A part of the complex was constructed in 1425 and was gradually finished throughout the 16th and 18th centuries.
Fishing harbor, Chora, Mykonos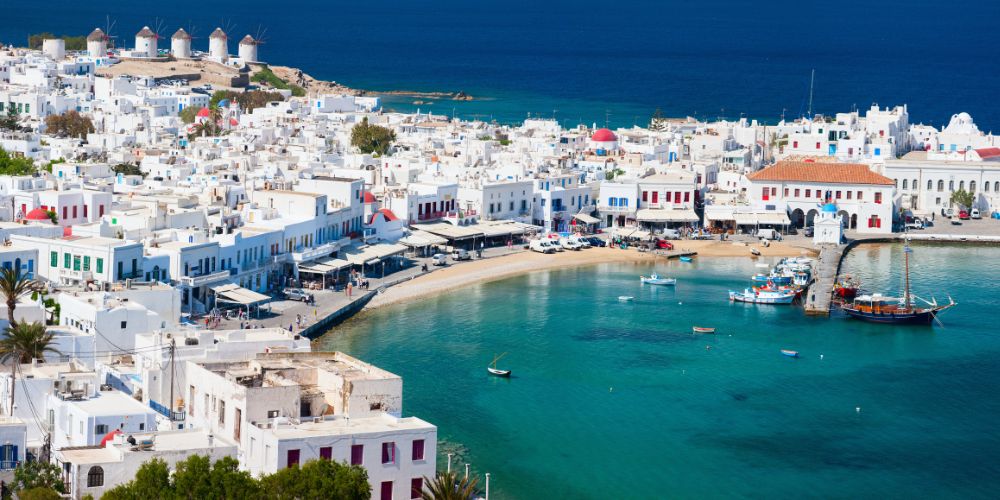 In the heart of Chora, you will find the fishing port. Fresh fish is sold by local fishermen in the morning. Petros the Pelican, the official mascot of the island, enjoys strolling through this area. Boats depart for the island of Delos from the dock.
Little Venice, Chora, Mykonos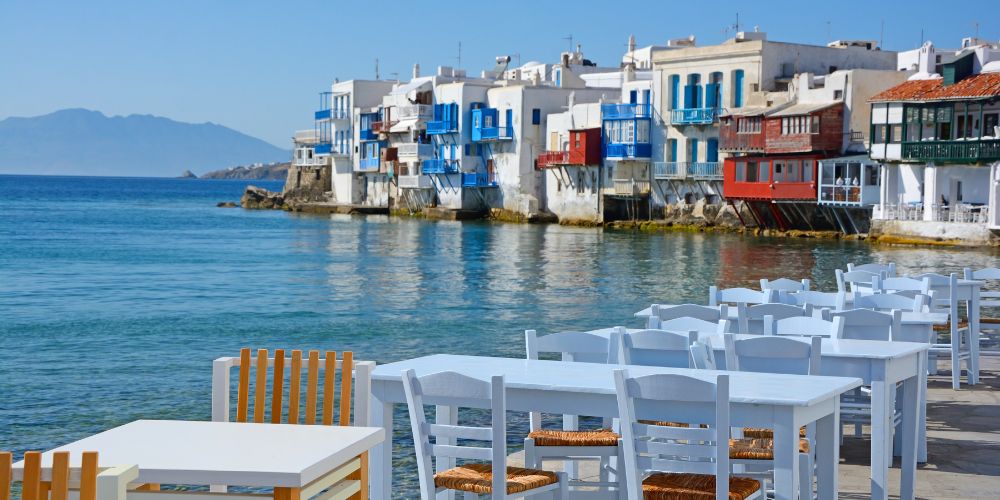 Little Venice, officially known as Alefkandra, is certainly the most romantic area on the island. This is the most photographed area of Chora, which was once home to affluent captains' estates and merchants' mansions. The once-elegant houses with multicolored doors and balconies that hung over the water are nowadays turned into top bars and restaurants.
Mykonos Sunset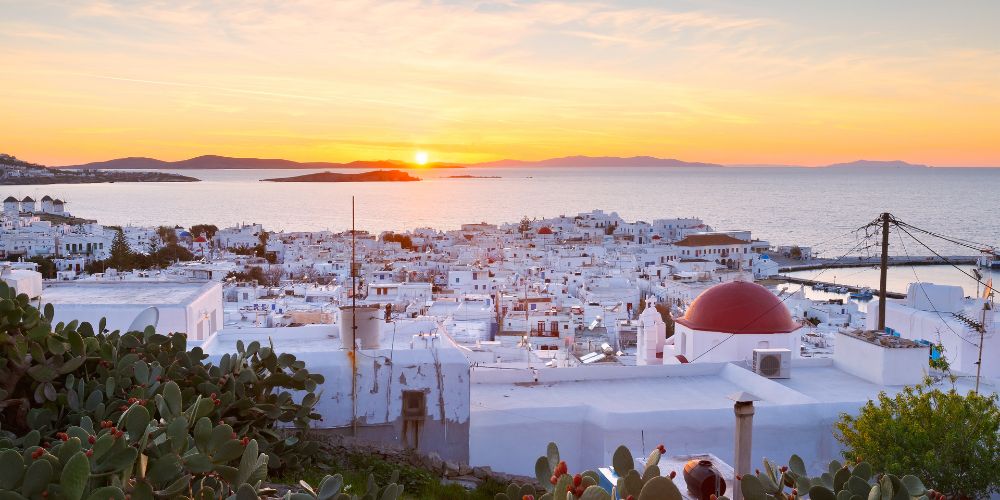 Mykonos' sunset ranks among the top 5 most well-known Greek sunsets. Little Venice is the most popular place to see the sunset. Pick your favorite café or simply relax on the waterfront and enjoy the show.
---
Mykonos Day Trips and Excursions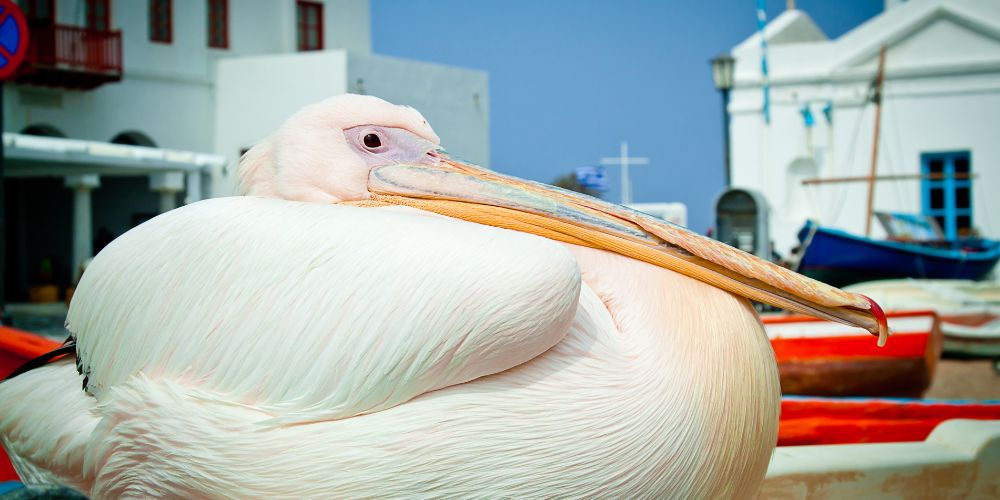 If you want to learn more about the island of Mykonos, its history, the locals, and their customs and not get lost in the maze of streets, we recommend you book a private Chora tour with an experienced guide. Thus, you will not miss the most beautiful corners of the island's capital, have a pleasant time in the form of casual conversation, and enjoy a Greek coffee on the balcony of the Captain's House in Little Venice. The walk can be combined with a photo session. The tour guide will take a professional camera and photograph you in the best Instagram locations, often hidden in the side streets.
We can offer the following excursions on Mykonos Island:
Walking Tour in Mykonos town (Chora) (2 hours)
Sightseeing tour of Mykonos island (4 hours)
Food tour in Mykonos (we combine the sightseeing of the island with the visit to a cheese factory, a pastry shop, and a local taverna)
Walking in Chora and visit of a winery
Walking in Cora and visit of an organic farm
Mykonos cruises and boat tours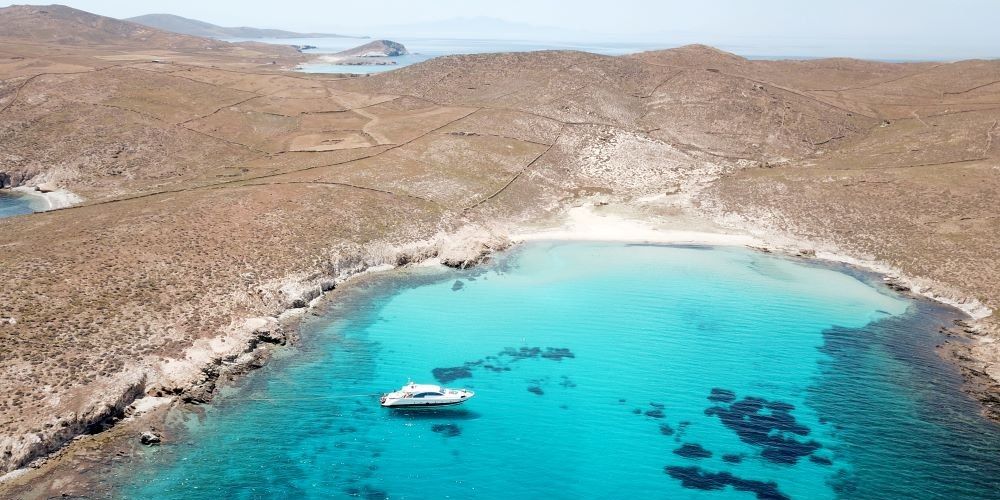 Book your semi-private cruise on a traditional wooden gulet, a private luxury motor yacht trip, or a tour on a RIB boat.
---
Mykonos nightlife
Mykonos is famous for having the most vibrant nightlife in all of Greece. Here are the trendiest bars and nightclubs with world-famous DJs for every taste. Famous celebrities, models, and artists mix with guests from all over the world and create that unique atmosphere.
---
Where to stay in Chora (Mykonos Town)
Chora is a great choice for those who want to be close to the restaurants and clubs of Mykonos Town. However, keep in mind that it can be a bit crowded and noisy at night. Recommended hotels:
If you prefer a luxury hotel with more privacy and want to stay in a room with a private pool or jacuzzi, then take a look at the following hotels, located between the old and new ports, about 10-15 minutes walk from the center.
Another hotel like the 60s style, with a great location on the seafront, next to the windmills:
---
Ano Mera, Mykonos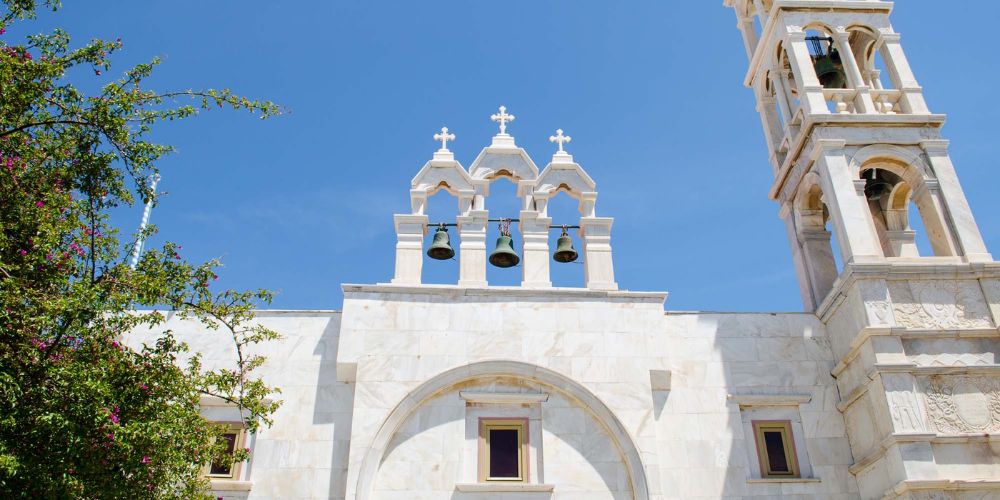 Ano Mera is one of the oldest villages and the second-largest settlement of Mykonos. Ano Mera is located about 7.5 km east of Chora. It's a traditional village where locals live their everyday lives without the fuss and tourists crowds.
Ano Mera's main attraction is the monastery of Panagia Turliani. Founded in the 16th century, the monastery is dedicated to the island's patroness. Gorgeous collections of icons, holy vessels, vestments, and embroideries can be found in the main church. Craftsmen from Tinos built the beautiful marble bell tower.
---
Delos, the Sacred Island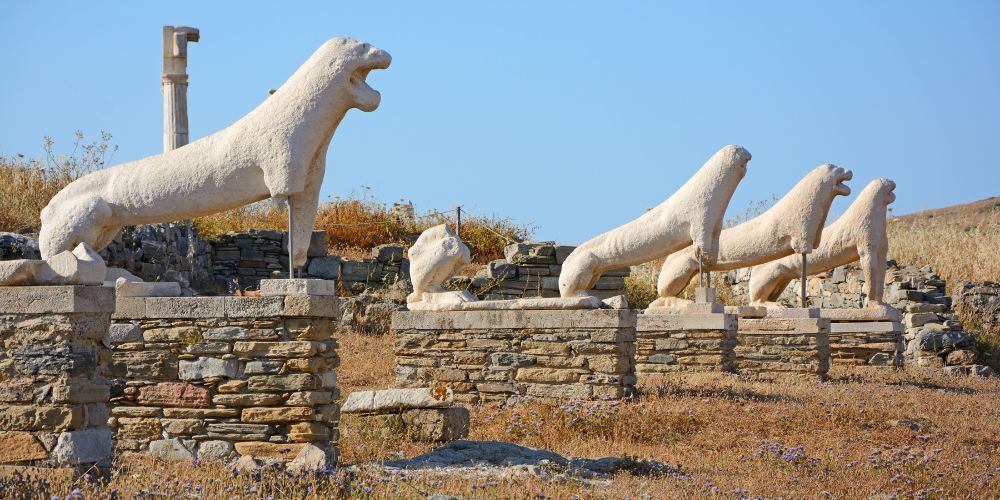 The small uninhabited island of Delos (or Dilos) is one of the most important archaeological sites in Greece, a UNESCO World Heritage Site. This sacred island, rich in history, is just a few miles from bustling Mykonos.
According to the Greek myth, Delos was the birthplace of Apollo and Artemis gods. The Ionians established here The Sanctuary to Apollo, with annual festivals. By 700 B.C. Delos became a major religious center. In 478 B.C., when Athens created its naval league, Delos became the capital of the 1st Athenian Union and the island turned into a prosperous trading port.
Nowadays it is a unique open-air museum, with wildflowers spring blooming on ancient marble ruins.
Tours and Cruises to Delos Island
We can organize the following tours and cruises to Delos Island for you in 2023:
Delos Island Group Tour in English (daily), French (Sunday & Thursday), Italian (Wednesday), Spanish (Tuesday)
Delos Island Private tour in English, French, German, Italian, Spanish, Russian
Delos sail cruise on a traditional gullet with a swim and lunch on the neighboring island of Rhenia.
---
Megali Ammos, Mykonos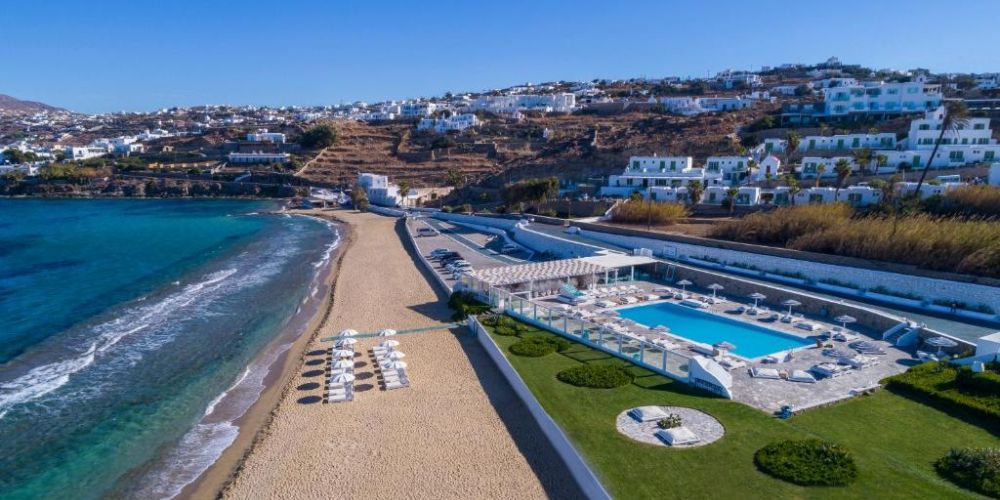 Megali Ammos is located only 1 km south of Chora and is the closest beach to the city center. It is ideal for those who want to stay close to the island's capital and at the same time sunbathe overlooking the famous windmills. It should be remembered that it can be quite windy here, so there are practically no umbrellas on the beach.
Where to stay in Megali Ammos, Mykonos
The best beachfront location
The hotel offers free transfer from/to the airport and port.
Some other nice hotels are located a little further from the Megali Ammos beach.
---
Agios Ioannis Diakoftis, Mykonos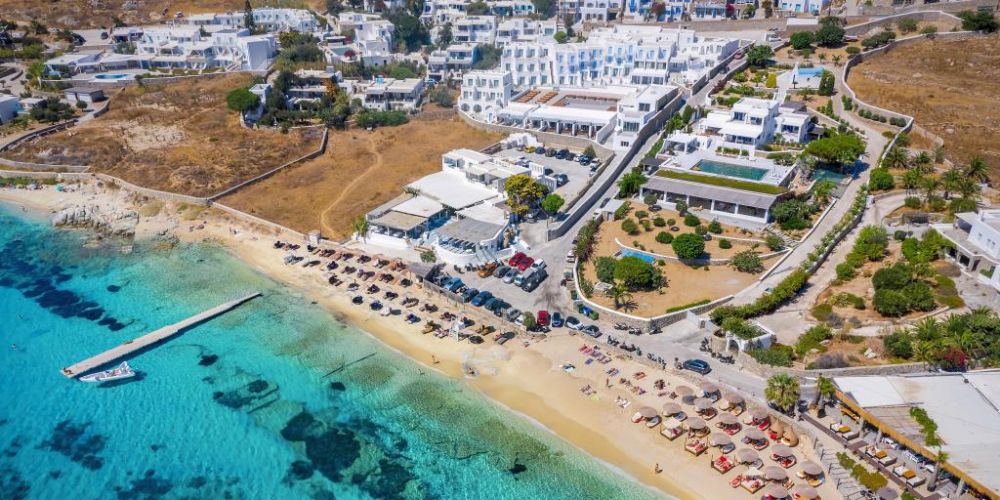 Agios Ioannis is a small tourist village in the southwest of the island, 5 km from Chora. It is amphitheatrically situated around the bay, facing the island of Delos, and combines natural beauty with excellent tourist infrastructure. The beautiful sandy beach of Agios Ioannis with crystal clear waters takes its name from the nearby church. The beach is well organized, ideal for families with children, and recommended for those who want to have a relaxing holiday. Semi-private and private cruises to the islands of Delos and Renia, as well as to the beaches on the south coast, sail from the small port of Agios Ioannis.
Where to stay in Agios Ioannis, Mykonos
We recommend the following amazing beachfront hotels in Agios Ioannis:
---
Ornos, Mykonos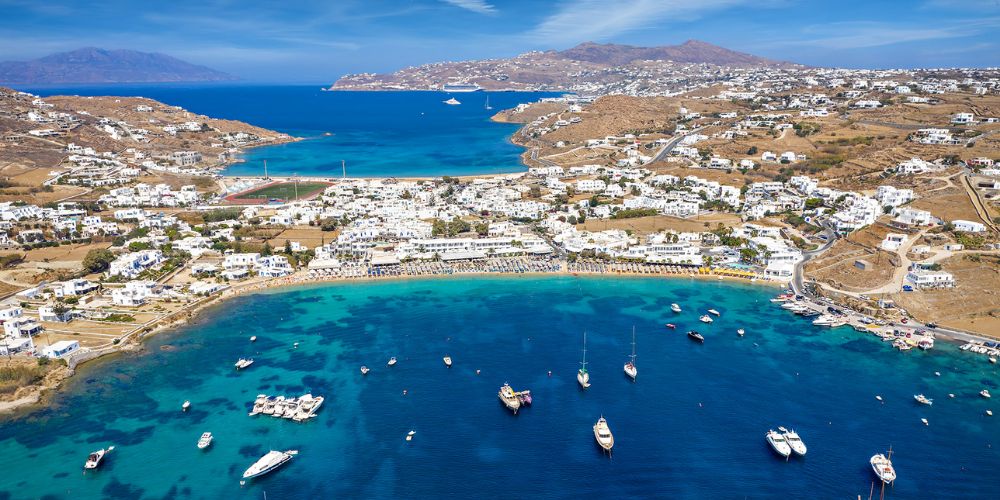 The picturesque Ornos village is located 4 km southwest of the crowded Chora. Ornos has a beautiful and clean beach, with turquoise waters and fine white sand, perfect for families. The sea is calm with no waves and shallow water, making it a great place for children. There are great beach bars and restaurants right on the beach.
The main feature of this village is the small, sheltered harbor where fishing boats and luxury yachts dock. In Ornos you can rent a skippered yacht as well as a small motorboat and sail around the island on your own.
Where to stay in Ornos, Mykonos
Beachfront hotels in Ornos Bay:
There are also two luxury hotels with private beaches located on the left and right sides of the bay. Note that the beach of Kivotos hotel is small and rocky.
---
Psarou Beach, Mykonos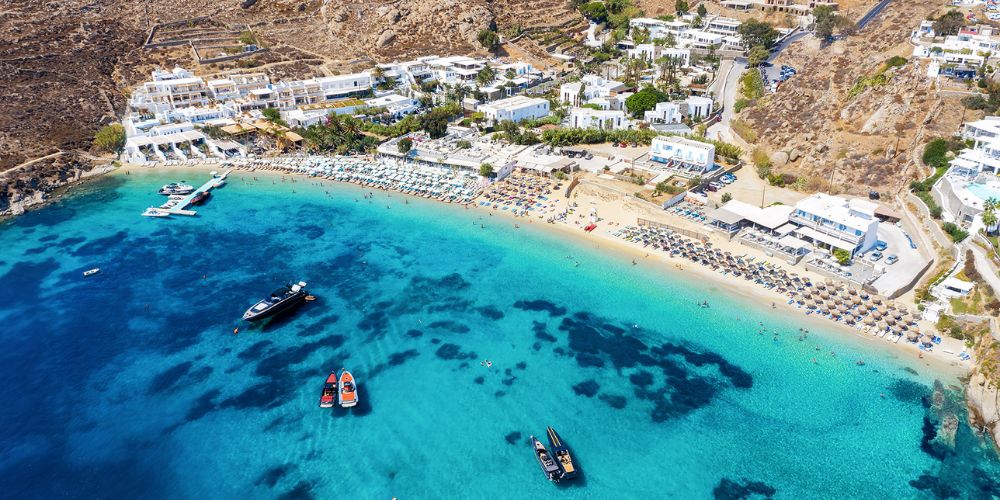 The most famous and cosmopolitan beach of Mykonos is Psarou Beach, located 4 km south of Chora. The beach is great, the water is turquoise, the views are amazing, and the restaurants and beach clubs are great. A must-visit is the world-famous beach bar-restaurant Nammos. This is a hot spot for many celebrities, which you can meet here. It is very crowded here, so make sure to reserve sunbeds in advance during peak season.
Where to stay in Psarou, Mykonos
If you want to stay just next to Nammos in a lively atmosphere, choose the N Mykonos Hotel. All rooms and villas have their own pools.
On the other side of Psarou beach is another amazing hotel with great rooms and service
---
Platis Gialos, Mykonos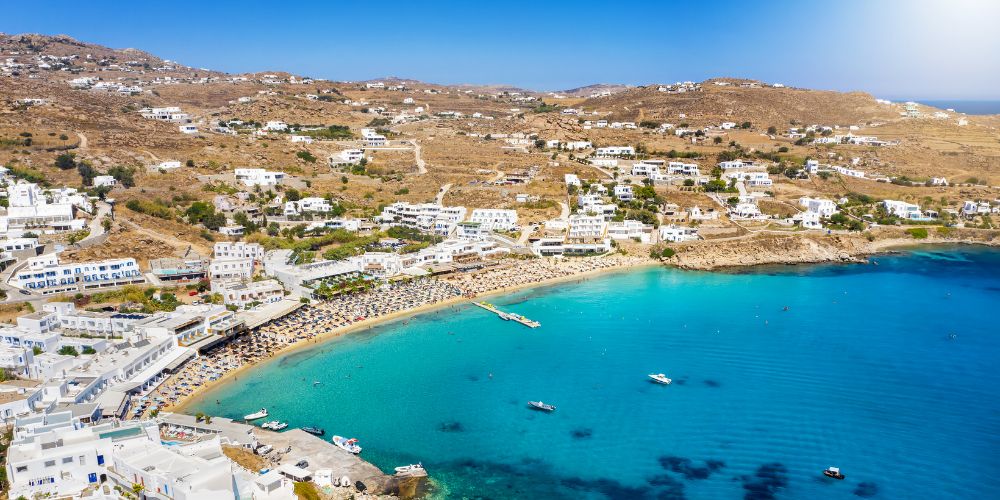 Platys Gialos beach is located 5 km from Chora and is one of the best beaches in Mykonos. Turquoise water, golden sand, and water activities: yacht charter, fishing, and water skiing. The beach is quite crowded, thanks to the number of popular hotels which are located nearby.
You can hop on a water taxi that departs from here to the popular beaches of Paranga, Paradise, Super Paradise, and Elia on the southern coast of the island. There are several good restaurants and taverns along the coast.
Where to stay in Platys Gialos, Mykonos
Hotels that are almost literally on the sand:
On the rocky cape, which separates Platy Gialos from Psarou beach, there are some very nice hotels, located a short walk from the beach, with an amazing sea view.
For those who prefer rooms with a private pool or jacuzzi, we advise you to pay attention to a luxury hotel
Be sure to visit the wonderful spa of the hotel, with 3 three indoor pools – each maintained at different temperatures and salinity, complemented by essential oils and hydro-massage.
---
Paradise Beach, Mykonos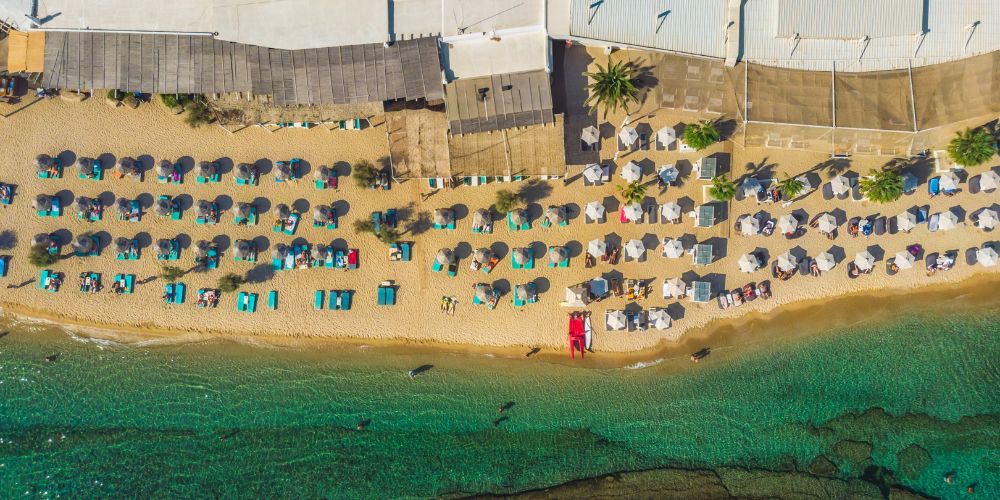 Paradise Beach is located 7 km from Chora. Probably it is the most famous beach in Mykonos. It is from Paradise beach tourism started on the island in the 70s. Initially, the beach was chosen by nudists and hippies. Gradually, the number of people wishing to visit this paradise and enjoy the sea, sun, and music grew. Now the beach attracts crowds of young people from all over the world for non-stop dancing, drinking, sunbathing, and swimming to the sound of music day and night. World-class DJs play at the open-air Paradise Beach Club, which is ranked 14th among the best clubs in the world.
On the hill on the left, overlooking the beach, there is another very popular club, Cavo Paradiso, with world-famous DJs.
Where to stay on Paradise Beach, Mykonos
Most of Paradise Beach is occupied by the camping, which has been operating since 1969, as well as the new part of the complex:
A few nice hotels with private pools and Jacuzzis have been opened here in recent years:
---
Super Paradise Beach, Mykonos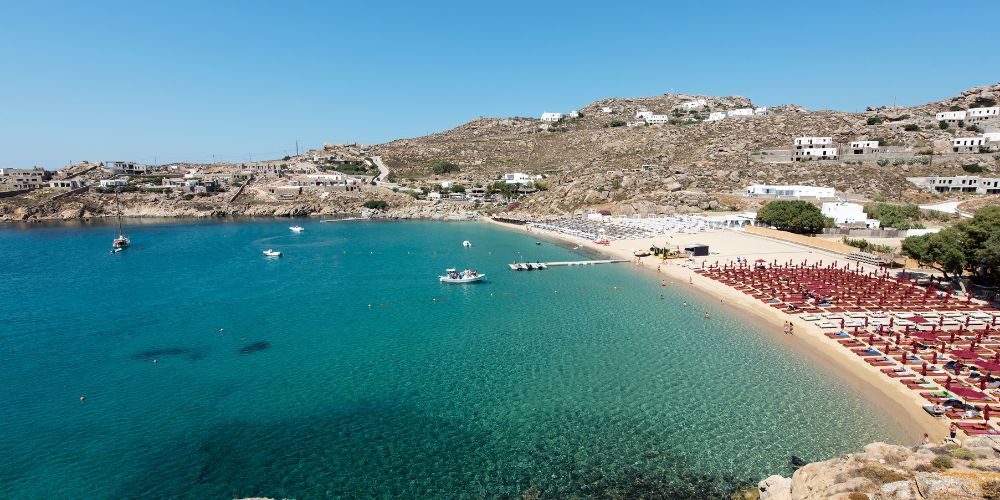 Super Paradise Beach is located 8 km southeast of Chora. The beach is almost completely covered with sun loungers and umbrellas from beach bars and restaurants. There is a water sports center. It can be a bit noisy and crowded during the day, but the bay with crystal clear calm water and golden sand is amazing. After sunset, Super Paradise is famous for its great parties.
Where to stay on Super Paradise Beach, Mykonos
Recently, the region around the beach has been fully built up. So now you can find a villa or hotel ideal for you:
---
Elia Beach, Mykonos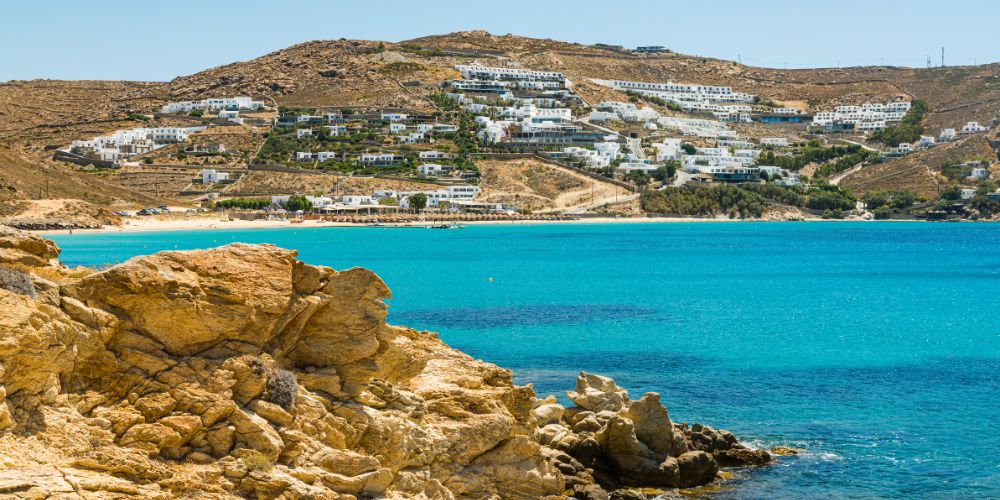 Elia beach is located 12 km from Chora. This is the longest beach on the island, with plenty of space for everyone. On the left side, there are sunbeds and umbrellas from nearby hotels. A small part on the right side is popular with gays and nudists. There is a water sports center.
Where to stay on Elia Beach, Mykonos
First of all, we recommend the luxurious Myconian Collection hotels, loved by many guests returning each year:
---
Kalafati Beach, Mykonos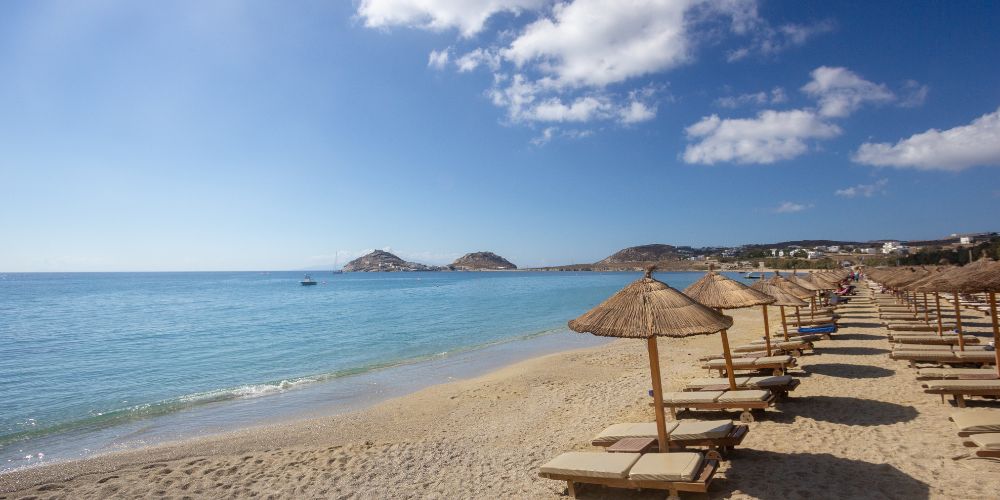 The excellent sandy beach of Kalafati is located 12 km from Chora. This is perhaps the most remote beach from the capital. That's why there are not many people here. Due to the island's largest water sports center, Kalafati is popular, first of all, among sports enthusiasts. Strong Meltemi winds make ideal conditions for windsurfing. Water skiing and diving are popular here also. On the beach, you will find a beach bar, a few taverns, and restaurants.
---
Rental villas and apartments on Mykonos Island
Mykonos island is a unique destination for the summer holidays, offering plenty of opportunities. We offer a large selection of luxury villas, cozy holiday houses, and apartments there.
Book a Villa for holidays in Mykonos in 2023 right now. Remember that booking in advance allows you to choose a property according to your specific requirements, such as a beachfront, or private pool. Also, you can find early booking deals and discounts which could bring the cost of your holiday down.
---
Book a hotel to stay on Mykonos Island
If you prefer to stay in a hotel, then choose the best option in Mykonos using the map. And don't forget that we have direct contracts with many hotels, so before you book, compare the price with the one we offer. If you need some advice, just ask us!
---
Mykonos Consierge Service
To enjoy a carefree holiday in Mykonos, we strongly recommend booking all services on the island at the same time with your accommodation and flight bookings. Arriving in Mykonos during the peak season, don't be surprised that all the most popular restaurants and beach bars are fully booked.
Our concierge service will plan your stay on the island in advance and offers you:
Reservation of restaurants, bars, clubs, beach bars (sunbeds)
Excursions, cruises, and yacht charters
Transport services
Jet and helicopters
Our team provides exclusive services to guests, to enjoy a stress-free holiday on Mykonos Island!
---
How to get to Mykonos Island
Traveling to Mykonos Island by plane
The airport of Mykonos serves international charter flights and local flights. Most likely, it will be more convenient for you to fly to Athens International airport and then fly to Mykonos island or take a ferry from one of Athens ports.
We can suggest you use JETRADAR which is one of the largest online search engines for flights all over the world. This service helps to compare airfares from hundreds of airlines and dozens of travel agencies and systems and book the cheapest tickets available.
---
Traveling to Mykonos Island by ferry
Ferries to Mykonos leave from the main port of Athens, Piraeus. You can check the ferryboats schedule and buy your tickets here
---
The island of Mykonos can also be reached from the port of Rafina.
---
Traveling to Mykonos Island by private helicopter
Once you arrive in Athens we can pick you up directly from the arrival gate and take you to the helipad. This way you can reach Mykonos very fast and have more time to enjoy your vacation. Helicopters have the ability to fly in high wind conditions, and even in cases where transfer by sea would be impossible. Also, we can take you to destinations that have no airports and where ferryboats have infrequent itineraries. Flight from Athens to Mykonos Island by helicopter has a duration of 40-45 minutes and the price starts from € 5500.
---
Transfer from Mykonos airport or Mykonos port
Arriving in another country, it is important to see a person, who is waiting especially for you upon arrival at the airport. It gives you confidence that you will reach your destination, avoiding all troubles, long waits in the taxi queue, and possible overcharges. Our prices include all fares, VAT, and any lawful charge; therefore, you know that what you pay is the final price for your transfer. Comfort and safety will be provided, which is especially important if you are traveling with children. That's why we offer transfer services with professional drivers and a modern car fleet. All cars and minivans are equipped with air conditioning and drinking water.
---
Mykonos Car Rental
During your holidays on Mykonos Island, you can rent a car from the airport or port, or from your villa or hotel. To find the perfect car for your trip, we recommend checking DISCOVER CARS. It is a leader in online car rental reservations. It compares car rental deals from many companies so that you can choose which is best for your trip. Many other websites hide fees and extra costs from you. Discover Cars include all mandatory fees, taxes, and extras in the quoted price so there won't be any surprises when you arrive at the rental desk.
---
Like it? Pin it!
---
Please note that The Best Places & Beaches of Mykonos Travel Guide contains some affiliate links. It means that we may receive a small commission to help us maintain this site without any additional cost to you. We only recommend services and products that we use and believe will be helpful.
Updated: April 2023